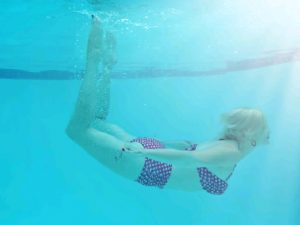 Feeling uncomfortable while wearing a swimsuit is common among most of the women. One common reason for this is because they are wearing them the wrong style. The body is a major concern for people from all walks of life and backgrounds. But, due to many odd cultural and social reasons, people are not able to fully embrace their body type and feel very self-conscious, especially when it comes to swimsuit season.
This sense of control can be very empowering and boastful in confidence so that you can freely enjoy your time in the sun. Just like when you don't want to show your stomach to the whole, this type of swimsuit gives you a feeling of absolute authority while staying stylish, whether it be in normal or sports one-piece swimsuit. In this manner, you can fully enjoy the sense of empowerment and comfort in your skin, choosing to show exactly the amount you want.
Mastering the discipline of self-acceptance has tremendous positive effects on one's life. It opens before her an entirely new world where every other facet of life brings lovely and positive vibes each day.
Having said all, the confidence of wearing a one-piece swimsuit also inspires from within, yet there are some important style elements to be taken care of. In this article, we have shortlisted a few of the best tips that would not only enhance your looks but will also inculcate in you a higher sense of self-esteem.
Show the Skin You Want
Wearing a one-piece swimsuit brings you more confidence than any other choice of swimsuits. Not only because it is less revealing but also because it is you who chooses entirely, what amount of skin to show.
The very first step towards accepting your body image is to acknowledge the fact that you are never alone in feeling unwelcoming insecurity. Every other person the society is conscious about some aspect of his/her looks. This is why feeling awkward about yourself is nothing new, and with this realization, you could gain immense control over the sense of self-esteem. 
Through this practice, you can also train your mind to see the good in you no matter what distractions you encounter during the experiences of life.
Find the Right Fit
Picking the correct size of a swimsuit can create a huge difference. The right fit of swimsuit can add tons of confidence in your personality, while the wrong size can be highly embarrassing, especially in public places. Also, you should know what type of cut-outs you are comfortable with and how revealing of a swimsuit you would want for yourself.
Before wearing them on the day, try out different one-piece swimsuits and see what fits you the best. Feeling uncomfortable in the wrong size from the beginning can be very frustrating and can restrict your movement a great deal. This is the reason why choosing the right size and style is the fundamental aspect of feeling confident about what you wear.
Fabric
Be it a one-piece or any other swimsuit, and you will only feel good in it if the fabric is not pricking your skin. The fit, the style, and other such things come second to comfort. All these things are subject to your style, but what should come first is that what kind of swimsuit suits your personality and also goes with your comfort, i.e., makes you feel confident in your skin. 
Most ladies mistake this with choosing one that makes them feel restricted. Also, forget that ones that got strings which cut right into your body, and the ones with lower body piece that never stay in place.
Swimsuit Reflects Your Personality
This is one thing not to forget if you want to rock your bodysuit while feeling your best in it. Your swimsuit is a direct reflection of your fashion choice. There is a wide variety of one-piece swimsuits with beautiful cuts and designs available for every season. 
However, one person can pull off only so much. If you are looking forward to rocking the beach days and do so without losing any spirit, go for the ones that are truly your style. You can test out a few styles but refrain from going for the ones in trend just because they are suiting everybody. Remember to showcase your individuality.
Your One Piece Should Provide You with a Sense of Security
Imagine how amazing it will be to carry a one-piece swimsuit if you felt secure in it. Now, this depends on one's individual choices. This has nothing to do with revealing too little or too little, modesty, hideousness, etc. Choosing a one-piece swimsuit that makes you feel secure depends on where you spend most of your time. Do you like being underwater at beaches and pools, or prefer spending your time tanning in the sun. There is a broad spectrum of one-piece to choose from following your preferences.
Keeping Trends in Mind
If you want to feel the absolute best wearing your one piece at the beach – amongst hundreds of other girls in one-piece swimsuits – you might want to keep the latest trends in mind while shopping for one. There is no harm in sticking to the old fashioned ones – old is always gold – however, you might feel a bit lagged in fashion seeing everyone rocking the latest cuts and styles of one-piece swimsuits. Though, do not at any cost compromise on your comfort or style.
Are you looking for something between too modest or too revealing?
This is one problem that gets in the way of confidence for most ladies wanting to rock a one-piece swimsuit. Always reveal as much as you feel comfortable in. Don't go with too revealing because they seem to be 'the trend' these days, neither too hideous because of 'what others might think.' Forget getting 'swimsuit ready' if you don't feel like it.
Conclusion
If you are looking for something very sexy and stylish at the same time for your next head out to the beach, then there's no better choice than a one-piece swimsuit. They are a lot more comfortable, secure, and empowering than any other choice of swimsuits. One-piece swimsuits are the perfect cover-up that can rejuvenate your beach day with tremendous comfort and confidence.
But never forget that you are unique in your body type, and something that suits others does not necessarily have to look good on you. Always create your brand of style and channelize your distractions to focusing on personal freedom that comes from self-acceptance and self-value.