Being happy doesn't have to be a tiring task. All you need is some will do get your life together and improve your lifestyle. You don't have to do anything grand to make your life filled with happiness. The secret is in all the little things that won't take much of your time, but that will make a big difference.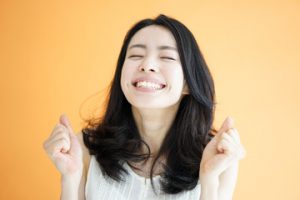 1. Talk to some stranger
This is one of the tiniest things you can do that will infuse your life with joy. If you just smile at some stranger or start a conversation with them, you'll do a lot for your happiness level. Initiating positive interactions is very beneficial not only for you but for the stranger you meet too.
2. Send a letter to a friend.
Small acts of love and affection are always cute, and they will make you feel great. Your friend is bound to feel amazing once he or she opens the mailbox, and the quality of your life will immediately be increased.
3. Watch the sunrise
Sunrises every day, but you probably sleep through it most days of the year. Getting to see the sunrise gives you a particular sense of healing. All those beautiful colors and all that silence will definitely make you feel amazing.
4. Go to the theater
If you're a fan of plays, the perfect place for you to increase your happiness level is theatre, of course. The next time you feel down, make sure to get some tickets and recharge your batteries, watching some Shakespeare or Chekhov. It can also improve your social health.
5. Volunteer
Making other people happier will have more than a positive impact on your own happiness and well-being in general. Altruism is one of the things that will boost your happiness level without a doubt. That's why so many people enjoy volunteering and using the opportunity to help someone. If you have the time, start volunteering. You're not going to get paid for that, but your reward will be more than good.
6. Exercise
Exercise is so popular not only because it gets you to the long wanted body but also because after exercising, you'll feel much happier. Whatever activity you choose, be it running, ice skating, or hitting the gym, you'll surprise your body with great results and your mind with some needed endorphins. Your health, too, will benefit from regular exercise.
7. Dance a lot
Dance is also a way of exercising. It relieves back and neck pain and anxiety, but the best part is that it's fun. You can go to a party, organize one or just play loud music for yourself. Whichever way you choose, your body and mind will be very grateful. Don't wait long, and start having fun and increasing your happiness level.
8. Make self-care part of your routine.
However, busy you are, you can't forget to take care of yourself. Do things that relax you and make you happy. If you feel like binge-watching a series, do it. On the other hand, if you feel like having a spa day in the comfort of your home, you can always opt for cozy massage chairs and enjoy a salon-like treatment. The best thing you can do to increase your happiness level and be happier is to take care of yourself and let yourself enjoy it.
9. Turn off your gadgets.
Technology is more than useful in today's day and age. It's necessary so you could keep track of the modern world and stay in touch with all the people you love. Technology has lots of drawbacks. Some of them are stress, depression, and vision impairment. If you notice that you're spending too much time on your phone, there is a simple solution to this problem. Just turn it off for a couple of hours. Use the chance to recharge the phone, and don't forget to recharge yourself and increase your happiness level.
10. Try something new
You'll find fewer and fewer reasons and ways to smile if you get into some kind of rut. In cases like this, you should start trying out new things as soon as possible. You can sign up for guitar lessons or roll on some pottery classes. You can even try something that will make you step out of your comfort zone.
11. Play with your dog
Dogs are amazing. If you have one, you know it for a fact that you could never get a better friend than a dog. They are loyal, fun, and endlessly charming. Your dog has the power not only to boost your happiness level but also to alleviate loneliness and improve your health in general.
12. Practice forgiveness
If you let yourself be angry and hurt for a long period, you won't do yourself a favour. You'll just let all those negative feelings take place that some nicer and more positive feelings could fill. You don't need that kind of negativity in your life. If you can forgive, do your best to do so and reduce those unwanted feelings to a minimum.
13. Be creative
Making something artistic is one of the best ways to boost your happiness. If you're good at painting, set aside a few hours every day to create a masterpiece. If you make jewelry, put special effort into creating something outstanding. It doesn't even have to be too good; just the process of creation is enough to make you feel amazing.
14. Get a houseplant
Surrounding yourself with nature is bound to have a positive impact on your mood. By getting a houseplant, you'll not only find a great way to boost your happiness, but you'll also improve indoor air quality. Don't wait anymore and get yourself some cute potted plant.
15. Give thanks
Showing gratitude is another great way to boost your happiness. Make sure not to forget to say thank you to the waitress the next time you're in a coffee shop or when someone compliments your hair. You'll notice that once you start showing gratitude more often, you'll get more happy and optimistic.
16. Breathe deeply
Life can sometimes get too overwhelming. You may be so caught up in all your chores that you don't even get the chance to take a breath. You'll need to stop for a moment and take a deep breath. If you do this, you'll relax faster, and you'll increase your happiness level immediately. When you breathe deeply, you also slow the aging process and prevent disease.
17. Meditate
Spend at least one hour a day meditating — the best timing for meditation in the early morning. If you start your day right, nothing can go wrong. All you need to do is find a quiet place and let your thoughts take to some nicer place. Once the positive thoughts come, focus on them, and let them guide you.
18. Drink a lot of water
If you start eating healthy and drinking litres of water a day, your happiness level will significantly increase. You need fuel to get through the day, and healthy snacks and a lot of water can help you do it. Your skin will get better, and you'll clean your body of toxins easier. If you don't already, start drinking more water as soon as possible.
Conclusion
Once you start making all these small changes, you'll see it for yourself how easy it is to be happy. Don't wait and start doing some of these things right now.