Online Yoga, Meditation, Pilates, and More with Glo
If you're looking to learn new healthy exercise and lifestyle habits that will have a positive impact, try Glo. They've been helping countless members reach their personal fitness goals through online yoga, meditation, Pilates, and a growing community of support. You'll gain insight into practices that have helped other members, and you'll be able to share your experiences as well. 
Online yoga by Glo offers some of the world's best instruction taught by experts in their field. Breathing, stretching, flexibility, concentration, stress relief, and more are benefits that are realized without even having to leave home. You'll simply follow the program at your own pace through video instruction. You'll even be able to select your own courses and instructors if you wish. Some of the current online yoga offerings include: 
Meditation is the Perfect Way to Supplement Your Learning
Meditation taught by many of the same great yoga instructors and leaders in the field offer you new ways to deal with stress, anxiety, and more simply by connecting the mind and body. You'll learn the fundamentals of meditation through courses targeted to help with certain aspects of life, including things like:
Prenatal and postnatal issues and more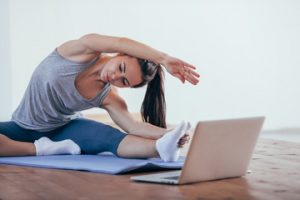 Pilates to Help with Strengthening and Toning
Glo offers Pilates for those that are looking to improve coordination, core strength, agility, improve posture, and more. Elongating and stretching key muscle groups and using targeted workouts that help you look and feel great are offered by some of the tops recognized names in Pilates instruction. You'll have full access to the following courses and more:
Prenatal and Postnatal Pilates
Pilates Challenges, Men's Pilates and Women's Pilates
Learning with Glo is Easy
With Glo, you'll complete a profile that specifies your personal interests and goals. With that information, Glo can match you up with an instructor that most closely meets your needs based on the instructor's criteria and interests. You're able to view video profiles of each instructor and learn more about their background, interests, and experience both inside and outside the area of study. You'll be able to change classes and instructors as often as you'd like; however, most students find a favorite that they'll stick with for quite some time. It's great to have a connection with someone that inspires you, and you feel motivated by, and it's a bond that's possible through a community like Glo. Many students have progressed from the most basic levels all the way through instructor-level courses with a program that's self-paced and able to be completed on their own schedule. It really couldn't be any more convenient.
Starting Online Yoga with Glo
Online yoga is easy to get started with now that Glo is offering a free 15-day trial membership. You'll have complete access to everything Glo has to offer and will have a chance to try out the workouts for yourself. If you're not interested in continuing, simply cancel within the trial, and you'll not be billed anything. If you love what Glo offers like most learners, you'll be billed a low monthly membership fee to a card on file. For a fraction of the cost of private instruction and studio lessons, you'll have full membership benefits to many invaluable resources. Register and start on a new path with Glo today!