The Growing CBD Market
Cannabidiol (CBD) oil is obtained from the Cannabis plant. Cannabidiol is one of over 100 cannabinoids in the cannabis sativa plant and accounts for up to 40% of its make-up. CBD oil has been said to contain manifold therapeutic benefits, among which are its usefulness in treating the symptoms of conditions such as anxiety, pain, arthritis, epilepsy, and cancer.
Although the recent legalisation of CBD in the UK has prompted a fast-paced shift in attitudes, many people continue to associate its use with getting "high". It's the THC in marijuana that contributes to the psychoactive effects, including the feeling of euphoria or trippiness associated with old-school weed. THC above certain tiny doses (in the UK the legal threshold is 0.2%) remains illegal across much of Europe and many parts of the world, but due to the growing awareness there has been a massive upswing in CBD-only companies looking to capitalise on this hungry market.
For a combination of reasons, each new brand and its products must be scrutinised closely. Not only because competition is high, but also because some brands have note been following regulations and others use unheqlthy ingredients. Woodies, is one of the brands we feel you can trust, but more on that in a moment.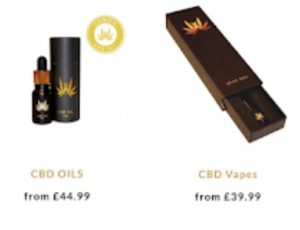 Click here to check out Woodies CBD, including high quality Oil that tastes surprisingly delicious. Use the code: GETHEALTHY to receive a 10% discount.
Why buy Woodies CBD Oil or Vapes?
Although there are a plethora of CBD oils available in the market today, it's imperative to find a quality CBD oil product from a brand you trust. You see, everyone will respond differently to CBD oils, so it's also crucial to try out the oil for yourself and note any positive or negative reactions.
One of the CBD oil brands you can absolutely trust is British based Woodies UK. Woodies UK offers the best quality CBD oil and has the customer in mind. As a plant-medicine and natural health fanatic, founder Wood is committed to producing the highest quality 90+% pure CBD oil and vapes.
All of Woodies' CBD products are quality-controlled, lab-certified, natural and additive-free. For those CBD geeks out there – they contain (according to the website) a "full spectrum of cannabinoids and terpenes and are produced using a cutting edge method of cannabinoid extraction and purification – employing clean solvent extraction methods and winterisation, with further refinement through short-path distillation. This resulting in a completely pure and natural plant-derived extract."
The resulting precious cannabidiol is then combined with natural cannabis-derived terpenes for both flavouring and to achieve what Wood likes to call the "entourage effect". This all means that Woodies offers a much more satisfying experience than the countless CBD isolate products on the market. When you buy from Woodies, you can rest assured that they are fully compliant with all regulations – offering products are legal, safe and of the highest quality.
Use the code: GETHEALTHY to receive a 10% discount on ALL products. Click here to check out Woodies CBD products.
Review: Woodies Peppermint flavour CBD Oil Peppermint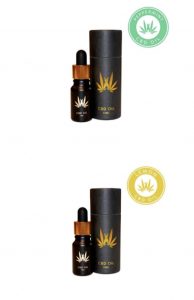 Many CBD oil users have established that sublingual (under the tongue) use is the best way to consume active compounds into your system for more gradual, longer lasting effects – as opposed to vaping which hits the system faster, but wears off sooner.
Woodies' Oils come in two flavours including Lemon and Peppermint. We decided to try the Woodies Peppermint flavoured Oil distillate. It comes in a stylish 10ml bottle. When you want to take your first dose of CBD, you should give the bottle a good shake. Then release one full dropper under your tongue and leave it there for between 15- 60 seconds, before swallowing. This will ensure the CBD to be absorbed sublingually through the network of capillaries that are under your tongue.
Most users of your average CBD oil often complain about the taste, some calling it earthy, or bitter, others unpleasant and others still finding it unbearable.
The Woodies CBD peppermint oil is not your average CBD oil. It's actually very tasty indeed – and has a smooth distinctive taste. In fact, it doubles as an amazing breath mint and has a strong minty flavor that will make sure you remain focused for a short period of time.
Woodies Peppermint CBD Oil can be purchased from their website, where availability ranges from a 1,000mg bottle for £44.99 to a 4,000mg bottle for £176.99.
They also offer 100% satisfaction or money back, which says a lot.
Click here to check out Woodies CBD products, including high quality Peppermint Oil that tastes surprisingly delicious. Use the code: GETHEALTHY to receive a 10% discount on ALL products.
Follow My Referral  Link to discover all their amazing CBD products.