Vaping has become an exciting trend in the past few years. We have seen numerous types of vapes with multiple features over the years. Vape juice plays a salient role in a person's overall vaping experience. There are a variety of vape juices in the market currently that belong to different price ranges and quality standards. If we talk about premium e-juice options, priciness is a factor that comes up first.
Premium vape juice
If you want to try out premium vape juices, but the expensiveness holds you back, you must read on. In this article, we will understand why they cost so much. You will be able to clearly understand what aspects make premium options fall on the high price side. The vape community is always looking for superior experiences as they explore vaping. If you wish to do the same, premium vape juices will be on your bucket list for sure. Through this article, you will see what sets them apart, making them worth trying despite their higher price point.
Discounted and regular e-juices have their pros and cons, and so do premium vape juices. Now some people settle to consume premium products because of the high-quality feel. Besides, some users don't mind simple favors as they like to cut the cost with lower-priced options. Or they aren't too concerned about the flavor profiles. In both cases, one must know about the differences to figure their preferences out. So, let us head towards the characteristics of premium juices that set them apart from cheaper products.
Factors leading to the high cost of superior vape juices
That is an obvious point but makes a big difference in the money that goes out of our pockets. Premium e-liquids contain top-notch ingredients. USP (United States Pharmacopeia) grade ingredients are the best in terms of quality. Hence, you will see them in the ingredients list of a premium product. By using them, companies ensure that their products meet the legality and safety requirements as directed by the concerned authorities.
Key ingredients like nicotine, Propylene Glycol, and glycerin are in the purest form in premium vape juices. Competitive ingredient purity automatically leads to a rise in the cost of the final product. What is more, leading brands avoid additives that have potential hazards, though they may be cheaper to afford. For example, diacetyl would not ideally be present in a top-end e-liquid.
To achieve these quality standards in the ingredient, companies pick the best sources. Further, they also systematically plan the steps required to maintain the quality of their raw materials.
The flavor is what brings life into the vape juice. No matter how advanced and expensive your vape is, flavoring can still make or break the deal. The case is the same as having a choice between a local restaurant and a high-end one. Food can be phenomenal in both cases, but the difference comes in the planning and execution of the recipe.
Premium brands have experts hired who experiment and mix flavors for each product. They storm through various flavor options to come up with a unique combination. The process is not as much of a cakewalk as it seems. For creating remarkable flavors in the juice, a lot of layering and mixology are required. Mixologists carry on the process of trial and error for several months sometimes to come up with a flavor that matches the brand's standard. For primary flavors, the cost is usually not that steep. However, if you pick products with rare and newer flavors, it will cost you much more.
Hence, advanced techniques, skilled mixologists, and the choicest flavors make vape juice even more expensive. Brands dedicated to providing a memorable vaping experience spend a fortune in this process.
The perception of consumers depends tremendously on the packaging of the product subconsciously. I mean, people would naturally trust a product with sturdy, classy packaging rather than a flimsy, dull one. For that reason, leading brands pick glass bottles over plastic bottles for their vape juices. Even if they pack the product in a plastic bottle, high-grade plastic is a must. As a result, that hugely contributes to the value of the product.
Furthermore, the branding on the bottles requires high standards too. On top of that, the outer packaging, usually the packages are well-built and carefully designed too. These factors are highly crucial to maintain the brand identity. It establishes customers' trust in what they are about to consume.
Thus, the packaging equipment and quality check system are excellent for premium vape juices.
A suitable environment is required to maintain all the standards we have mentioned so far. Companies ensure that their place of manufacturing is equipped with the latest machinery required for their products. Also, they invest generously in the maintenance and up-gradation of their system to keep the standards intact.
Sanitation and safety are of utmost importance to smoothly run the process of manufacturing. Since e-juice enters our bodies, its contamination poses a jarring risk to the company's image. To ensure that, manufacturers have to put in the required equipment and regulate everything without fail. They say, "Everything comes with a price." And high-priority things come at an even higher price! Cleanliness protocols need to be put in place diligently too.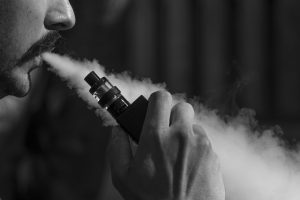 Conclusion: Should you opt for premium e-liquids?
In reality, you are the one who can answer this question the best. If you are a person who likes premium and high-quality vaping experiences, you must try them. Majorly, people who are highly concerned about flavor profiles prefer top-notch e-juices. But, the perks are not limited to that preference alone. Premium products mean assurance of quality and safety.
For people least worried about the richness of flavor, this can be a pass. Beginners do not usually purchase premium juice. It is more of a thing that people desire to be a part of the mainstream vaping community do. If you are a seasoned vaper and are curious about the finest quality, premium vape juices are for you.
When we are enthusiastic about any product, we grow curious to get hold of the best possible way to use it. So, all you vaping enthusiasts should at least once save up to buy a premium vape juice for yourselves!