Nursing is a rewarding, challenging, and complex career choice. With great responsibility comes the need for specialized education and training to equip new professionals with the skills they'll need to provide the best care possible in this ever-changing healthcare climate.
Holistic nursing brings together traditional knowledge and techniques while also focusing on how emotional, spiritual, and social factors can positively affect health outcomes – something that has become even more important in recent years as technology advances rapidly.
This blog post briefly discusses holistic nursing and why it should be an integral part of every nurse's preparation – from students just starting out to mid-career or advanced nurses looking for enhanced insight into their chosen profession – in detail. Let's begin!
What is Holistic Nursing?
Florence Nightingale is responsible for bringing a holistic perspective to nursing. She argued that a person's environment could influence their health, so nurses should be aware of all aspects of a patient's life, not just their illness.
This concept has been included in many Bachelor of Science in Nursing (BSN) programs at universities worldwide since it is gaining popularity in the medical field.
One such reputable institute is the University of Michigan, which provides nursing programs that incorporate holistic principles.
The EMU RN to BSN program offers specialized coursework highlighting holistic care's benefits and techniques. Each course outline imparts essential skills such as reflective practice, communication strategies, and stress reduction techniques to improve overall patient care.
8 Benefits of Holistic Nursing Education
Here is a detailed overview of reasons that set holistic nursing apart
1. Holistic nursing takes a more comprehensive and individualized approach to patient care
The holistic nursing approach looks beyond just physical needs and considers the patient's emotional, spiritual, and mental well-being.
This comprehensive approach not only provides support for the individual concerning their physical health but also connects them to resources that can aid them in making health-related decisions.
Taking this patient-centered care plan allows nurses to create an individualized plan tailored to helping each patient reach their goals and vision of optimal wellness.
2. Nurses who are educated in holistic methods have a greater understanding of how the body works as a whole
Holistic education provides nurses with the tools, knowledge, and skills they need to access a complete understanding of how the body works in its entirety. This supports overall health and wellness rather than just combating sickness when it arises.
Holistic care also gives nurses insight into the interconnectedness of people and their environment, allowing them to help clients address underlying causes of illness instead of simply administering treatment for symptoms.
These advanced skills can empower nurses to help their patients into full recovery and a better quality of life overall.
3. A holistic nursing education emphasizes the importance of preventative care
Preventative care is key in avoiding serious medical issues and minimizing costs associated with treating symptoms of an already-existing ailment.
The RN to BSN holistic nursing program offers specialized coursework highlighting the benefits and techniques of preventative care at all levels: from treating acute medical conditions to helping patients manage chronic diseases.
Information is imparted through lectures, discussions, and activities focusing on health promotion, risk factor reduction, and using a nurse's expert judgment.
4. Nurses who specialize in holistic care can treat patients with compassion and understanding
Nurses that specialize in holistic care go beyond the idea of simply treating a patient's physical symptoms. Instead, they address the needs of their patients more comprehensively. It includes not only physical needs but also mental, emotional, and spiritual well-being.
This type of caring allows nurses to treat their patients with respect, dignity, and kindness on a human level.
By tailoring care to the person's unique mental, spiritual, and emotional needs, these nurses can provide highly effective healing and comfort in times of need.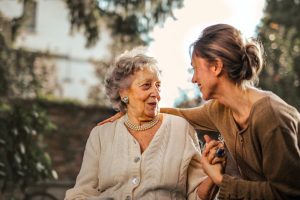 5. Holistic nursing education helps nurses develop their intuition and intuition-based decision-making skills
Holistic nursing education offers nurses a unique opportunity to sharpen essential yet often undervalued skills. By focusing on connecting mind, body, spirit, and environment in their practices, nurses who pursue holistic training gain the ability to assess both a patient's physical and emotional well-being.
This heightened awareness enables them to make intuitive and informed decisions that consider the entire individual.
Furthermore, holistic nurse educators teach students deliberative approaches to making sound, evidence-based decisions in healthcare contexts. With this combination of intuition-driven and evidence-based decision-making skills, nurses can provide truly dynamic and effective patient care.
6. A holistic nursing education can help you become an advocate for change within the healthcare system
By developing essential skills such as patient-centered care, evidence-based practice, and the ability to communicate effectively with other healthcare professionals, you can become an advocate for change.
In addition to giving you the core knowledge of medicine, a holistic nursing education encourages critical thinking and self-reflection about your practice as a nurse and its potential impact on individual patients and entire healthcare systems.
With this broader understanding of your role in the medical world, you have the power to create lasting positive changes that will benefit everyone.
7. Holistic nursing provides nurses with a unique perspective on patient care that can be applied in any setting
Holistic nursing is an underrated field that offers a valuable perspective for nurses treating patients. A focus on individualized attention is made possible by caring for the mind, spirit, and body connection during patient care.
Being more mindful of a patient's overall well-being helps foster nurse-patient relationships while providing appropriate care resources to help promote long-term healing.
Holistic nursing can be applied in any setting to improve patient satisfaction by using various techniques such as active listening, Qigong, deep relaxation, and guided imagery.
This strategy works together with interdisciplinary teams to leverage their collective expertise to create collaborative treatment plans that meet the nuanced needs of those in need.
All-in-all, holistic nursing lends itself to a truly unique approach to caring for patients that should always be considered when applicable.
8. Holistic nursing is an evolving field, which means there are many opportunities for professional growth
Increasing your holistic nursing skills will provide many opportunities to expand your knowledge and advance your career. By learning techniques such as massage, energy healing, and guided imagery, you can care for patients on an intimate level, offering unique treatments that may otherwise not be available in a standard healthcare setting.
Coupled with conventional practices, holistic nursing allows nurses to make a positive difference in the lives of others by connecting body, mind, and spirit. As the area continues to evolve, more opportunities for professional growth open up, helping nurses stay ahead of the curve and ensure that patients get the most advanced forms of care possible.
Conclusion
Holistic nursing is a powerful tool for both nurses and their patients, providing an approach to healthcare that emphasizes the importance of care for the whole person. 
It allows nurses to become advocates for change within the healthcare system; it also gives them unique insights into what individualized care looks like, which can be applied in any setting. Furthermore, holistic nursing provides many opportunities for professional growth, allowing nurses to stay on top of advances in the field and provide truly innovative treatments.
In short, holistic nursing has important implications for how we care for individuals and how we make health decisions on a larger scale. With this understanding comes the tremendous potential to improve healthcare outcomes and ensure everyone gets access to the best possible care.