Fuller lips have become a worldwide trend after Kylie Jenner's transformation, that made her stand out from the crowd. Though Kylie plumped her lips through lip injections and surgeries, which is surely an open option for you, but why to harm your lips when you can naturally get fuller lips with the help of some simple makeup hacks and home remedies. So, here have a look at the article to know such makeup hacks and natural remedies to get fuller lips.
13 Makeup Tricks To Make Your Lips Look Fuller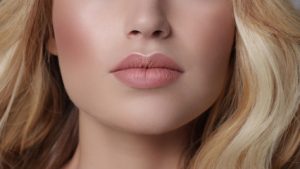 Below are some of most effective makeup tricks to make your lips look fuller, and some other natural ways to make your lips look fuller naturally.
1. Moisturize Your Lips
Moisturising the lips help to make lips look fuller because dry lips get chapped and thus appears smaller. You can easily moisturize/hydrate your lips with cucumber, all you need to do is take a slice of cucumber and rub it on your lips for 5-10 minutes daily. If not cucumber, you can also use honey, coconut oil, milk cream or olive oil to moisturize your lips.
2. Prime Your Lips With Concealer Or Foundation
Always apply concealer or foundation on your lips before using lipstick. This will make the lips smoother and will help to hide fine lines. Also, it helps the lipstick colour to pop, and all these effects give an illusion of fuller lips.
3. Use Nude Lip Liner or Lipstick
Using nude lip liners or lipsticks on the outer crease of your lips help to make them look fuller. All you need to learn is how to apply lipstick perfectly and how to use lip liners. Just select a nude colour that has the closest similar shade to your skin, then line your outer crease and blend it inwards to get those pouty lips.
4. Mind That Cupid's Bow
To give the illusion of fuller lips with the help of makeup, you can dab some highlighter on your cupid's bow, and it will instantly make your lips look fuller.
5. Go Lower
Lightly dust a thin line of bronzer beneath the centre of your lower lip, this will give a subtle, contoured dimension to your lips. This is the easiest trick for all the lazy girls who are at the same time ambitious to get fuller lips.
6. Use a plumping balm
A plumping balm effortlessly delivers definition to the lip line and also boosts hydration. This will enhance the volume of your lips. Do you have second thoughts about this trick? Fret not, it legit works. Use it to believe it.
7. Fill them out
PIt's a tried and tested method, so needless worry! Makeup artists swear by this method, use a lip liner which is at least two shades darker than your natural lip colour, then outline and fill in your entire lips with it. It'll make your finished looks appear more realistic and rich in colour.
Natural Ways to Make Your Lips Look Fuller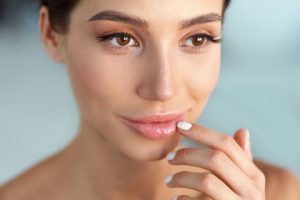 1. Exfoliate Lips With A Sugar Scrub
Exfoliating the lips help to remove dead skin cells. To exfoliate you can DIY a scrub, and for that, all you need is some sugar, honey and coconut/olive oil, mix it all well and use it as a scrub on your lips to exfoliate. Also, exfoliation helps to maintain good blood flow and makes the lips temporarily swollen.
2. Massage Your Lips With Aloe Vera
Massaging the lips with aloe vera gel on a regular basis makes them soft, treats fine lines and overall is a great antioxidant. Also, as massaging increases the blood circulation, it helps to give fuller effect on the lips.
3. Brush Your Lips
Brushing your lips with a toothbrush that has soft bristles help to wipe away dead skin from the lips. Doing so will exfoliate the lips, but make sure to dip the toothbrush in warm water before using it as it will give gentle exfoliation and will not harm the lips. You can even add coconut oil or cinnamon to get that fuller lip effect for a whole day.
4. Use Peppermint Oil
This oil is readily available at any nearby store, which makes it highly accessible. It acts as a natural lip plumper and also works to improve blood circulation in lips. Don't panic if you feel a slight irritation on the lips, as this oil will irritate your lips to give a natural swell. Not just this, your lips will have a natural rosy tint. Set your worries to peace, peppermint oil is not harmful. Instead, it has a very nice cooling effect which stays for an hour. You can either apply it directly on your lips, mix it with your lip balm or make DIY plumper at home.
5. Use Cinnamon Oil
Another au naturel option is to use cinnamon oil to get that perfect pout. However, like peppermint oil, don't apply cinnamon oil directly on your lips, it might cause severe irritation. It irritates and inflates the uppermost outer layer of the skin which causes the blood to increase. So, it is advisable to mix cinnamon oil in your lip balm to get red and fuller lips in an instant. To be double sure, you can do a skin patch test before applying this directly to your lips. Use this method twice a week, not more.
6. Use Honey or Beeswax
Who doesn't know about the multiple benefits of beeswax? Now, fuller lips are also one of them. Many Hollywood actresses opt for bee venom treatments which are too expensive. But we bring you an affordable alternative which is easily available in a supermart. All you need to do is apply a thin layer of honey or beeswax to your lips and let it stay overnight. Wash it with lukewarm water the next morning to see the magic. Ta-da fuller lips to the main!
So, these are the 13 makeup tricks to make your lips look fuller and natural ways that you can try at the comfort of your home. These hacks will give you fuller lips without harming them in any possible way. Hope you find this article helpful.
ALSO READ:
Author Bio:
Ishani Gulati is a Beauty and Lifestyle blogger by profession. She has an expertise in writing blogs on Fashion, Beauty and lifestyle niche. She has a knack to travel and explore new things and is an ardent observer of people.
Do you need a product that can help you get fuller, plumper and sexier lips? Then you should get IDOL LIPS!