Many of us are on a quest for that perfect Hollywood smile, especially if we're looking for little teeth tweaks like correcting a right-hooked tooth or a shaky incisor. And if you don't wish to make a pretty dramatic move with braces (unless a serious shift is needed), then cosmetic dentistry is an option worth exploring.
Cosmetic dentistry essentially involves procedures to improve the appearance of teeth, gums, and/or bite. A cosmetic dentist's primary focus is aesthetic dentistry that improves the color, position, size, shape, alignment, and overall smile appearance.
So, the next time you dream about having that perfect set of 32, there is no need to get frightened by the dentist's chair. There are several cosmetic dental procedures to help tidy things up and here's a breakdown of the 7 most popular ones – 
1. Teeth Whitening
Away, stains! With the variety of teeth whitening treatments available today, you can convert dirty-yellow to bright-white with an easy trip to the dentist. 
The cosmetic teeth whitening procedure will first involve removing plaque, tartar, and other debris from the teeth surface to restore them to their former glory. The second step is to whiten the teeth using a bleaching agent to achieve an even lighter shade (think matching eyes).
2. Shaping
Time to straighten things out!
Teeth shaping or enamel shaping involves a cosmetic dentist reshaping the misshaped tooth by filing or removing some of the enamel using an electric device. It is usually less painful, shorter, and a great alternative to wearing braces.
3. Dental Crowns
Crowns or caps are used to treat poorly shaped, decayed, broken, chipped teeth or to cover the spaces in between teeth. To preserve the functioning of such damaged teeth, crowns are custom-made to fit over your whole tooth.
Crowns can be made of porcelain fused with other metals, acrylic, or gold. The all-ceramic porcelain crowns offer the highest aesthetic value, but may not be advisable for heavy-functioning areas like the molars.
4. Tooth Bonding
If you've got slightly misshaped, overcrowded teeth or teeth with gaps; rejoice! Cosmetic teeth bonding can solve the problem for you without going through crowns, braces, or veneers. The composite used is made of a material that resembles your enamel color. Once the tooth decay is removed, the composite is applied onto the tooth surface and then sculpted into the right shape. This chip-masking and gap-filling procedure comes with an affordable cosmetic dentistry cost, making it so popular.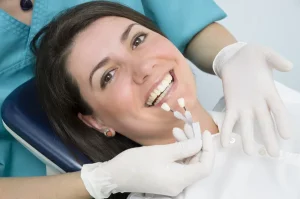 5. Dental Implant
Here, a cosmetic dentist inserts a small titanium screw into the jaw at the site of the missing or damaged tooth. The implant supports the crown but is almost hard to tell from the rest of the natural teeth. The implant is permanently secured into place once the bone and supporting tissues fuse with it.
6. Dental Veneers
One of the most common procedures in aesthetic dentistry involves veneers. Veneers are thin porcelain or medical-grade ceramic shells that sit over the facial surface of stained, chipped, or fractured front teeth. They can even cover spaces between teeth.
The enamel of the tooth is gently filed and then its impression is sent to a dental lab to get custom veneers made. Veneers look extremely realistic and are applied in the front of each tooth using dental adhesive.
7. Gum Grafting
This one is to correct a gummy smile where your grin is more gum than your pearly whites. It is caused due to receding gums which can be a result of over-brushing, brushing incorrectly, or gum disease. Gum recession causes the teeth to be exposed more and hence become sensitive, uneven, and unappealing.
To replace the departed gum, the healthy gum tissue is removed from the mouth's roof and grafted to the problem area, making it stronger and be able to hold loose teeth.
Although cosmetic dental procedures like cosmetic teeth whitening, composite bonding, veneers, etc. have become widely popular; it is important to find a trusted cosmetic dentist who can walk you through your options and help you get the flawless smile you always dreamed of.
Author Bio:
Shen Chao is part of Dr. Joshua Hong's Dental Clinic in Goodyear, AZ. While working for the dental clinic, he's gained first hand experiences into the questions and concerns that dental patients have. He has been writing to inform people about various dental topics to help his readers improve their oral health. When he's not working, you can find him on a hiking trail with his dog or having a Sunday cook-out with friends.