It's no surprise that every parent wants their kids to grow up healthy and protected from various infections and viruses.
Whether you have a toddler or a teenager, kids are getting exposed to harmful toxins through the intake of refined sugar and junk food loaded up with chemicals. Additionally, the pollutants in air and water worsen the situation even more for your child's body.
Though every one of us has some level of toxicity resides in our body but since children are more vulnerable, they get easily affected through these harmful substances.
Unfortunately, when the toxicity level rises up it can give rise to serious chronic illness to your kids like autism, asthma, allergies, obesity, diabetes, etc.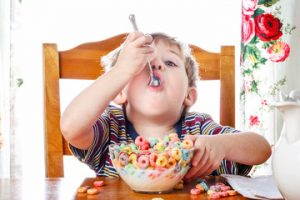 Getting Started
Overconsumption of junk food and high sugar dense food can put your child at the risk of several diseases other than obesity. Have a quick look below.
Low energy level
Not able to concentrate and focus
Lack of certain vitamins and minerals in the body
Psychological issues
Hormonal imbalance
Hyperactivity
Increase temptation towards unhealthy sugary food
Weaker immune system.
As a matter of fact, you cannot control the exposure in the case of environmental toxins. Luckily, you can definitely limit the exposure via detoxification.
By detoxification, I am not referring to extreme fasting or juice cleanses for your child as it can be very dangerous for their health because they are not well-nourished.
Detoxification of a child's body can be simple done by switching their poor dietary and other bad habits and sticking just to the healthier ones.
Here's how can detox your kids from unhealthy eating habits in the best ways possible.
Give Different Food Choices
Rather than forcing your child to eat a particular food item, offer them a couple of healthy alternatives. Kids are more likely to eat what you offer when they get some choices to choose from.
Also, let them decide how much they want to eat. The idea is to give them nutritional food items regardless of the source of the nutrients.
Stock up with healthy food at home
Parents have to ultimately decide which food items should be in their refrigerator or cupboard and what not.
A kid cannot really intervene in the food supplies at home. Therefore, stock your house with healthy food items even snacks. It's a smart move to distract your kids from unhealthy junk food consumption and encourage them to develop a healthy eating habit.
After all, they are going to eat what's available in the home. Isn't it?
Eat healthy with your family
You have to follow the same approach that you are trying to develop in your child's daily routine.
Removing toxins are as essential for you as for your child's body. Moreover, eating healthy food with the whole family will further encourage them to eat clean and green. Eat healthy by yourself and set a great example in front of your children.
Add more dietary fiber and proteins in their diet so that they do not starve in a frequent interval.
Listed below are some common yet effective super foods that should make some space in your kitchen.
Green vegetables – Spinach, broccoli, kale, lettuce
Fruits- Orange, watermelon, berries, banana, apple
Nuts and seeds
Dry fruits
Oats
Legumes
Immunity boosting food – Spinach, broccoli, garlic, ginger, fruits high in vitamin C, watermelon, yoghurt, pomegranate.
Encourage them to go out and play
The harmful toxins in the body can be flushed out through sweating. Push your kids to not be a couch potato and go out to play games like running, jumping, cycling, skating, etc.
It's a great way to make your kid healthy and accelerate better functioning of the entire health system.
Make sure they stay hydrated
Water is the simplest and most convenient way to get rid of harmful toxins and get a healthier gut.
In order to maintain the overall well-being of your child's body, get them in habit of sipping on plenty of water everyday. Besides that, I have arranged a list of some detox drinks that tastes yummy and offer a handful of health benefits.
Lime water
Coconut water
Fresh and chemical-free juices (preferably made up of citrus fruits containing higher vitamin C requirement like mandarin, berries, lemon, amla etc.)
Green juice.
Give them healthy snacks
Snacking is a great option to curb hunger and bridge the gap between meals. Whenever your child craves for something to eat, serve them healthy snacks which give them a fuller stomach.
Below-mentioned are some of the snacks that you can encourage your kids to eat:
Fruits or veggies
Chemical-free juices
Plain Greek Yoghurt
Nuts
Homemade Popcorn
Dry fruits
Oats
Fruit smoothies without any added sugar/preservatives
Offer healthy sweet substitutes
Craving for sugar is normal and you can get them to eat desserts occasionally. Just make sure this does not turn into a habit as excessive consumption of sugar can wreak havoc to their entire health.
For that reason, replace refined sugar with natural sugar dense food items like fruits, jaggery, honey, maple syrup, coconut sugar etc. You can also surf the web to learn some steps to cut down sugar intake from your child's eating schedule.
Final Thoughts:
As you can see, it is not rocket science to cut back your kids 'bad habits and induces healthy habits into their everyday routine.
Just make sure to consult with their nutritionist or dietician before making any modifications in their lifestyle to ensure safety.
Slowly, you may observe that kids will start understanding the importance of healthy food and they can easily recognize between unhealthy and healthy food. What else anyone can wish for as a parent?
Do not go harsh in the start, keep it gentle, and the kids will soon start embracing the changes. All the best!
Author Bio:
I am Rashi, a creative content creator associated with OMJOOS, a brand of More Orgo Private Limited. I am a Graduate from Amity University with a Journalism and Mass Communication degree which gives me broader ways of approaching a topic. I am a strategic thinker who has expertise on writing about Food & cold-pressed juices. In my free time, you will find me either eating food or grocery shopping.