A medical career is undoubtedly one of the most lucrative paths to attain a successful professional life. There are many things to sort through after deciding upon a medical career. But how do you get started? This blog boost can guide a pre-med student to apply to a medical school. Read ahead to begin your preparations and set yourself on the path to becoming an MD.
The medical school requirements often differ upon the medical institution you opt to pursue a medical education. However, there are some standard med school requirements that you must know as a prospective student. A pre-med course is typically needed to enter a medical school in the United States and even the Caribbean. As an aspiring medical student, you must know Caribbean medical schools are often an appealing option because they follow a system-based curriculum similar to the one followed by the medical schools in the United States and Canada. 
Keeping in mind that you are a pre-med student, you are on an educational track that undergraduates often go through prior to pursuing a medical program or an MD program. As a pre-med, one of your most important responsibilities is to ensure that you take all the pre-requisite coursework required for a medical school.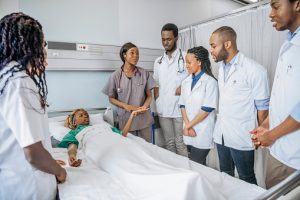 Apart from pre-med coursework, let us look into other pre-requisites to apply to a medical school:
1. GPA(Grade Point Average)
Earning an undergraduate degree in a relevant subject is important before applying to a medical school. The average score required to apply to a medical school range from 3.5 to 4.0 GPA in the United States. In this scenario, island medicals become the best alternative since they accept GPA scores of around 3.3 or 3.4. However, an undergraduate degree is required regardless of the medical school you opt for.
2. MCAT (Medical College Admission Test)
MCAT score is required for all the candidates who intend to apply to a medical school. Thus, pre-med students must start their preparations early to score well in the test.
3. English Language Proficiency
A medical school with English as their language of instruction can ask for language proof, such as TOEFL(Test of English as a Foreign Language). This is particularly required for candidates whose native language is not English.
4. Patient-Care Experience
Many medical schools often require direct patient-care experience. This experience can come from shadowing a physician, working in the clinical, or volunteering in a hospital setting. Having patient-care experience prior to entering a medical school can help aspiring medical professionals with additional knowledge that can help them make crucial decisions about choices in medicine.
5. Letters of Recommendation
Most medical schools require a letter of recommendation. Having letters of recommendation from a medical professional or a faculty of your undergraduate college can represent your competency to pursue a medical program. 
6. Personal Statement
Preparing a strong personal statement can positively impact your admission to a medical school. The topics of the statement may vary, but generally, the candidates are asked to explore the reason behind pursuing medicine, or the event that has shaped them, or about their passions, achievements, interests, and experiences.
A medical school has its implications for your future in the field of medicine. Thus, thorough research is recommended to ensure that the medical institution you choose can help you become an excellent medical professional. Log on to our website and check out the medical program details!