Different families have different considerations when the time comes to move their elderly to senior living communities. Some may prefer living in an independent community, while others may be better suited for assisted living.
If they have some chronic illness, a nursing home is better. Then some people of faith may prefer faith-based retirement homes.
However, you need to look at all your options, and take some factors into consideration.
In this post, we look at how you can help your parents during the move to senior assisted living.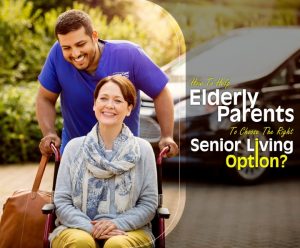 Have a Conversation with Your Family
Relocating to a retirement home or an assisted living is a huge decision. Your parents must be part of it as the whole decision is about them. And, while you're at it, be sure to talk about –
How much care you can offer

– Caregiving is a long-term commitment so being realistic about outside support is important. Besides, you have your own needs. So do not commit to more than what you can realistically provide.
Expect disagreements

– It's normal for some of the family members to disagree with a few decisions. What's important is that everyone is part of the discussion. It's good to welcome input and see what others have to say to come up with a unanimous solution.
Expect denial

– Some parents may disagree that they even need to move to a senior living. If that's the case, you need to pick the right moment. Get them to sit down and listen to your concerns, and observations. Tell them about how the move will enhance their quality of life. Listen to their fears and concerns as well. 
Understand How Senior Living Can Help
To best understand how a senior living might help your parents, you need to begin with evaluating their needs first.
Think about what activities of daily living

they might need help with. Are they comfortable with dressing, bathing, and moving around easily? What's the level of help they presently need and may also need in a couple of years.
Find out what the facility offers

– Depending on whether you're contemplating a memory home, an assisted living, or a nursing home, think about what all services you can expect. Different communities offer different levels of specialized care and help.
Think about the benefits

– Tell your parents that with the level of professional care and help, their quality of life will improve. Pay attention to the list of activities and amenities that will allow your parents to live healthy and safe.
Make a Plan & List Your Concerns
Make a list of all the concerns that your parents might have. Perhaps they are fearing the chance; which is a big one. Such a big change can be particularly difficult for the elderly. At this point, it's good to talk about the benefits like never missing a dose (which is possible at home) or having 24/7 medical supervision. Tell them such services could improve their health as well as longevity
After that, it's good to think about their financial situation. A financial assessment often controls where your parents will wind up. Be realistic about what they can afford and what all sources they have. Take into account things like savings accounts, long-term insurance, veteran's benefits, government aid programs, Medicare, etc.
Visit the Facility or Take a Virtual Tour 
It's one thing to look at brochures, online reviews, floor plans, and photos. But, it's quite another to visit the facility and look at things in person. 
Nothing can substitute a trip to the senior living facility. With the online virtual tours, you don't even have to leave your house now. The point is, you need to tour the senior living community. Ideally, you should shortlist at least 3 and visit them. 
Talk to the facility and schedule a tour along with your parents. Be sure to visit during mealtimes to look at the quality of food. Talk to the staff and residents, look at the living arrangement, quality of the atmosphere, and also sample the food. 
Look into the ADL Services
If your parents have reached a stage where they need help with ADLs or activities of daily living, then this is something you should pay close attention to.
Be particular about the following ADLs –
Dining

– Though most people can eat on their own, some nursing homes offer necessary help to the residents that need it.
Managing medication

– Some assisted living facilities will charge extra to manage medication, others may do it for free.
Personal hygiene – See if help with grooming and showering is part of the package or if you will be charged extra for these services.
Mobility

– What's your stance in terms of your parents' ability to move around? If they can't do so without help – a nursing home may be better for them.
Continence

– Do your parents need help with toileting? See if the facility you're contemplating offers help with that.
Talk to your parent's physician to determine what level of care they need.
Prepare for the Transition 
It's important to consolidate their possession. If your parents want to downsize, try to donate or sell a few items. 
Also, think about who's going to handle the move. Do you plan on hiring a moving company or would you coordinate things on your own? Having a plan in place will ensure minimum stress and a smooth transition.
Collect all medical and tax-related documents. Do not miss any other important information that they might need. Put them in a safe place so they don't get misplaced.
Other Amenities/Services
Other than standard amenities and ADLs services, you should also look at the following –
Does the community offer financial consultancy? What financial solutions are available?

What's the level of healthcare? Do they offer things like mental health evaluation, physical therapy, etc.?

Is there enough staff for the number of residents?

If your parents cannot live without their pets, look into retirement communities that allow pets.
What's the social calendar like?

Does the community feel welcoming? Does the staff seem respectful?

What all health and enrichment programs the facility offers?

Picture yourself living there. Would you want to live there? 

Are there emergency call devices?

Is the food tasty and healthy?

What all is included in the monthly fee?
Bottom Line
Hopefully, you will take care of all these things during your parents' move to enjoy a smooth, stress-free transition.
AUTHOR'S BIO:
Holly is a pet lover who owns a dog and loves to write about everything related to pets. She is a frequent writer and contributor to top online pet publications and blogs, including Faith Based Assisted Living and Pet Friendly Senior Living.