Losing a tooth changes the biting forces in your mouth and spaces in your mouth start shifting. And since the opposite tooth doesn't have anything to bite or chew against, it starts moving out of position.
With these changes, cleaning your teeth serves as a bigger challenge for patients. It also gives bacteria and plaque a chance to hide in a place where your brush could never reach. Flossing may also not help. In such cases, your teeth are more susceptible to damage that include tooth decay and periodontal disease.
The inability to bite and chew properly can further loosen teeth and damage the jaw bone. And a problem like grinding and clenching surfaces, wearing out the surface of your teeth. Before these problems worsen, it's important to visit your dentist who could analyze your situation better.
Here's a look at the two most popular tooth replacement options – Dentures vs. Dental Implants. Read on to learn more.
What are dentures?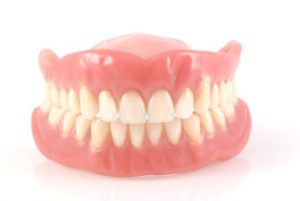 Dentures are a single treatment that can help protect your eating and appearance, preventing further damage to your mouth. Dentures can be complete or partial depending on whether or not you have natural teeth. The partial dentures will keep your remaining teeth in position. Dentures are custom-made to fit your jaw size. They match the color and shape of your existing teeth. Complete dentures are kept in place with the help of an acrylic base that sits over your gums.
Here's a look at the advantages of dentures:
• Function
Dentures were previously designed for chewing. But modern dentures serve a bigger purpose. This includes benefits like being aesthetically appealing, fully functional, and comfortable.
• Versatility
Dentures are of many different types, and it includes partial and complete sets. Complete dentures are perfect for patients who have lost a few of their teeth. However, partial dentures are great for replacing gaps for missing teeth.
• Health
Dentures can help define facial muscles and reduce oral bone loss. Dentures are also a proven treatment to help patients improve self-esteem.
• Cost
Dentures are a cost-effective treatment option, especially when you have still had a lot of natural teeth.
Here's a look at the disadvantages of dentures:
• Adjustment Period
While dentures are designed to fit your mouth, some problems may surface. Your jaw will take a while to adjust to dentures. You may challenges while speaking and eating at first.
• Not an Everlasting Solution
Even though you wear dentures, you will not have any control over your changing facial structure as you age. As the structure of your face changes, you will require a new pair. So you may have to replace your dentures every 5-8 years.
So choose a treatment option that best suits your budget and priorities. This will keep you satisfied, and you will reap the maximum benefits from your preferred treatment choice. But if you still can't make up your mind, visit your dentist who can help you pick a treatment that's unique to your teeth.
What are dental implants?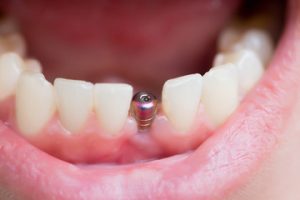 Dental implants are a small titanium screw that restores a missing tooth. They are fit into the jawbone and secure the artificial tooth in place. Implants are meant to restore a single tooth, multiple teeth (bridges) or to fasten and support dentures.
So what are the advantages and disadvantages of dental implants?
Here's a look at the advantages of dental implants:
• Durability and Predictability
Dental implants are a highly durable and predictable tooth replacement method with a 95-98% survival rate and can last over 25 years. They're easy to maintain and can be kept clean.
• Function like Natural Teeth
They are not unsecured like dentures, making daily activities such as eating and speaking easier.
• Preserve Bone Structure
They protect the bone structure without any compromise.
Here's a look at the disadvantages
• Expensive Treatment Cost
For some people, the cost of a dental implant may be substantial, and insurance plans typically do not cover the cost of implants. However, in most cases, this is a one-time cost, unlike other types of tooth replacement procedures.
• Restoring Implant Site
It takes 3-6 months, sometimes, even more, to properly place and restore the implant site. And some people may consider this as a disadvantage.
• Require Surgery
Dental implants require surgery, where the implants have to be placed into your jawbone. Remember, any type of surgery comes with some inherent risk.
This article will help you decide which is better for you,  when it comes to Dentures vs. Dental Implants.
Author Bio:
Dr. Anu Isaac, DMD, runs a successful dental practice in Salem, MA. As the founder of  Coral Dental Care, she is dedicated to creating healthy, beautiful smiles for her patients and also to educating the dental and non-dental community with her engaging articles on all things related to oral health, recent dental innovations, and latest treatment modalities.
ALSO READ: