Oral health is an integral part of a person's overall well-being. This makes the choice of a dentist a very important decision. Especially when it comes to family dentists, as they are responsible for diagnosing, treating and preventing teeth issues for an entire family. Apart from obviously being competent in dentistry, they also should be used to working with different age groups and their dental specifics.
Even though the functions of a family dentist are more or less the same as those of the general one, there is still a slight but important distinction between the two. Let's look at the important qualities that set a great family dentist apart.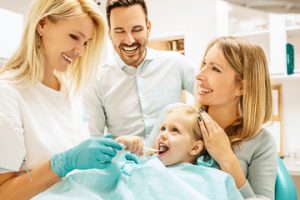 5 Qualities Of A Great Family Dentist
1. They Are Enthusiastic
Enthusiasm is what makes a good dentist a great one. Passion for their profession is makes a family dentist eager to educate both children and adults about oral hygiene. Whether it's cleaning, teeth whitening, or any other kind of treatment, they should be excited about oral health and its effects on both the body and mind.
Patients are much more likely to follow through on treatments and recommendations, as well as keep their visits regular, if they know that their dental care provider cares about maintaining their best possible oral health.
2. They Are Attentive To Detail
A dental check-up is more than a mere look at the patient's mouth. The best dentist will take care to carefully inspect each detail of the jaw, gums and teeth. Attention to detail guarantees that errors are minimized and the dentist remembers each patient's medical history.
When doctors are well familiarized with their patients' history, they are more likely to provide better long-term care, predict issues, and avoid risks associated with routine procedures.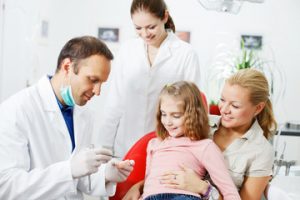 3. They Are Compassionate
Family dentists treat all sorts of patients, from little babies to the elderly. This makes the human side to the profession very important. Whether they are examining a young child or his parent, they have to be able to understand everyone's challenges, experiences and expectations, in order to be able to treat them in both a gentle and effective way.
An good example would be administering a treatment for cavities on a very small child, who is too young to understand and is easily traumatized. It takes patience, compassion, professionalism and great skill to treat the youngest patients without making them look towards their next visit with fear and trepidation. Any dentist can fill a cavity but it takes a great one to do it stress-free and as painless as possible for both young and old alike.
4. They Are Trustworthy
Three main characteristics of a reliable dentist are experience, ethics and trustworthiness. If you need to find the most trusted dentist in Greenbelt, MD, their reputation with the community must be 100 per cent positive. If they are both experienced and ethical, you will find proof of that in patient reviews for sure.
Reliable also means dependable and being able to handle both routine appointments and emergencies in a calm and professional manner, without pushing costly procedures on you because of a dental incident. (Check out this article on how to avoid getting ripped off.) You want to rest assured that whenever a family member needs urgent care, your call will be answered. Sure, no office is open 24/7, but you will at least get guidance to a clinic or doctor's office where you will be able to receive emergency care when you need it.
5. They Are Child-Friendly
Trips to the dentist make most children fearful and anxious. This leads to tricky situations where the staff need to be able to make little patients feel more comfortable in order to conduct an examination or provide treatment. If you specifically prefer a pediatric dentist for your child, you can find some tips on picking one here.
You can ask other parents for a dentistry where staff has succeeded to make them relax and where they have been treated respectfully. This is one way to find an awesome referral, as parents do remember their child's trips to the dentist.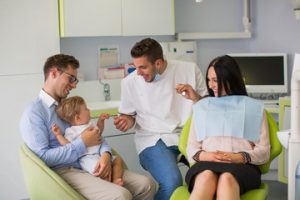 Finding the right family dentist ensures proper dental healthcare for you and all members of your family at every stage of their life. It is extremely important, from the formation of lifelong habits as a child to maintaining oral health throughout adulthood.
YOU SHOULD ALSO READ: