Many people fear even the thought of getting orthodontic treatment. But this fear and anxiety are often due to the lack of information. So, read on to find out everything you need to know about teeth straightening to make up your mind and fix that appointment that you've been postponing for a long time now.
Is there an age limit for teeth straightening?
No. Teeth straightening can be done at any age if your teeth and gums are strong. However, childhood is the perfect time for teeth correction since the mouth is still growing and the tissues are soft and flexible. This is the reason kids' teeth are aligned faster than adults' from wearing braces. 
If you still have second thoughts, you must consult your orthodontist and get your teeth examined. And if you're not comfortable with wearing braces, you can also check your options for Invisalign treatment.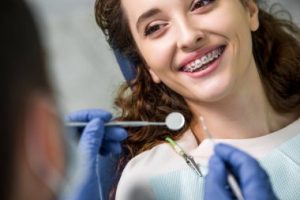 What are the things you should know before getting braces?
Though your orthodontist will explain the pre and post-treatment measures to you in detail, you must expect a few things. The cost of orthodontic treatment varies from treatment to treatment. For example, getting braces is quite cheaper than getting Invisalign treatment. 
You may also experience some pain which will subside within two weeks. If the pain is extreme, your orthodontist may prescribe pain killers. Rinsing your mouth with salt water three to four times a day is also very helpful during the treatment. Also, you may be required to wear retainers after the orthodontic treatment. But all this will ensure that your complete oral health is restored. 
What are the benefits of teeth straightening?
Teeth straightening gives you a beautiful smile and restores your confidence. However, it has some other great benefits too. Here they are:
Excess plaque buildup leads to swollen and itchy gums which may result in periodontal disease.  And straight teeth make it easier to clean plaque buildup, hence providing defense against periodontal problems. 

Crowded teeth can cause some teeth to jut out. And these teeth end up worn because of rubbing with each other. 

Straight teeth reduce the risk of serious tooth injury since crowded teeth can easily break or get damaged in an accident.

With straight teeth, there is no excess strain on gums and teeth bones. And this decreases neck pain and headaches.

Straight teeth reduce the risk of oral infections that lead to problems such as heart disease, diabetes, stroke, and pneumonia. 
Do I need a retainer after teeth straightening treatment?
Yes, most orthodontists suggest wearing retainers after the orthodontic treatment for at least 12 months. Aligners are used to keep the teeth from shifting to their position before the treatment. They ensure that the bite doesn't change after the braces are removed. So, for the first few months, you may require wearing aligners all day long. And when your orthodontist suggests, you can start wearing them only at night every day. 
If you're still confused, visit your orthodontist and let them figure out the most convenient teeth straightening method for you based on the health of your teeth and gums. The reward of a healthy smile will be worth your efforts. 
Author's Bio:
Creating perfect smiles is what Dr. Satish Pai is committed to. An orthodontist by profession, he believes that a perfect smile is a powerful part of a person's personality. When he is not working hard on perfecting his patients' smiles at Putnam Ortho, he is busy writing engaging articles about everything related to healthy and perfect smiles. His other passions include golf, yoga and surfing. Spending time with his family always brings a smile on his face.