After sustaining injuries from a car accident, the last thing on your mind is the legal portion. Instead, your hands are full with your medical treatment and recovering from the injury.
Amidst all these things, you must never forget to discuss with your doctor about the injuries. When you first visit your doctor for treatment after a car accident, tell them about the history of injury. Do not leave out any details.
Try to be as descriptive as possible and let the doctor know the depth of your pain. For example, tell your physician where you are stiff, where you feel the pain, whether you have lost the range of motion or have lost the ability to do even the normal work.
No, we are saying to overstate your injury; we simply want to be honest about your injury and cover every detail.
Things To Discuss With A Doctor After A Car Accident?
Being in a car accident can be stressful and put you in a complex situation. One of the first things that you must do after a car accident is to seek medical attention.
While you are being attended by the healthcare professional, instead of just lying on the bed, it is better to discuss with your doctor about your health considerations. This will give you an insight into your current situation.
If you or your loved one was in a car accident, contact a car accident doctor in Plantation. They are professional at dealing with such injuries and even help the victim recover compensation with complete medical documentation.
We have prepared a list of things that you can discuss with the doctors to know the extent of your injury and how much time you would need to recover.
1. The Nature Of Your Injuries
The first thing you should discuss with your doctor is the nature of injuries. Try to be as descriptive as possible about the location of pain and stiffness or whether movement has been reduced at any particular joint.
If required, ask the doctor to give a complete picture of which bone is broken and if anything is torn in cartilage, ligaments, or muscles. If you have any fractures, talk to the physician regarding how much time it will take for complete healing. For example, a fracture can heal within six weeks but sometimes takes longer. In this case, it's better to know what you are up against.
2. Physical Examination And Tests To Be Conducted
Though doctors conduct tests before treating patients for car accident injuries, it is still important to discuss the tests you should conduct.
For example, if your doctor suspects a fracture and recommends an X-ray or CT scan, ask for alternatives if you think it might aggravate your pain. Again, let the doctor know if there is any discomfort with moving and adjusting in certain ways during physical examinations. If there is no absolute necessity of such tests like MRI or bone scan, then speak up as they can be painful and expensive too!
3. Documentation Of Injuries And Treatment Methods
If the victim has suffered from car accident injuries, they must find out how much compensation they will get for those injuries by having complete documentation. Most physicians have their legal teams to assist the victims in getting the compensation.
In this situation, it is better to have a clear picture of your injuries and how much time you will need to recover from these injuries because that determines how much money you get for your pain and suffering. Another thing you should do is to go to a serious personal injury law office, and inform them about the injuries and treatment costs.
4. Treatment And Counseling To Prevent Future Injuries
Doctors always ask their patients whether they have undergone any treatment or counseling to prevent future injuries. If yes, then find out about the intensity of such treatments so that you can judge if these treatments are helpful or not. Some accident victims can also be referred for physical therapy, which takes a long time before one regains their injured body parts.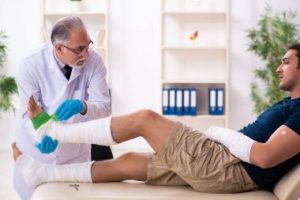 5. Treatments For Relieving Pain And Discomfort
The next thing to discuss with your doctor is the treatments, which can help you relieve pain and discomfort caused by your car accident. As an accident victim, you will be prescribed medications and therapies so that you can get back to normal and active life within a short period.
For example, if you feel numbness in certain parts of the body due to injuries, ask for appropriate medication.
6. Will You Be Able To Return To Work?
This is a question that all accident victims ask their doctors because only after getting back to work will they be able to lead normal lives.
If the physician has not given you any clear answer, try to find out about your ability to do your daily chores such as driving, shopping, or even climbing stairs. Doctors always advise their patients for light exercises, which help in improving body movements and also relieve pain caused due to car accident injuries.
7. Will There Be Any Permanent Damage From The Injuries?
This is another important question regarding the consequences of your car accident injuries. Some people recover within half a year, but others take a longer time. If you know somebody who has taken a long time to recover from injuries, ask your doctor about the same.
Permanent damage can likely be caused if your injuries are not treated properly and promptly because it will make it difficult for you to resume a normal life. In such cases, compensation becomes an important factor.
Conclusion
So these were seven important things that accident victims should discuss with their doctors after car accidents. If you have been seriously injured due to somebody's careless driving, then consult a personal injury attorney right away to get lawful remedies that can provide financial support during this tough time of your life!