Have you ever checked your skincare routine? Using a face wash and applying moisturizer is not a skincare routine. You have to take really good care of your face to avoid visiting a dermatologist often. Problems like acne, acne scars, puffy eyes, wrinkles, etc. are all skin problems that have several contributors.
Looking fresh every day at your workplace is not a piece of cake. Your puffy eyes can spoil the entire look in just seconds. Women have repeatedly reported eye problems and their solutions are tricky to find. The busy schedules do not allow regular use of home remedies. There must be something quick and easy to use for the skin under the eyes.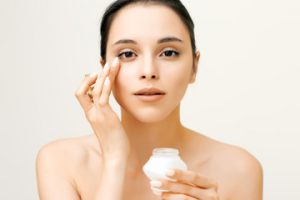 Medical science has made many improvements, and the latest formulae for skincare products make it easier for you to keep your skin healthy. There has been a long debate about under-eye products, whether it is safe to use or not, on the skin around eyes. All the renowned brands claim results after testing their products. Eye creams and serums are safe to use if used according to the instructions.
Conscious individuals are eager to find the best products for their skin, and this has become a major contributor to the birth of myths. In this blog, a few of these myths have been discussing over. Give them a read and know if under-eye serums and eye creams are safe to use or not.
Easy Cure, Bad Cure
It is one of the most common myths that every instant cure is unhealthy for the skin. It may not be true for every product. Under-eye creams and serums have been manufacture, especially to help your skin under the eyes. It is an easy cure, but it is not a bad cure.
You may find one drawback that whatever brand you choose for eye creams and serums, its regular use can help you get healthier skin under the eyes. If you skip two to three days, you may witness puffiness again. It is temporary, but home remedies have the same problem. It is not easy to get rid of problems like these.
Eye Creams are Simple Moisturizers 
There is a difference in the formula as well as the consistency of eye creams and body moisturizers. The skin under the eyes is more delicate than other parts of your face. It is a misconception that eye creams and serums are the same as moisturizers. Under-eye skin needs better care, and that is possible with eye creams and serums.
Puffiness, wrinkles, and other problems can be easily deal with, and you can get younger-looking skin. Also, the consistency of eye creams is thicker than other lotions. The under-eye skin is delicate; therefore, it needs more moisture and oil to prevent dryness. Eye creams and serums can help you.
Problems are Hereditary and Can be treated 
Research has shown that under-eye skin problems can be hereditary as well. It does not mean they are only hereditary and incurable. These problems have a treatment as well, but you can use creams and serums to slow down the process and gradually treat your under-eye skin.
Inherited problems like wrinkles are acceptable, but that does not mean one cannot treat to cure it.
Better Sleep Cycle Can Help Better Than Creams
It is another myth that an unusual sleeping cycle is the only reason for dark circles and puffiness, one of the factors that contribute to problems like these. There may be hormonal imbalances or pH issues that can lead to under-eye skin problems. The proper sleeping cycle is important, but it is not the only cure, and it cannot treat the under-eye problems better than the creams.
Eye creams and serums are manufactures to balance all the anomalies. They are safe to use, and you can gather information before buying any cream. The best eye creams and serums can greatly reduce problems like wrinkles, dark circles, puffiness, etc.
What Is the Difference between an Eye Cream and an Eye Serum?
Both of these products have formulated to treat your under-eye skin problems. You cannot consider them the same, because they have some differences. Their purpose is the same, not the intensity and frequency of action. Here is a simple description that can help you identify the basic difference between an eye cream and an eye serum.
Eye serums are more like face serums that have active ingredients, and their penetration ability is better than creams. They go deeper into the layers of skin under the eyes and keep it hydrated. Eye serums are not very common, but the trend might change sooner or later.
On the contrary, eye creams resemble moisturizers that do not go deep into the skin like serums. There is no question on their efficacy, but the consistency and inactive ingredients of the creams differentiate them from serums.
CONCLUSION
Eye creams and serums can treat you under eye skin problems proficiently. They are the most effective solution yet. It is only a myth that eye creams and serums are unsafe to use, and they are body moisturizers packed in smaller bottles for increasing sales and marketing. They are safe and highly effective if you have bought the right formula.