Keeping your floors clean is no easy job, and chances are you do it more often than you would like. The problem, however, is that it seems like an endless job because most of the dirt and stains on your floor come from outside. That is, people, including you, dirty your floor with your shoes from outside. And since you cannot stay indoors forever, your floors would always get dirty, even if you do not wear shoes indoors. For businesses and public places, it is a lot worse to handle. That is why doormats are very essential. 
But most doormats do not make things easier as they still manage to spread dirt, and you have to worry about cleaning them, which is not without its own stress. Plus, many of these doormats do not even clean your shoes that well and do not even get rid of germs on the sole of your shoes. You can bid goodbye to all the stress that comes with traditional doormats by going for Sani Mat. 
About Sani Mat
Sani Mat is a doormat like no other, as it is not just simply for wiping your shoes before you enter a house/room. The name already gives an idea of the special thing the mat does. It is a sanitizing and disinfecting mat, meaning it does not just clean the bottom of your shoes, but also disinfects it, killing germs, so you do not bring it into your home. People are very worried about the dirt that they barely remember, or they forget that they also bring in germs with them. Though the sole of your shoe may look clean, there are still germs present, despite you not seeing them. Other mats only take care of dirt and stain, but Sani Mat takes it a step further by letting you disinfect your shoes after getting them cleaned
 The mat is able to perform this because it is partitioned into two areas; one for cleaning and one for disinfecting. After cleaning your shoes on one side, you step on the next to disinfect it. The good thing is that besides this feature, the mat still has a compact size and a sleek design that would add style to your doorstep. Sani Mat can be placed on the entrance of homes, schools, hospitals, and businesses. 
Features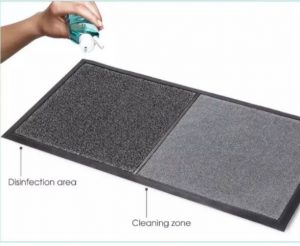 Sani Mat has a partitioned design with one area solely for cleaning, while the other allows you to disinfect your shoes. The area for disinfecting works by storing disinfectant which you pour on the surface of the mat. That means whenever anyone steps on that area, it dispenses disinfectant that would sanitize the sole of the shoe, boot, sneakers, sandals, or slippers.
The cleaning area has a sponge-like surface that helps to clean and remove dirt and debris. This surface also absorbs liquids. It also provides a grip that prevents you from slipping while you use it.
Sani Mat is made of microfiber, which is known to have a better absorption rate than other materials, it cleans better, and is also good for the environment. It also has a bottom made of a material that provides stability, preventing you from slipping while you use it.
Sani Mat also has a sleek design, measuring 45 cm x 80 cm, meaning it would not take up a lot of space and would fit right into any corner.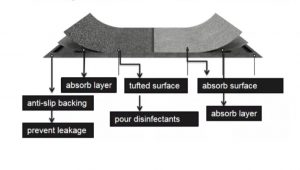 Pros
Cleans Soles Easily
The surface of the mat allows it to easily wipe out stains and dirt from soles of any kind of footwear. With just one rub, you can get rid of mud stains on your sole.
Disinfects Your Shoes
Not many mats have the ability to let you disinfect your shoes after cleaning the sole, but you can do that on a Sani Mat. Plus, you can apply any kind of disinfectant on it, as long as it is effective against germs. This not only keeps your house clean but germ-free as well.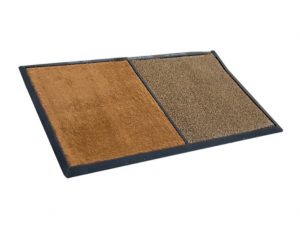 Easy To Maintain
The trouble with other types of doormats is that they are usually very difficult to clean. Sometimes, one finds it hard to completely remove stains off them, and this adds to the dirt in your house. But Sani Mat requires very easy maintenance, as you can simply rinse it with water to keep it clean. 
One Mat Is Enough
With Sani Mat, you do not have to bother about using shoe covers or any other thing to preserve your floor or have a change of shoe at your doorstep. Simply clean and disinfect it, then proceed into the room with clean soles. 
Safe On Your Feet
Sani Mat is safe and gentle on bare feet as well, so you can use it with no shoes on. 
 You can but the sani mat in there website. www.thesani-mat.com