Working in healthcare is an excellent decision. Not only do you get the chance to earn a high salary, meet interesting people, and work flexible hours, but you also help improve people's health and lives every single day.
A healthcare career is not for everyone though, as it is hard work and requires a variety of skills. If you are ready to apply to nursing school or pursue a healthcare degree, here are seven signs you are making the right decision. 
1. You Want to Earn a High Salary   
While most people's motivation for entering a healthcare career is not the money, it is a great bonus. If you are interested in earning a high salary, then many healthcare roles will provide that, including dentistry, healthcare administration, nursing, and many more. You can find out the highest-paying healthcare professions in 2021.
For those who want to earn the most, you will want to pursue a master's degree on top of your bachelor's. A masters in healthcare administration salary, for example, will generally be higher than the salary for an entry-level healthcare position. 
2. You are a Great Communicator 
All careers within the healthcare sector require excellent communication skills, so if you have a talent for conversation, speaking confidently and clearly, and listening, then healthcare could the perfect path for you. It is especially important for bedside roles, as you will need to put patients at ease through your words and body language. 
3. You are a Fast Learner  
No healthcare role requires a limited set of knowledge – throughout your career, you must absorb plenty of information, with some even contradicting your previous understandings. Healthcare is a sector that is constantly developing, after all. For this reason, it is crucial that as a healthcare worker you can learn quickly and under pressure. 
4. Bodily Fluids Do not Phase You  
It goes without saying that if you faint at the sight of blood, you probably should not become a healthcare worker. If you are a step beyond that and bodily fluids do not bother you at all, then there is a high chance you could thrive in a healthcare role, as you will be dealing with a lot of it!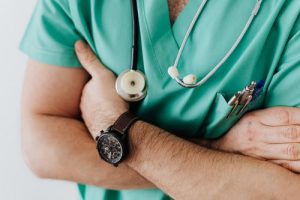 5. You Have Tons of Energy 
Many healthcare roles are more than just sitting in front of a computer all day. In fact, the most demanding roles require you to be on your feet all day. To make it through each shift without burning out, naturally having tons of energy helps. Not just physically, either – you must have the mental capacity to deal with various problems thrown at you each shift. 
6. You Love to Help People 
Every healthcare career allows you to help people, so if that is your passion, your perfect path could be nursing, dentistry, or providing therapy. What is better than going to work each day knowing you are improving patient's lives? 
7. You Always Persevere 
No one will tell you that being a healthcare worker is easy. It is not, and there will be days where you feel overwhelmed. To make it through even the toughest of shifts, you must be able to persevere no matter what. If that sounds like you, then you might make a talented and successful healthcare worker.