Night shift work is demanding, both mentally and physically. Some of the negative impacts of night shift work are; negative sleep/wake cycle, negative eating habits, fatigue, depression, and skin deterioration. Below are some essential skincare tips for night shift workers. These tips will help you maintain a healthy and glowing skin despite the negative impacts of night shift work on the skin.
1. Drink a lot of water
You might be wondering why water is on this list, but research has shown that water is the best liquid for skincare. Water helps the body flush out toxins, helps the blood get to the skin, and keeps the skin toned and supple. The nighttime is usually the cooler time of the day, therefore causing drier skin. However, drinking a lot of water will help the night shit worker be less prone to dry skin.
2. Wash off your make up
This tip applies largely to ladies who wear makeup. It is advised to wash the makeup off your face when you resume your night duties. You can use deep cleansing solutions to wash the makeup off your face, then use water to rinse the face. After which you dry it with a face towel.
3. Use serum and other face treatment materials
Serums are skincare products that are made in a specific way to help boost the skin They are designed to supply the skin with necessary ingredients that are important for healthy skin. They're usually used on the skin before moisturizers can be applied, as a way to lock them in for longer to achieve desired results. Most serums are gel-like liquids. To maintain healthy skin, a night shift worker must explore all the options available to maintain healthy skin, although most serums are used once in a while, they're not used daily.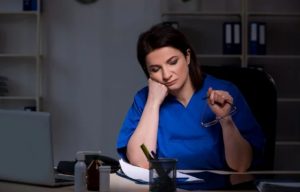 4. Take time to sleep
Your skin's ability to retain moisture and heal itself is very important to fighting age, and the body can only repair these issues with the skin only when you're asleep. Therefore the importance of sleep to the skin can not be over-emphasized, just like every other part of the body, quality sleep has a great positive effect on the skin. During your sleeping hours, the brain gets to work and begins to fix any skin issues or body issues in general.
5. Taking a short walk.
As a form of exercise, it is advised to take walks during a break when you're on the night shift. This walk helps the body to realize that you're in a working mood and help the skin stay healthy.
6. Cover up properly when using an air conditioner
When using an air conditioner while at your nightshift work, it is advised to cover up because air conditioners dries up the skin, and causes it to break. Intermittently shutting off the air conditioner and covering it up very well will help the skin to retain moisture and stay hydrated resulting in supple skin. Wear socks, and hand gloves during very cold weather's because it gets cooler at night.
Skincare is of utmost importance for night shift workers and it requires certain measures to ensure the skin stays supple and healthy. These skincare tips for night shift workers are vital to keeping a glowing skin despite your demanding work schedule.