Keeping up to date with the latest technological advances to come out of the dental field helps you get the most out of a dental visit. These days, your dentist will use lots of different tools and techniques to help you with any dental problems that you may have so that you can have strong and healthy teeth and gums for many years to come.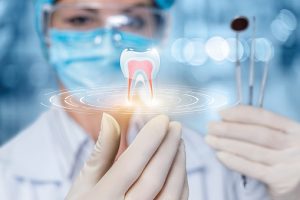 The Wand – Painless Injections
I know what you're thinking; "how can you have a painless injection?" Well, with technologies like The Wand, you won't have to worry about pain at the dentist any more, because this device takes the sting out of injections. The Wand is an anesthetic delivery device that takes the pain out of any dental work, by administering the anesthetic at a rate that doesn't affect the tissue in your mouth. This means that you won't feel any pain from the injection while still receiving the benefits of the anesthetic during minor dental procedures. The Wand is great for people who have a sensitivity to or are afraid of needles because it takes the stress and anxiety out of each visit to the dentist. So people who don't like needles can still get a filling or have a tooth fixed with help from this amazing device. Thus this new dental technological advancement will help people struggling with dental anxiety.
Digital X-ray Technology
X-ray technology has really changed the game when it comes to dentistry. And although x-rays are nothing new, the technology behind the x-ray is constantly evolving to give dentists a better picture of what is happening inside your mouth. An x-ray can help dentists to pinpoint any problem areas in your mouth that may not be picked up by the naked eye. Another great thing about using x-rays to examine the mouth for abnormalities is that most of them are generally lower radiation than similar devices. So they can be used on children and elderly adults without any worry about the effects. Digital x-rays allow dentists to accurately pinpoint issues that patients may have such as tooth decay, impacted teeth or cavities that can cause harm if not treated early. Digital x-rays will often be taken during a general dental appointment if a patient has any sign of pain or discolouration and it allows us to act fast if we suspect something is wrong because we can get the images almost instantly. 
Diagnodent
Even though X-rays are great for dentists to use when they are looking at problem areas in your mouth, sometimes they will not show everything that is going on below the surface of your teeth. With tools like Diagnodent, your dentist can look in between all the nooks and crannies that a normal X-ray can not get to. This tool can help to identify any problems that may already exist like cavities, and it can also show areas where there may be problems in the future, that a normal X-ray will not show you. The device is shaped like a pen so that the dentist can easily move it in and around your mouth and there is a laser on the end of it so that the dentist can detect any abnormalities in your teeth. The laser is also harmless, so you won't have to worry about any damage to your teeth or gums.   
Air Polishing
A lot of people go to their dentist to make sure their teeth are looking as pearly and white as they can be, and most dental practices will offer whitening services. However, for people that have teeth that are badly stained, traditional whitening techniques can only do so much. Air polishing is a new technique that has been adopted by dentists around the world that involves the blowing of an air-powder and water mixture onto your teeth to remove any stains on them. This technique is proven to be as effective as traditional whitening techniques, without potentially harming the natural surface of your tooth, so it is somewhat safer. 
When you book a visit with your dentist, make sure they are using the latest technology so you can feel comfortable and get the best results. With new tools and techniques always emerging in the dental world, finding a modern dentist like North Shore Periodontics will ensure you get the best care as you know they will invest time and money into learning about any advances in the dental industry.