Despite all the rapid advancements in technology, the visual field perimetry, the only standard test for identifying damage caused by glaucoma, hasn't evolved much in many years.
The test was difficult to perform and undergo, given that the patient has to suppress his or her desire, i.e., their reflex, to look directly into the new visual stimulus that appeared. It was about time for something to change in this respect, and innovators have started developing virtual reality visual field testing machines, i.e., headsets that are making the test not only easier but also more accurate.
Read more about the visual field first, to understand its significance.
These devices do the equivalent of the full threshold 24-2 visual field. Apart from the manual clicking that is performed by the patient, the eye tracker can identify changes in gaze.
It is a more patient-friendly alternative, and it allows for visual field testing to be completed in as little as a few minutes per eye in practically any kind of setting. Thus, it makes the testing easier and the results more accurate, decreasing the risk of errors if the patient succumbs to the foveation reflex.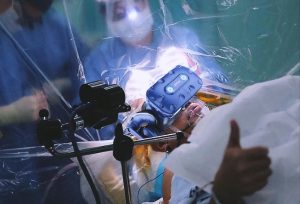 Why Use A Virtual Reality Visual Field Test Machine
If you've been considering adding a virtual reality visual field test machine to your practice, you'll first want to know precisely what it brings to the table. To be more precise, you'll want to know why it is so beneficial and why switching from the traditional perimetry test to this new and innovative one could greatly improve your practice.
Thus, below, I'll share some of the reasons why you should use it, and then we'll also touch upon the subject of where to get it.
Easily Portable
First things first, this machine is easily portable, meaning you can pack it up and carry it pretty much anywhere. The fact that it is so portable and easy to handle also means that you get to free up space in your practice and possibly improve patient flow.
This is opposed to the standard machine used to perform the visual field test, which can take up a lot of space and negatively impact the patient flow given that it takes longer to be performed and given that it may need to be repeated several times due to patients' inability to suppress the reflex of looking directly at the new visual stimuli as they appear.
Easy To Use
Another great thing about the VR visual field test is that it's quite easy to perform. With the right machine, the test can be done in a matter of minutes.
Plus, you won't have to spend a great amount of time training your techs to perform the test and thus ensure reliable results, given that the machine is so easy to use. This simplicity adds to the overall quality of the device, and reliable results are guaranteed, given that there will be no room for human error.
Internet Not Required
An unstable Internet connection could often make the visual field test difficult or even impossible to complete. This is another thing not to worry about if you go for the virtual reality visual field testing machine.
No Wi-Fi is required for the machine to operate, so connectivity issues are nothing to be concerned about when performing the actual test.
Self-Guided Testing
Unlike the traditional equipment and the traditional testing procedure that the patients need to be walked through before the beginning, the virtual reality visual field testing machine will walk the patients through the whole process, allowing for self-guided testing and further cutting the time necessary for everything to be completed.
This feature is usually available in more languages, but it ultimately depends on the specific device you'll choose, i.e., on where you'll buy it.
ADA Compliant
It's also worth mentioning that most of the great VR headsets are ADA-compliant, meaning that they can be used by more patients completely comfortable. That is another amazing reason why getting them for your practice could be the perfect thing.
If you want to improve the patient's experience and their ability to get this test done in the first place, then these devices could definitely be of great help.
Great ROI
If you're concerned about the prices of these machines, here's another thing to know. They will essentially pay for themselves in no time by allowing you to perform more tests in less time and thus see more patients.
In short, the VR headset for visual field testing will provide a great return on investment (ROI), which is why money is nothing to be worried about here. Another great benefit, isn't it?
Here's some more on the visual field test results in general: https://www.verywellhealth.com/understanding-your-visual-field-test-3421843 
Where To Get It
If you're clear on the benefits of getting these VR headsets for performing the important test that could reveal if patients have glaucoma damaging their eyesight, you'll simply want to learn where to get the right one for you.
Well, there are a lot of suppliers and manufacturers ready to offer you this specific device nowadays, and it is your task to research them in detail so as to determine who could offer the perfect quality machine.
Find them online, get suggestions from your colleagues, and always check their reputation, as well as the prices of the machines. After that's all done, you'll be ready to buy.