Mental health is an issue that you can't afford to take less than seriously. This is not an area where you can afford to cut corners or skimp on quality. When it comes to getting therapy, you need to make sure you are getting the best deal. Here are 8 crucial things to look for when you begin seeing a therapist.
1. They Need to Have the Right Qualifications
Seeking a specialist for anxiety depression therapy is a matter of serious concern. You need to be sure that your therapist has certifications in the areas that you need help with. Research them before you make your decision.
You can use the web to find evidence of where a therapist received their education and training. You can also read up on any special licenses or other programs that they have completed since then. The more knowledge a therapist has in a given area, the more likely they'll be able to give you the help you need.
2. They Need to Have Goals in Mind
Getting good therapy is a matter of finding ways to deal with your issues. This means that there should be a yardstick of progress to reach for. The specialist that you employ should be able to set realistic goals. You should be working together to find new ways to get to these goals as a measure of your progress.
3. They Need to Offer Diverse Options
You can't expect a therapist to solve every issue that you have in the space of one visit. You also shouldn't expect them to give you some sort of "one size fits all" answer. The truth of the matter is that a therapist should be able to offer a wide range of solutions. Sooner or later, you can hit on the right one.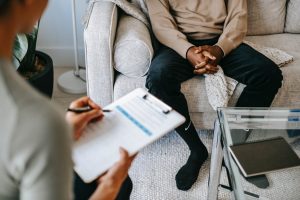 4. They Need to Avoid Becoming Judgmental
Therapists can't afford to let their personal feelings become a part of their attitude toward a patient. They need to do all in their power to avoid judging on any kind of purely personal level. Unless the lifestyle you lead is directly criminal, they need to respect your choices and work within this framework.
5. Your Therapist Needs an Independent Website
One of the most crucial things that a modern therapist needs to have is a verified presence on the web. An independent website is the place from which they can do business. It's also the place where they can post concrete proof of their experience and qualifications. You can't take them seriously without a website.
6. They Need to Know How to Listen
The therapist that you employ should be able to lend a sympathetic ear to your concerns. This means that they need to spend a great deal of time listening rather than talking. The hour or so that you spend with them should be spent hearing you out. The more they listen, the sooner they can arrive at answers.
7. They Need to Be Easy to Reach
No one wants to hire a therapist who is on vacation more often than they show up to their office. If you have a bad day and desperately need to talk to someone, they need to be there. A good therapist is always easy to reach out to.
8. They Need to Gain Your Personal Trust
The last thing that you need to consider when you hire a therapist is that they need to gain your trust. They need to be able to show you ways that they are helping you to get better. At the same time, all of the info that you give to them needs to stay confidential. It will be up to them to earn your complete trust.
It's Time to Choose a Good Therapist
There are many qualities that you need to look for in a therapist. Some of them ought to be obvious at first glance while others may be more subtle. These are the signs you need to look for when you are getting ready to make your final choice. Once you spot them all, you can be assured you are getting a good deal.
AUTHOR'S BIO:
Tracie Johnson is a New Jersey native and an alum of Penn State University. Tracie is passionate about writing, reading, and living a healthy lifestyle. She feels happiest when around a campfire surrounded by friends, family, and her Dachshund named Rufus. If you are seeking anxiety depression therapy, Tracie recommends Brightside Health.