Eye tests for contact lenses are totally different from eye tests for eyeglasses. If you want to wear contact lenses or want to update them, you need to make an appointment with the optometrist. Sometimes you can feel some irritation with the contact lenses or may need to fit the contact lenses in proper position to avoid any irritation. In this case, you can schedule an appointment with an optometrist or ophthalmologist, so that they can guide you about the dos and do not's related to the wearing of contact lenses.
Apart from that, eye tests and contact lenses can be prescribed by the optometrists, and it is better to stick to an optometrist in this regard, because if you switch to another doctor or eye care professional (ECP) then he or she may prescribe you the same eye tests and extract more money from you.
How Do You Find A Good Doctor for Eye Tests and Contact Lenses?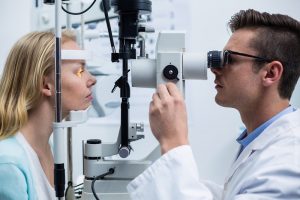 Sometimes, the second eye care professional or ECP can prescribe you repeated eye tests, and that can cost you a fortune. So it is better to complete the thorough eye examination before wearing contact lenses, and you can check your eyesight with some repeated eye tests. But you need to conduct the eye tests under the supervision of a professional optometrist, and he or she can easily reduce your cost by doing some simple eye tests for contact lenses.
You should be ready to discuss about your eye problems and the reason to wear lenses in detail with the professional. Before visiting his or her chamber, you must tell the doctor that you want to go for eye tests and contact lenses. The consultation with the doctor will help him to prescribe you the required eye tests for contact lenses only.
If you have sensitive eyes, you cannot wear the normal lenses, and it can be detected by the eye care professional only. Apart from that, an eye doctor can also prepare an eye chart for your eyes that include all reports and information regarding eye tests and contact lenses. The doctor can correct the refractive errors of your eyesight and prescribe you the proper contact lenses accordingly.
How To Choose The Right Contact Lenses?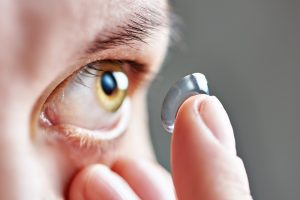 To wear contact lenses, you need to measure the cornea. In this case, eye doctors will use the keratometer to measure the cornea or front surface. They will analyze the light reflections from your cornea, and after that, they will decide the curve and size of the contact lenses according to your needs. Today, professionals use corneal topographer instead of keratometer to measure the cornea. They can take the print out of your corneal map through this machine, and they can take the wavefront measurement of your cornea. In this way, the eye doctor can provide more specific information about your eyesight and provide exact contact lenses according to your needs.
In addition to that, eye doctor or optometrist can also measure your eye's pupil and can use the automated instruments in this regard. They can take the measurements of the iris portions and choose the contact lenses according to the pupil measurements.
Tear film evaluation is also needed for prescribing contact lenses, and an eye doctor will use a small strip paper to measure the tears. They can insert this paper underneath your eyelid and remove it after five minutes. After that, they will measure the tear production level and may prescribe more eye tests for your dry eyes. They can also prescribe some eye drops to remove the dryness of your eyes.
So eye tests and contact lenses are necessary to correct your eye visions, and you need to choose the best eye doctor in this regard. You can search for the different types of eye tests and contact lenses online, and then choose the best one according to your needs.
ALSO READ: