For people who suffer from skin that gets red quickly, it is a difficult daily battle. Not only may you suffer from increased self-consciousness due to your redness, but you may be unsure of the root cause of your Rosacea. This causes many people to become nervous about integrating a new skincare product into their routine. 
A common misconception is that if you have Rosacea, you have "bad skin" – this couldn't be further from the truth. Those that are more susceptible to redness just need to be more cautious and picky about what comes into contact with their face.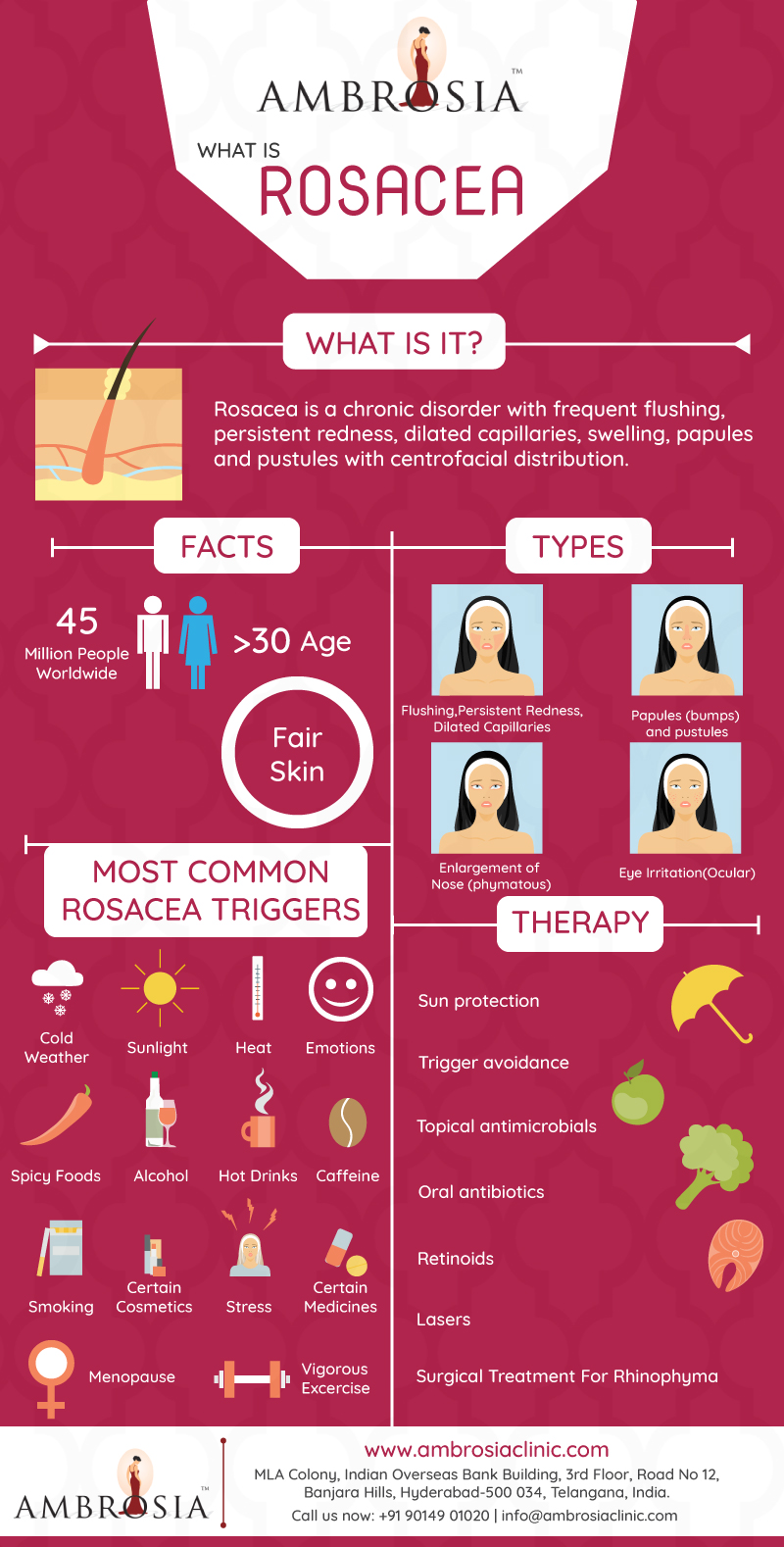 How to Treat Facial Redness and Rosacea?
While there isn't one "right" or precise treatment for Rosacea across the board, an effective and customized skincare routine can make wonders happen. It will help you alleviate all symptoms of Rosacea. You should always talk with a professional dermatologist to confirm whether these steps will be beneficial to your specific case and ensure you follow their instructions to get the best results. However, if you aren't yet seeing a dermatologist, here are some crucial steps to integrate into your daily regimen now: 
A Consistent Skincare Routine Is Your Best Remedy 
You might be surprised, but an essential 4 step skincare is just what you need- once in the morning and once before you sleep. It is incredibly essential that you maintain consistency; however, if you continually skip steps or even complete cycles, you may notice more flare-ups than usual.
A Good Cleanser Makes Skin Miracles Happen
Choose the cleanser that suits your skin. For instance, for dry skin, scrub no more than twice a day. Don't scrub too hard and do not go for those "squeaky-clean' feels; it's nothing but the sign of your natural oils disappearing, which ultimately may cause more redness or even acne to appear.
Hence, take our word and select an all-natural and soothing free-from-soap cleanser that brightens your skin without endangering your natural protective layer. 
Choose the Ideal Serum 
During the morning, under sunscreen, a solution of vitamin C or peptides will be a great choice to add to your routine. Retinol or oral retinoid function best at night. Experts believe that proper skin routine must contain an appropriate amount of Vitamin C and E serum and retinol levels. These will also help keep redness at bay if used correctly. Be careful of using retinol, however, and monitor closely how your skin reacts to it. If you notice any issues, discontinue use and go for something less healthy. 
Moisturize & Hydrate Your Skin
Even oily skin requires moisturizer- that's how significant a moisturizer is for you. Choose one that's lightweight and all-natural like eminence probiotic moisturizer to detoxify and clear the appearance of problem skin. Note that more cream-based moisturizers like the Eminence Organics product above may help to treat dry and red skin.
Smooth some creamy moisturizer on your skin around your face and neck – especially on areas you know to get mainly dry/red. Over time, the hydration will cause your skin to become more supple, and the calming ingredients will help diminish the look of any redness/rosacea.
Apply Sunscreen To Your Face Every Day 
Apply sunscreen 15 minutes before going outside with at least 30 SPF because it takes a while to trigger the sunscreen. There's no need only to apply extremely high SPF, as you only need a nominal amount (30+) to be protected against harmful UV rays.
Darker skin tones do require additional light treatment as it is challenging to fix hyper-pigmentation. Sunscreens that offer high spectrum UVA/UVB protection is generally preferred and recommended by the Skin Care Foundation. 
Pro-tip:
Make a checklist for your ideal rosacea-friendly sunscreen:
Free from any scents

Must contain silicone 

Have zinc oxide and titanium dioxide 

Ideally offers a broad-spectrum skin protection 
General Care for Rosacea-prone Skin
It is preferred to follow a general skincare routine first, and customize as you move on. Start with small steps, then add various skincare products such as masks, exfoliants, and spot treatments to boost your skin's health as your skin becomes used to the new products, and you can verify their effectiveness.
Stay hydrated – It is an essential yet vital step. Water constitutes 70% of the entire body and regulates all the nutrients to the body. It is necessary to stay hydrated and consume water. For an average person, drink eight glasses of water a day. To have better skin, you should drink 10-12 glasses daily.

Change pillowcases at least once a week – you will avoid different kinds of skin interactions with bacteria or germs if you consistently sleep on a clean surface. It is also recommended to invest in a silk pillowcase, as they are less prone to holding onto germs as cotton. 

Visit a dermatologist once every quarter or six months – it is recommended to visit a doctor regularly as it will help you detect problems earlier, and you can avoid allergies and any skin related problems.
Stay Away From Triggers
Avoiding the actions that trigger Rosacea and your facial redness include first identifying exactly what the triggers are. Once identified, you can be sure to remove those.
Rosacea may be a consequence of any strenuous activity, spicy food, certain beverages, heat, acidic products, hot baths, or saunas. It can also be caused due to alcohol, discomfort, or humiliation. 
A did-you-know-fact: 
Rosacea may also be caused due to the medicines that dilate the blood vessels. Check your medication with your doctors to see if they cause any skin irritants that may provoke your Rosacea and get any prescriptions changed to ones that do not encourage Rosacea.  
To avoid these triggers, the most beneficial step is to keep track of your activities and food consumption throughout the day. 
Healthy Diet for Healthy Skin
It is often taught in schools how to create a balanced diet – you may recall dietary pyramids that discussed various food types. This is important because a proper diet is essential for creating and maintaining glowing and healthy skin. Stay away from spicy food and alcohol (drying agents) while relying more on greens and fruits. Vitamin C from vegetables helps you repair your skin cells and avoid antibiotic consumption. 
Improve Your Rosacea; Improve Your Confidence
Although there isn't a cure for Rosacea, it isn't a curse either. A little care can go a long way, such as some dietary planning and some essential skincare. A healthy and balanced routine is all you require to keep your skin and body glowing and flourishing. 
So start from today and put all your skin related worries aside!