More and more people are becoming conscious of their weight and health. This is because several medical studies have revealed that there are certain health problems that come with being overweight or obese. Before now, people may have thought maintaining a certain weight was a choice, however, it's become a necessity if we are to stay healthy and live a long, happy life.
With most consumer products that have to do with size or weight, take clothes, for example, the average size or measurement is usually the most produced. Smaller sizes also exist for people but there doesn't seem to be that much large-sized clothing for the bariatric population.  According to some clothing brands, making plus sizes takes too much time and fabric. Click here to learn more. 
Because the bariatric market isn't as large as the average or smaller-sized market, most brands prefer to pass on them. For those brands that actually make plus-sized clothes, they tend to charge more as more time and fabric is spent producing these wears. In case you're wondering why we're dissecting the clothing problems of overweight and obese people, it's because we want to establish the challenge many manufacturing companies face when it comes to plus-sized individuals. 
Clothing is just one of many areas where special consideration is given to plus-sized individuals. Another area where weight and size considerations are important is in the production of cots for disaster relief and evacuation. This shouldn't come as a surprise to anyone seeing as most regular cots aren't built to support that much weight. 
Understanding the Bariatric Population
Bariatrics is the branch of medicine that specializes in the treatment of obesity. This field of study focuses on the causes of obesity and how it can be prevented in individuals. So, whenever you hear the word "bariatric", it most likely refers to people that are overweight or obese. 
Obesity is a serious health condition that is surprisingly overlooked by people, including those suffering from it. This condition is classified by excess body fat that can negatively affect a person's health. Obesity has been linked to several chronic conditions including heart disease, sleep apnea, stroke, high blood pressure, osteoporosis, and type 2 diabetes. 
it is a very common condition in the U.S. According to a survey conducted by the Center for Disease Control and Prevention (CDC), between 2015 and 2016, 40% of American adults were obese. People are classified as being obese when they have a body mass index (BMI) that is equal to or greater than 30. BMI measures weight in relation to height. 
Based on BMI, obesity is further divided into classes. BMIs that fall within 30 and 34.9 are Class 1 obesity, 35-39.9 are Class 2, and 40 and above are Class 3. According to medical experts, the higher a person's BMI, the higher their chance of developing chronic diseases.  
Bariatric Cots
A cot is a simple, portable bed intended for temporary use. The words "portable" and "temporary" make them ideal for disaster relief and evacuation centers. As you probably know, disasters can strike anywhere and at any time and usually require a quick response to save people affected by the unfortunate incident. With time and space being major challenges in disaster scenarios, it isn't practical to evacuate bariatric patients from the disaster site using everyday cots. 
As we mentioned earlier, most traditional cots are built to support average-sized individuals at most. Therefore, overweight patients or victims would be at risk laying on one of these. This created the need for bariatric cot that is designed to support unconventional weights and sizes. 
A bariatric cot is built longer, wider, taller, and can support weights of up to 700 Lb. They are the perfect solution to above-average shelter clients. A top-quality bariatric cot should have at least, the following specifications:
Dimensions
42 x 38 x 6" when stored, that is, when not in use

82 x 38 x 22" when deployed, that is, when in use

36 Lb. Curbed weight, that is, when unoccupied

700 Lb. Working capacity.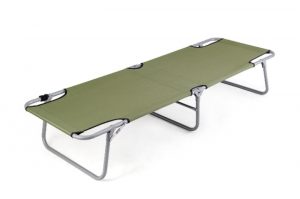 Safety and Convenience
Aside from being capable of supporting above-average weights, this bed should have other features that enhance clients' safety, and all materials should exceed FED STD 1633 for flammability safety. These features include but are not limited to a wide patient restraint belt, duty leg locks, antimicrobial soil-resistant desking material, antimicrobial soil-resistant mattress, friction welded tabular ends, and safety and instructional labeling. 
For client comfort, a bariatric cot should have a convoluted foam mattress, easy entry height preferably at 22", spring and deck design, and a spring stretch resistance of up to 9,500 Lbs. 
Benefits of Bariatric Cots
The following are some of the benefits of bariatric cots:
1. Prevents Minor Health Issues
These beds are smartly fabricated so that they eliminate minor health problems like ulcers and bed sores that can make obese patients very uncomfortable. The mattresses are built in such a way that the position of the bed can be adjusted by the medical personnel to control the pressure of the mattress. Visit https://www.hopkinsmedicine.org/health/conditions-and-diseases/bedsores to learn more about bed sores. 
2. Adequate Ventilation
Bariatric cots are also built to allow for adequate ventilation. Higher end ones have the feature to control the temperature of the mattress to provide maximum comfort to the patient. 
3. Maximum Weight Capacity
Most can support up to 700Lb while some can support weights of up to 1000Lb. Regular hospital beds can't hold this much weight, especially because many patients lay on these beds for several hours straight. 
4. Easy Movement of Patients
These beds come with wheels that makes it easy for medical staff to move patients around freely whenever the need arise. They also have removable sidebars like wheels that permit convenient movement of patients to a different location.
5. Accessible Height
Due to their massive body weights, obese patients have a hard time reaching higher heights. With bariatric beds, this challenge is eliminated as they are built for easy accessibility by over-weight patients. 
Final Thoughts
As expected, these beds cost much more than regular beds thanks to their impressive build functionality. Electric ones cost even more with prices going up to $35,000 per bed. But despite their cost of purchase many hospitals buy them anyway as obese patients should also be given optimum healthcare.