The use of electric toothbrushes is gradually gaining traction as many users begin to realize the importance of an electric toothbrush over a manual brush. Safety on orthodontic appliances, efficacy on braces, and overall hygiene, using an electric toothbrush can improve your dental health more than you can imagine.
Electric toothbrushes were introduced to promote healthy oral hygiene, improve dental health and make oral care more accessible. These toothbrushes are fitted with advanced tech supports that make cleaning your teeth and gums easier, removing all plaque and germs buildup.
Let's walk you through how using an electric toothbrush can improve your dental health.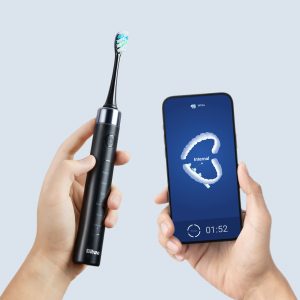 How can an electric toothbrush improve your dental health?
The benefits of using an electric toothbrush are not far-fetched. We found out that people that use electric toothbrushes stand a better chance of improved dental health – deep cleaning, healthier gums, and fewer chances of tooth decay.
Here are some of the fantastic benefits of using an electric toothbrush.
Effective Cleaning
Aside from the fact that electric toothbrushes are easy to use, one of their benefits is that they offer effective cleaning. There are supports that make it easier to achieve deep cleaning, more than you will get from traditional toothbrushes.
Considering long-term and short-term benefits, electric toothbrushes are better for plaque removal, supporting your gum strength, and preventing gum and cavity disease. The electric toothbrush design makes them vibrate and rotate, allowing a better cleaning experience.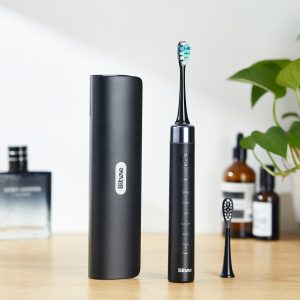 Technological Upgrades
Electric brushes come with technological upgrades that make them everyone's go-to option. Electric toothbrushes like Bitvae Smart S2 Electric Toothbrush Brush come with an app that offers a customized cleaning experience.
The app shows you exact spots and patterns to brush your teeth for optimal cleaning and whiter teeth. The ultrasonic toothbrush comes with a pressure sensor, Bluetooth, and advanced battery life technology that makes it last longer.
Refined Brush heads
Electronic toothbrushes come with fine bristles that support thorough cleaning. In addition, you have different brush heads that deliver different results.
Your electronic toothbrush kit has brush heads designed for deep cleaning, whitening effects, and lots more. You choose the brush head that matches your teeth and cleaning needs.
Conservative Use
You save money by using an electric toothbrush. Users don't need to worry about frequent dentist visits as the brush will give you the best cleaning you deserve. Electronic meetings handle tooth needs like plague removal and cavity and gum cleaning, reducing the chances of decay and recession. Maintaining your dental health with an electronic toothbrush keeps the doctor away.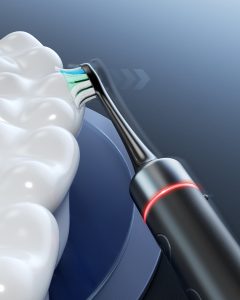 The Best Electronic Toothbrush to improve your dental health
Bitvae Smart S2 Electric Toothbrush
Product Description
Power Source: Battery-Powered
Brush Heads: 8 Brush Heads
Price: $39.99
30% off Bitvae Smart S2 Toothbrush – Promo code – 30Gethealth
Overview
Bitvae was motivated by the need to incorporate an intelligent approach to dental care, hence the launch of Bitvae Smart S2 Electric Toothbrush.
The ultrasonic toothbrush features a 40,000 VPM ultrasonic motor and assorted brush heads that give you varying options to brush with.
You have 4 deep clean brush heads, 2 charcoal whitening, and 2 soft brush heads. You choose whichever brush head meets your needs and teeth sensitivity.
A red-light pressure indicator shows you when you are brushing too hard.
Users enjoy the luxury of long-lasting battery technology that you will only have to charge thrice in one year.
Bitvae Smart Electric Toothbrush Brush includes a Bluetooth-integrated app that helps you create a brushing routine for yourself and your family. A free app that shows where to brush and how to brush, informing you on the next area to move to after every 30secs. You have five different brushing modes to choose from, 100 days of battery life, customized brushing reports, and complimentary accessories to support improved usage. Brushing never got this better!
Learn more about Bitvae from Bitvae official website.
Bitvae S2 Sonic Electric Toothbrush Box Contents-
What's in the box:
1 x Bitvae Smart S2 Electric Toothbrush
4 x Deep Clean Brush Heads
2 x Charcoal Whitening Brush Heads
2 x Soft Brush Heads
1 x Travel Case
USB charging cable
APP Instructions
Manuals
Conclusion
Pressure Sensor
Smart Bluetooth App
Up to 100 Days Battery Life
Improved Cleaning Experience.