When it comes to virtual learning, advancements have quickly taken place over the past few years with increased access to technology, apps, and the internet. As a result, schools are utilizing these items in order to provide students with a greater range of courses. One of these areas that have greatly benefited from virtual learning is health education. 
The need for virtual learning has become increasingly popular due to the COVID-19 pandemic. Many schools and institutions of learning are encouraging virtual learning to educate students. However, it has also presented its own challenges. Many students face some challenges with virtual learning, such as difficulty in concentrating, difficulty in managing time, and dealing with the lack of social interactions.
To be in the best shape to learn virtually, you need to be healthy. Some of these challenges can be managed by following certain healthy habits that can help you with virtual learning. This article discusses some health tips for virtual learning. 
Health Tips For Virtual Learning
Read along as we explore some effective ways you can stay healthy while learning virtually.
1. Drink enough water daily
A 2017 study found that drinking just 300ml of water can boost concentration by up to 25%. That means that drinking enough water can help you stay focused and boost your level of concentration, which is imperative for virtual learning.
There are also many other benefits that come from drinking enough water. These include: helping to flush out toxins, maintaining good skin and hair health, maintaining proper blood flow throughout the body, maintaining a healthy weight, keeping your bowels healthy. Drink 3 liters of water a day to stay hydrated.
2. Eat healthy meals
Coming up with the right meals and snacks to eat in order to maintain a healthy lifestyle is key. These foods include fruits and vegetables such as apples, oranges, berries, tomatoes, carrots, and broccoli. You should also eat foods that boost brain health and memory. These foods include turmeric, pumpkin seeds, nuts, dark chocolates, and fatty fish.
There are different types of foods that contain vitamin supplements or can provide some health benefits such as peanuts and beans.
3. Exercise daily
Exercising daily is of utmost benefit to the brain and body. One book on brain physiology stated that exercising improves learning in many ways. Exercising improves alertness, attention, and motivation. It prepares and encourages nerve cells to bind to one another, which is how the body logs in new information, and third, it's facilities the development of new nerve cells from stem cells in the hippocampus." In summary, exercising not only helps optimize the brain for learning, but it makes retaining information easier.
Regular exercise keeps the heart healthy which promotes good overall health with regular intake of proper nutrients to form a sound mind. It also improves blood flow, as well as strengthening the immune system to fight diseases.
4. Get a night of good sleep
Numerous research has suggested that sleep enhances learning and memory in two ways. First, good sleep improves focus, attention and therefore, makes virtual learning easier. Second, sleep itself has a role in the retention of memory, which is imperative for learning new information.
You need to sleep for 7-9 hours daily. Getting a good few hours of sleep is essential for a healthy lifestyle. Sleep has been found to affect the body's immune system and can help prevent sickness and disease. It's easy to sleep excessively when you are learning virtually, but make effort to get enough sleep before your online classes.
5. Socialize with friends and family
Ok, we totally get it, academic assignments, tests, and activities might be keeping you busy 24/7, but at least, try to set aside maybe a few minutes to talk to someone. It might be your family and even your academic friends, this is really good for your social health. Social interactions are a vital human need that should be filled. Maintaining good social interactions is one of the important mental health tips for online learning.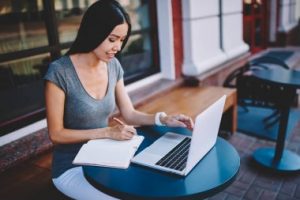 Conclusion
You can succeed at virtual learning despite its challenges. These health tips for virtual learning can help you stay healthy as you learn online. Make sure to not bombard yourself with learning and academic stress only, take a good time out to improve your health.