Smoking is harmful to your overall health. Your teeth also get affected by the habit of smoking. Tobacco and tobacco components bring out severe damage to your oral health. Tobacco and smoking are difficult to stop. Because smoking is a habit that influences your nervous system, it is difficult to leave the practice, but it is not impossible to escape. You have to stick to your determination. Smoking damages your dental health first, then gradually affects your lungs.
Leave this unhealthy habit as soon as possible Otherwise, the longer you continue the habit, the more severe damage will take place. There is multiple ways to stop these damaging habits.
Some damages related to smoking are:
Tooth decay
Tobacco and tobacco-containing components can do severe damage. Oral damage does not only mean gum disease or oral cancer; it also refers to tooth decay or tooth loss. You should not overlook a minor dental problem. The dentist often sees large cavities exist in the patient's gumline. Cavities lead to infection, followed by tooth loss.
The dentist always suggests feeling up the large cavities and repair the broken teeth. Otherwise, it may cause prolonged oral problems.
Periodontal disease
Gum disease is also known as Periodontal disease. It is one type of bacterial infection that occurs in your mouth. If it keeps untreated, the infection impacts your gum. Smoking habits are responsible for bleeding gum. If you have sore gums and red gums, you should immediately stop smoking. Otherwise, it will irritate your gum. In few cases, periodontal problems can be explained as the complications of receding gums.
The dentist can reverse the early -stage of receding gum. Long-term tobacco and smoking worsen your receding gum problems.
Bone damage
.If you do not treat periodontal disease for a long time, the infection invades into your bone and tissue. The severe level of infection first weakens your bone, next causes severe damages. For this reason, dentists always recommend treating your periodontal disease at its primary stage. If periodontal problems get severe, you may need surgical intervention to treat the problem. In this situation, doctor suggests bone grafting and restorative treatment for a permanent cure.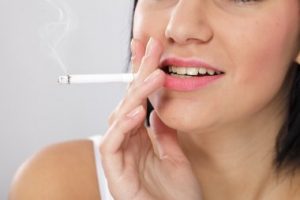 Tooth discoloration
Tooth discoloration is one more problem caused by smoking. It may turn your pearly white teeth into yellow strain teeth. It affects your smile and entire personality. Smoking generally makes your teeth yellow or brown. The more you smoke, the more your teeth is going to discolour. The amount you smoke also contributes to the discoloration of your teeth.
So, stop smoking as soon as possible. It is because smoking causes permanent discoloration of teeth. In this situation, you have to take professional teeth whitening treatment to get back your white teeth. Generally, teeth whitening treatment is costly.
When to seek medical help?
You have to stop smoking to maintain oral health and hygiene. It is because tobacco directly affects your teeth and gums. In few cases, discoloration and staining can be fixed through medical cleaning, polishing, and a professional whitening procedure. Tooth decay can be solved with a medical filling procedure, crowns, and root canals. Dentists reverse the periodontal disease through deep cleaning, root planing, and scaling.
If you have lost your teeth or you feel there is some possibilities to lose your teeth, talk to your dentist. He will make a solution that motivates you to show off your impressive smile again. Cosmetic dentistry can do enough for your teeth and gum. But you have to stop nicotine for your entire health. We all know health is wealth.
Quitting smoking is difficult but not impossible. You have to start with strong determination and make promises to yourself. Smoking causes cancer. All over the world, try to convince chain smokers to stop this life-threatening habit gradually. Your life is precious than addiction.
Self-help tips to stop smoking
Make a plan to quit smoking
Make commitments, set your date, and stick to it. You must follow a not a drug rule. It really helps you to achieve your goal. Whenever you feel a craving for a cigarette, talk to yourself, " I don't prefer to follow an unhealthy habit" or something like this. Feed some positive affirmation to your mind. Gradually your mind will take it seriously and help you to leave the habit
Change your drink habits
The same US study as above also looked at drinks. Fizzy drinks, alcohol, cola, tea, and coffee all make cigarettes taste better. Fizzy cold drinks, tea, coffee, cola enhance the taste of the cigarette. Don't take these hot and cold beverages frequently. It is because their taste may increase your cigarette craving. Instead of them, choose fruit juice or simple water for hydration and energy. Fruit juice will help you to control your craving for cigarettes.
Get some stop smoking support
Take family support to leave smoking habits. Replace your cigarette with some anti-smoking chewing tablets. It will help you to stop smoking. If your smoking addiction is very high, you can not stop it by yourself take the help of the local stop smoking service.
If you are a prolonged smoker, then check your oral health from the nearest dentist. You get a list of experienced dentists by searching on the "dental care near me" term.
Author's Bio:
Akshay Sharma is a social media marketing enthusiast and has written many topics in the related field. He loves to write and read about the latest technology, lifestyle, and business trends. You can reach out to him on Twitter and Instagram. He writes for toothcrafts.com.