Many people refer to the toilets as the dirtiest place in their homes. This is probably because they do some of the crappiest things there. Hardly anybody likes cleaning their toilet. However, the toilet is an important place in our homes and use of it daily, affects our health. Hence, it is imperative to know how to keep your toilet clean and hygienic.
Keeping your toilet clean and healthy is vital to your health and the health of everyone using the toilet. Microorganisms like bacteria are present in every toilet. Such bacteria in toilets can cause Rotavirus, an infection that could lead to vomiting and severe diarrhea. Also, maintaining a clean and hygienic toilet is not only better for your health but even more for the people who visit you.
Notwithstanding, as I mentioned earlier, many people find it very difficult to clean their toilets. If you are one of those, you need to overcome this now. Cleaning your toilet will become difficult if you procrastinate or fail to clean it. It will become dirtier, more disgusting, more difficult to clean and ultimately, lead to many health risks for you.
The good is, however, you can avoid all of that. This article will show you how to keep your toilet clean and hygienic. You will learn the basic ways to clean a filthy toilet so that you can live a healthy life. Are you ready to find out? Let's begin.
Things you need to clean your toilet
A toilet scrub brush
Hand gloves (recommended)
Nose mask (optional)
Lots of water
Broom
Toilet cleaner
Rags
A mild bleach
Air freshener
How to Keep Your Toilet Clean and Hygienic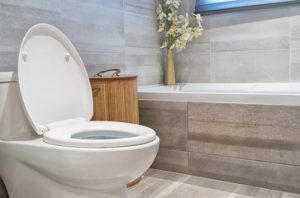 Cleaning a toilet doesn't take very long, and there are so many products you can use. Once you get into a regular bathroom-cleaning routine, you'll discover what products you like, and which works for you.
There are many products used for cleaning and maintaining your toilet. Once clean, it only takes a nominal effort to maintain until you can clean again. Here are some tips on how to maintain a clean toilet.
1. Sweep the floors and the walls
There is usually some large debris present on the toilet floors and cobwebs on the walls. You can start clearing up your toilet by sweeping the floors and getting rid of these cobwebs on the walls. Doing this will prevent any possible inconvenience when you start cleaning up the toilet with water.
2. Add a toilet cleaner to the bowl
Before you start cleaning the toilet, add a toilet cleaner or any other household cleaner to the inside of the water cistern and beneath the rim then allow it to work for some time. I usually add a toilet cleaner, a disinfectant and a small amount of bleach together. Which I then pour in the bowls, water cistern and beneath the rim for some time.
3. Scrub thoroughly
A good toilet scrub will determine how better, easier and faster you clean up your toilet. Scrub the surrounding areas thoroughly, the corners and beneath the rim.
4. Use music as a distraction
To keep your mind off unnecessary things and focus entirely on cleaning the toilet. You can use music as a distraction. Playing music while washing your toilet can help you do it faster than you would have expected.
5. Clean other things too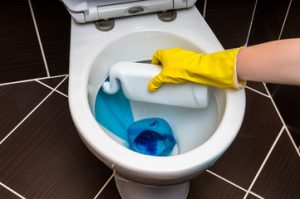 Wipe the lid of the water cistern, the handles, the pipes and other things present in the toilet. Additionally, clean the mirrors, clean the toilet brushes and lights.
6. Use vinegar for cleaning
Vinegar is an amazing cleaning agent. It can be to keep your toilet clean and healthy. Pour the vinegar into the bowl and let it be for some few minutes. Scrub away, flush, and you are through. Although most people don't like vinegar, due to the smell.
7. Close the water cistern lid before you flush
Anytime you finish using the toilet, make sure you shut the lid before you flush. The force of the water while flushing it might increase the spread of bacteria in the toilet.
8. Ensure the toilet is well ventilated
Most toilets usually have very small windows that most people keep locked. If you want your toilet to be nice and comfortable, you should make sure enough air gets in and our other toilet. A well-ventilated toilet will have a good smell.
9. Use a hand sanitizer
Wash your hands regularly after using the toilet. A good hand sanitizer or soap should be used to eliminate the bacteria. Ensure that a good hand sanitizer is in your toilet, in case someone visits and uses it.
10. Clean your toilet regularly
How often should you clean up your toilet? Twice a week perhaps is good. However, you use your toilet, every day, so you have to clean it a little daily.
11. Use a good air freshener
To make your toilet salubrious and comfortable, use an air freshener with a nice smell.
Benefits of Cleaning your toilet
You get to avoid diseases like diarrhea, streptococcus, and staphylococcus.
You get avoid spreading diseases.
You get to use and enjoy your toilet anytime you like. Hence, improving your digestive health.
You are not afraid of visitors using your toilets.
I am sure that by now, you know how to keep your toilet clean and hygienic. You should be motivated to clean up your toilets, not because of the benefits I outlined above, but because you will get to live a healthier life.