Being a radiology technician is a great career choice for people who like technology and enjoy working with people. You'll get to use the latest technology in this field, which is constantly changing and developing. This means that you'll never be bored with your job and always have the opportunity to learn new skills.
According to Zippia, there are around 187,778 radiologic technologists in the USA. Of these, 66.4% are women, and 33.6% are men. Radiology jobs are also well-paid, and there are plenty of options available if you want to move into management or administration later in your career.
What Does a Radiology Technician Do?
Radiology is a medical imaging technique that uses ionizing radiation to produce body images. Radiology may be used to diagnose disease, assess bone and soft tissue structures, and plan surgery.
Prepare patients for imaging procedures by assisting them in getting settled on the examination table, explaining the process to them, and cleaning and disinfecting their skin before they enter the imaging area.
Operate imaging equipment such as X-ray machines or CT scanners by manipulating controls such as dials or knobs to adjust settings based on what type of image you're looking for (e.g., an X-ray or MRI scan).
Interpret results from your photos by comparing them with those taken from healthy individuals who have no signs of disease (the "normal" range) so that you know whether someone has cancerous cells in their body
Radiology Is a Growing Field
Radiology has been ranked as one of the fastest-growing careers over the next decade and beyond. According to BLS, it is expected to grow at 6% from 2021 to 2031.
This means that you will have many opportunities if you choose to enter this field. Hence, this provides an excellent opportunity to join and do your dream job. Moreover, the average job outlook over the years also shows that there won't be much competition when it comes to finding a job.
Multiple Career Options
Radiology is a dynamic field with multiple career options. Depending on your background, interests, and goals, you may choose to enter the workforce as a radiology technician or radiologic technologist. Some employers also offer positions for technicians who assist doctors and technicians in their work.
If you're interested in working with imaging machines, it's essential to recognize that each title has a specific definition. You'll need your school education and training if you're looking for certifications or licensing requirements from professional organizations like ASRT (the American Society of Radiologic Technologists) or ARRT (the American Registry of Radiologic Technologists).
There are also different courses to succeed in this vast array of career options. For example, if you want to become an x-ray technician, you can find both on-campus and online programs specifically designed for that. Simply select an x-ray technician program, enroll, study hard, and get your certification. Similarly, you can also find courses in other fields.
Radiology Technicians Are Well Paid
As a radiology technician, you'll be paid well. The median annual salary for a radiology technician is $63,801, which means that half of all radiology technicians earn more than this amount. It is emerging as one of the highest-paid healthcare professions in the world.
Typically, the range is between $58,001 and $70,301, based on the area you are working in.
In addition to the base pay, several bonuses can be added to your salary, performance bonuses and commissions (if applicable), awards for meeting goals (like being able to diagnose an ailment accurately), and other rewards.
The highest salaries are found in the South and West regions of the country, where they average around $70K per year. But if you live in an urban area such as Washington DC or New York City, your pay will likely be higher because it's challenging to find affordable housing there.
Exposure to the Ever Changing Health Tech Field
The health technology field is fast-changing, and it's important for radiology technologists to keep up with the latest developments. New technologies are being developed to make your job easier and more efficient, so you'll need to be flexible to adapt when new things come along. But don't worry, this doesn't mean you must stop learning once you get your degree.
If you remain curious and open-minded, there will always be something new worth learning. Hence, being a radiologist is considered one of the top professions in the USA and worldwide. The U.S. News website lists radiologic technologists at 21 in the best healthcare support jobs.
Personal Fulfillment
As a radiology technician, you can expect to be able to work in a variety of settings. You may find yourself working with patients at home or in an office, and you may be responsible for helping them schedule their appointments as needed. 
In addition, you could also work at hospitals or medical centers where you would meet with other healthcare professionals. Your job will also involve interacting with clients coming into the clinic for routine checkups and appointments.
For many considering becoming radiology technicians, one of the biggest perks is the personal fulfillment of providing a service that helps others feel better physically and emotionally. This career offers plenty of opportunities for people interested in giving back by providing care directly through their jobs.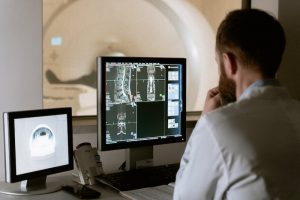 How to Become a Radiology Technician
Becoming a radiology technician requires training and certification. You must have an associate's degree from a program accredited by the Joint Review Committee on Education in Radiologic Technology (JRCERT). This education will teach you about the anatomy of the human body, as well as radiation safety and other vital topics.
You can also study to become a radiology technician at the high school level through vocational programs in some states. However, these programs are not as extensive as those offered at the college level. They usually provide only about 50% of what would be required for full accreditation by JRCERT.
A bachelor's degree is optional to become a radiology technician, but it will help you advance your career opportunities and salary potential because employers want employees who are well-rounded and versatile professionals. You can also get a degree and certification through an online course.
Conclusion
We have just looked at the radiology technician career, but many more exciting opportunities are available. There is no limit to what you can achieve with your training, whether it's becoming a registered nurse or an X-ray technologist in your own right. These positions require particular skills and training, which will open doors for you and help you succeed.