Musculoskeletal pain caused by prolonged sitting at the workplace can lead to a lot of problems including reduced productivity – which can affect your professional life severely. Maintaining good health is the most demanding job these days because you hardly get time to focus on yourself.
You must learn how to prioritize your life to experience that ultimate happiness. And while determining the most important aspects of your life you must remember that you can't be happy if you are not healthy. In short, focusing on your health should always remain your priority if you want to give your hundred percent to both your personal and professional lives.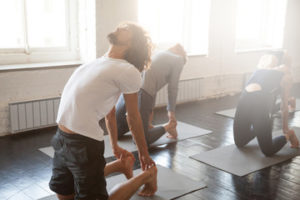 Preventing musculoskeletal conditions is one of the best steps towards leading a healthy life. And a lot of these problems occur due to the mistakes that we make on a regular basis. For example, poor posture and improper lifting can lead to musculoskeletal pain, which can restrict your movements, and reduce productivity tremendously.
If you talk specifically about poor posture, it can have extremely negative effects on both your physical and mental well-being. It can lead to problems such as back pain, and neck ache, so it's better to take right steps to improve your posture. And the long-term effects of poor posture include a change in the spinal curve, increased cardiovascular complications, and poor digestion.
So, if you are someone who has a sedentary job, make sure that you consider following tips to improve your posture.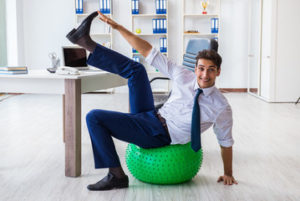 1. Stay Active
People who spend more than 8-9 hours in the office every day while sitting in front of their computers should adopt a healthy lifestyle. They should follow a perfect workout routine, wherein they can focus on strengthening both their upper and lower body parts. They must do a lot of stretching exercises to improve their flexibility. In addition to that, they should also perform exercises that help in improving posture. Some of the most effective exercises that lead to better posture are single arm row, arm circles, back support, planks, dumbbell side bends, pilates swimming, and seated twist.
In short, if your job demands you to sit throughout the day, then it's crucial to perform effective exercises in the morning to stay healthy and active.

2. Get Up from Your Seat Frequently
It's very important for you to change your position frequently, otherwise, you will start facing problems soon. People with sedentary jobs should change their position in every half an hour. For example, if you work on a computer make sure that you take 1-2 minutes break in every half an hour. Remember prolonged sitting can create spine problems, so keep changing your position frequently.
ALSO READ: How To Improve Your Posture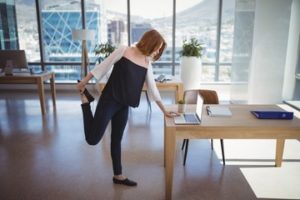 3. Carry Out Some of Your Work In Standing Position 
If you can finish some of your work in a standing position, then you must go for it. For example, while conducting a meeting you can easily maintain a standing position. When you stand in the conference hall to address your subordinates and colleagues it not only plays a crucial role in improving your health but also makes that much-needed impact on them.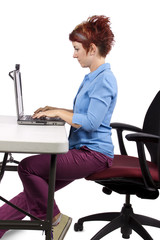 4. Sit Appropriately
You can solve half of your problems simply by sitting correctly at your desk. The kind of posture that you maintain while sitting can either improve your health or deteriorate it. Keep your back straight to improve the health of your spine. And make your computer is placed right in front of you. It should neither be on the left-side of the desk or on the right side. Yes, it should be at the center of the desk. You can watch videos on YouTube to learn how to sit correctly in office to improve your posture. You should also make use of practical, and functional office furniture that support a good posture while sitting.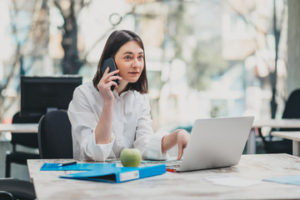 5. Use a Comfortable Chair 
The chair that you use can have a tremendous effect on your posture. So if you are not using a comfortable one currently, make sure that you ask the concerned authorities in your office to replace it with a better one.
6. Take The Help of a Physical Therapist
If even after trying your level best you are unable to bring any sort of improvements in your posture, then it's better to consult a physical therapist. Your therapist will identify the problem with your posture and will teach you right exercises to improve it. According to experts, physical therapy is one of the best ways to correct poor posture.
Each exercise that is meant for improving posture is taught to you by your physical therapist effectively. They work one-on-one with you to correct your posture. In addition, they improve your knowledge about different posture techniques and their importance in improving your overall well-being.
A physical therapist can also design an effective care plan to treat the pain that occurs due to poor posture. Yes, they can easily treat back pain, shoulder ache and neck complications that stem from poor posture with the help of techniques like manual therapy, massage therapy, and aquatic therapy.
Other crucial techniques that are used by physical therapists to curb musculoskeletal pain and to restore your function are Kinesio taping, dry needling, and cupping etc. All the techniques used by them help reduce pain and accelerate the healing process. Physical therapy is also very effective for healing sports injuries, workplace injuries and illnesses like a spinal tumor, Parkinson's disease, and arthritis.
Physical therapists focus on treating the root cause of your problem, so you get a permanent solution for it. Since they use only non-surgical methods to curb your pain, there hardly arise a question of experiencing side effects of the treatment.

About the Author:

"Martin is a graduate student, writer and pet lover. He loves butter chicken, and seeing his small pug, naughty Annie. He writes about Synergy Rehab, a Macomb based Physical therapy center. When he isn't writing, you can find him at near coffee shop."