Everyone has their days when they would rather just stay in their bed and wait out their troubles and stress. Nervous tension and sadness are normal elements of the human experience. For some people, though, those ill feelings, unfortunately, make up the bulk of their human experience.
Sadness and anxiety are the most recognizable symptoms of depression. While everyone is likely to find themselves in a depressed state at some point in their life, it shouldn't be your entire life. Nor is it a matter to be trivialized. If you find that you are chronically sad or anxious about life, then you're missing a fundamental truth: you deserve to be happy.
Suicide rates in New York are lower than the national average, but one suicide is one too many, especially considering that depression can be overcome. There are plenty of methods and pathways to take if you, or someone you love, may be fighting a chronic bout of depression.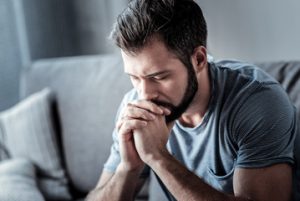 1. Seek professional help
When depression is a prolonged or chronic case, that means it's a mental health concern. Mental illness is very stigmatized — even within polite society — but it is no indicator of the quality of your personhood or fortitude. If you're suffering from depression or another psychological impairment, you're not alone.
Statistics show that 1 out of 5 American adults suffers from some form of mental illness over the course of a year. Worse, 1 in 25 suffers from a severe, debilitating mental episode or illness in the same time frame.
Depression often comes with feelings of loneliness that cause people to isolate themselves.
Many people withdraw from the general public and even loved ones out of embarrassment over their struggle. If this sounds like you, it's time to think about treatment that will help allay your fears about the perceptions of others — or your own harmful self-perception — and give you the tools you need to feel comfortable out in the world.
There isn't much you can do to escape the stresses and pressures of big city life, but instead of retreating, make an effort to find a therapist in NYC. The chances are that you'll find one who understands what you're up against. Depression is a treatable illness, and getting quality therapy could make the difference between life and death.
2. Get out and about
Depression has a tendency to turn people into hermits. If your depression is leading you to cut yourself off from the outside world, then maybe it's time that you rejoin it. New York has so much to offer in terms of activities and events. Of course, as a New Yorker, the city may not have the same luster for you that it has in the eyes of tourists. Even so, in the name of getting out of your funk, you should spend some time falling back in love with the Big Apple. Open yourself up to the prospect of being amazed! Do New York like a tourist, and watch your mood brighten! Getting out and about is an essential lifestyle change that can help you overcome depression.
3. Indulge in self-care
Self-care is a practice that has been gaining a lot of traction over the past few years. While it sounds like a new designer treatment for the rich and famous, it's simple and something everyone should enjoy.
Showing yourself some love is an essential component of improving your mood and getting overanxiety. Your own regimen should be specific to you, but there are a few things that should be a part of any self-care regimen.
Exercise, a good diet, and getting the proper amount of sleep are the most fundamental parts of self-care. How your body feels affects how well your mind functions and handles adversity, so you must be serious about its maintenance.
Additionally, you should spend around an hour each day just engaging in an enriching activity that you thoroughly enjoy. This is a critical part of maintaining your mental health, so make this your mantra: treat yourself; don't cheat yourself.