CBD edibles are becoming increasingly popular for a good reason! They're perfect for those who don't like the taste of CBD by itself or want to take it in the most discreet way. Are you interested in trying CBD gummy bears to see what all the hype is about? Before you do, you might want to familiarize yourself with your state's laws when it comes to CBD.
How do CBD Gummies Work?
CBD gummies are just what they say–they're gummies infused with CBD! They're known to help people find relief from pain, inflammation, and anxiety. Edibles go through the digestive tract to the liver, break down, then reach the bloodstream. If you want a quicker effect, dropping some CBD oils directly into the mouth will be more effective, as it goes straight into the bloodstream.
States with Stricter Laws on CBD
Even though CBD is legal in all 50 states, each has its own restrictions on it. It's worth looking into your state's laws before trying it for yourself. We wouldn't want you getting fined or even jailed for not fully understanding the regulations in your area!
South Dakota
South Dakota probably has the strictest laws when it comes to CBD. In March 2017, the state law was that individuals may use CBD products only approved by the FDA. Currently, the only legal form of CBD is Epidiolex, and you'll need to have a prescription from a licensed physician to purchase it. Severe penalties are in order if you're caught with it.
Idaho
When it comes to CBD laws in Idaho, they're quite tricky. To purchase CBD in this state, it must contain zero THC and be derived from the five identified parts of the cannabis plants (mainly mature stalks sterilized seeds). You're allowed to have legalized medical marijuana and CBD products approved by the FDA.
Nebraska
CBD is legal in Nebraska, however recreational and medical marijuana is not. There are very few CBD shops in this state, but residents can conveniently buy products containing CBD online. As long as what you purchase less than 0.3% of THC and comes from hemp only, you shouldn't worry about any consequences.
South Carolina
Only those with a written prescription from a physician can obtain CBD in South Carolina. The prescription must state that you've been diagnosed with Lennox-Gastaut Syndrome, Dravet Syndrome, or any other severe form of epilepsy. CBD oil must contain less than 0.9% THC and more than 15% CBD.
Wisconsin
It's considered a misdemeanor if you're in possession of CBD products in Wisconsin, and it's punishable by a jail sentence. Fortunately, this law is not strictly enforced. It's mostly unclear whether or not CBD products are fully legal in this state, but getting a physician's perception is advised to be safe.
Utah
CBD oil is legal in Utah as long as it has less than 0.3% THC. With the exception of gelatin cubes, CBD edibles are illegal in this state. If you're in Utah, buying CBD online might be your best bet to ensure quality and legal CBD.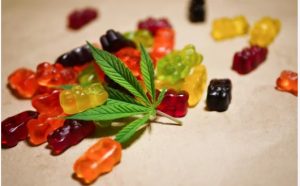 Why are CBD Gummy Bears Popular?
CBD gummy bears are famous for many reasons, mainly because of the health benefits they provide. Below are some of the other reasons why they've taken the world by storm.
Delicious

Subtle

Convenient

Possibly safer than over-the-counter medicine
Do You Want to Try CBD Gummy Bears?
As you can see, there are many things to consider when buying CBD gummies or other CBD products. It's always a good idea to double-check your state's rules and regulations before purchasing products with CBD. If you live in a state where rules are stricter, it wouldn't hurt to get a prescription from your doctor if you need it for medical reasons.