Are you feeling down and out? Do you find yourself struggling to get out of bed each morning? Maybe you're finding it hard to focus on your work or social life. If so, you might be suffering from a mental health disorder. Mental health is an important topic and deserves to be addressed in a way that is both informative and easy to understand.
That's why we are writing this pitch, which will provide information on how technology can help improve your mental health. From social media to mental health apps, we'll discuss everything you need to know to have a healthy mind and body. 
We'll also explore how technology can be used to alleviate symptoms of mental health disorders and show you how to use it in a way that works for you. So let's get started!
Technologies to Improve Your Mental Health
So, what best ways can technology help us remove or reduce stress and keep our mental health sound? Not all mental cases you can get rid of entirely with the help of technology, but this could be the first step to reducing your stress. Here are some effective stress management tools to help you improve your mental health. 
Muse Headband
Muse was created by a company called InteraXon. They want to make meditation as easy as possible so that more people can use it. In addition, the company believes that getting the most out of your meditation practice will help you improve your health and productivity.
Wearing a Muse Headband is popular to improve mental health. This will help them to achieve a calmer and more focused state. The Muse is a device you will wear on your head when meditating. It will allow you to know how focused you are. As long as you meditate, the Muse will monitor how much attention you pay to the exercise. It will also monitor how calm you are. If your mind is too active, the Muse will tell you. It will sound a series of sounds when you need to pay attention to the exercise.
This headband has its default settings to use it. But InteraXon, the creators, want you to modify the settings to make them more effective.
Calm
One of the most popular mindfulness meditation apps out there is Calm. If you are looking for an app that teaches you how to calm your mind, check out Calm. It helps you to learn to be more mindful and mindful of yourself. Mindfulness is the practice of being aware of your present thoughts and emotions. It also helps you to control them.
With a free membership, you can get the app to download and install on your smartphone and tablet. You can download and install the app from the Google Play Store or Apple App store. Once you are done with the installation, you can use the app at your convenience.
This app has many great features that can make you relax your mind and body. Using the app, you can learn how to have a calm mind and body. You can also use the app to make your sleep more restful. You can take your sleep to a new level by using the app. If you have anxiety and stress, you can use the app to help you feel better. This will enable you to get back to your normal self.
Headspace 
Headspace is also a popular app for mental health. Headspace offers a guided meditation designed to help you relax your mind. In addition, you can use the app to release stress whenever you have a chance.
Headspace is a free app for all Apple and Android devices. You can access it via their website and download it to your phone. Headspace is a very simple app with basic controls and tools. The app is designed to take only 10 minutes per day. During those ten minutes, you will learn how to release anxiety and calm down your thoughts. The app uses guided meditation sessions to help you learn how to release stress and anxiety.
Mental health experts from Pacific Bay Recovery claimed they always suggest using such smartphone apps to their patients as using such apps can help remove stress and give a quickly relaxed mood. 
Zen Zone virtual reality app
VR is an amazing technology that makes our lives easier. Zen Zone is a nice game for those who love to relax. You can use it to help yourself relax. It is a very beautiful game.
The virtual environment that you enter is like a real garden. There is a pond in the center and many flowers and plants everywhere.
The music is really relaxing. The music is very soothing and will help you relax.
You can play this game at home or anywhere else you want. If you have a headset, you can experience it without leaving your house. You will be able to experience the same virtual reality environment on the Oculus Rift.
Deep virtual reality app
You can walk around the ocean floor in three-dimensional space using the Deep app. You can move around and see everything around you in 3D. This is why it is called deep virtual reality. The Deep app is a new virtual reality app that uses breathing and meditation to create this 3D simulation.
In the Deep app, you can move around in 3D space. You can look at the environment in front of you, and you can even turn around and look behind you. You can even go down into the depths of the ocean.
With these 3D experiences of deep diving into the ocean, your brain will feel very relaxed and calm. So, this is effective in keeping your mental health very calm and relaxed.
Some Daily Activities That Help Mental Health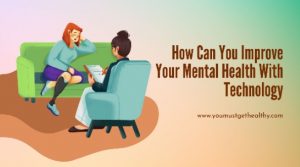 Talk to someone: It's important to share your feelings with someone you trust. Talking about your problems can help you feel better. Try to talk and spend time with someone you like to stay around. Also, ensure that the person you are talking with understands your feelings and emotions. 
Go outside: Spending time in nature can help you relax. Take a walk outside. Go for a hike or a jog. Get some fresh air. There are so many benefits to spending time in nature. You'll feel more relaxed and refreshed. If you're lucky enough to live near a park, take advantage of that too. Park areas are great places to enjoy the fresh air and green space. You can also play sports and exercise.
Try a new hobby: It's easy to get stuck in a rut and not do anything. Taking up a new hobby can help you get out of that rut. 
Keep busy: Keep yourself busy doing daily activities like watching TV, playing physically, doing some DIY projects, etc. Make sure you don't sit around all day watching TV or playing video games. Find something you enjoy doing. You'll be glad you did. There are many other healthy things to do when bored.
Conclusion
There you have it, a detailed list of some of the best ways to improve your mental health with technology.
Technology, from smartphones to the Internet, has helped us achieve so many amazing things. While it's true that accessing technology can make you feel anxious or stressed out sometimes, it doesn't mean that we shouldn't use this incredible resource when it comes to our mental health.
Just be sure not to forget about the importance of good habits like exercising regularly and avoiding substance abuse.
Author's Bio:
Ryan Enriquez has been writing health & fitness blogs since 2017. He has been featured in many blogs and magazines as an expert health blogger. He is passionate about helping
people improve their health and live healthier lives. He believes everyone has the right to information about improving their health, and he strives to provide accurate, evidence-based
information on his blogs and in his writing.