There's absolutely no doubt about this fact; students are busy! As a student, you are faced with numerous challenges and stressful activities. An average student is always struggling with tough curriculums, preparing for exams, finding time for social life and other personal engagements. These are some of the factors which have lead many students to live an unhealthy life. Sure, it can be difficult to remember to take care of yourself and to eat healthy daily. Notwithstanding, if you don't have good health, none of your other activities will be possible and they will suffer.
If you desire to live a healthy life as a busy student, I can guarantee you that you are making a smart decision. This article will help you learn some vital daily health tips for students. These health tips are not difficult to incorporate, neither will they be burdensome for you. You can be rest assured that after reading this article you will learn how to live a healthy lifestyle as a student.
10 Daily Health Tips For Students
When you make the right healthy choices on a daily basis, you are definitely going to enjoy your entire life as a student.
1. Eat good breakfast daily
Breakfast has always been said to be the best food of the day. And while there is no doubt about that, many busy students still tend to ignore breakfasts on a regular basis. Eat a healthy breakfast daily to boost your health.
Admittedly, there might not be time to grab breakfast. However, preparing a small meal the night before, can save you a lot of time.
2. Wash your hands regularly
Students interact with each other regularly to boost their social life. But, such interaction can lead to the spreading of germs. One of the best ways to prevent the spread of germs is by washing your hands regularly.
Hand washing should be your regular daily health routine as a student. It is such an easy way to prevent germs from spreading and preventing you from getting many illnesses.
3. Stay hydrated always
Regular hydration daily gives you many health benefits throughout the day. Drinking enough water will boost your concentration and prevent you from overeating. You should keep hydrated as you undergo your daily activities. Make sure you bring water with you and take it regularly. Staying hydrated daily also helps prevent unnecessary headaches and keeps your body reinvigorated.
4. Eat a fruit or vegetable daily
Daily intake of natural fruits and vegetables have been shown to benefit the body significantly. They are packed with all the vital nutrients and minerals that young adults need. Although, fruits and vegetables might be amongst some of your favourite foods, try to add at least a few of them into your diet each day.
5. Sleep!
Studying overnight won't do you any favours when your body hasn't gotten enough rest and sleep. It's true, I know, being in school is hard, you got to study, and you might not have the time for sleep.
However, look at it this way, you might still make up for the lost sleep when you are ill or worse suffer from poor concentration. Hence, if you want to enjoy life as a student, you should prioritize sleep every day. Getting proper sleep daily keeps your mind sharp, helps you remember and strengthens your immune system to fight diseases.
6. Eat healthily
I have already mentioned about not skipping breakfast and eating fruits and vegetables daily. But that is not all that eating healthy encompasses. If you want to live healthily, you have got to eat healthily. As a student, it would seem easy to survive on junk and instant noodles. However, to be a smart, healthy student, you need to eat beyond that.
Your daily nutrition should be balanced, enough carbohydrates, proteins and fruits. Try to always junk intake. If you must eat fast food, make sure it is healthy.
7. Enjoy your social life daily
Yes! This is one of the best daily health tips for students. Our overall health includes our social health. Daily, you should try to relax and boost your social health by interacting with your friends face to face.
8. Meditate daily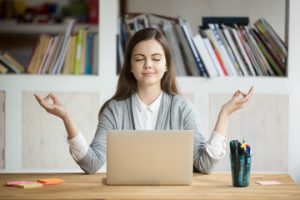 Meditation has been proven to have so many health benefits throughout the ages. Daily meditation is required to combat stress, and maintain good mental health.
If you want to manage stress, try to incorporate meditation into your daily routine. Take 10 to 15 minutes to clear your mind through proper meditation.
9. Exercise daily
Engaging in wholesome physical activities is great for the body. Exercising has amazing physical and mental health benefits.
You should make out time daily to exercise. It doesn't have to be long and tedious. You can choose to take 20 to 30 minutes to exercise after waking up. Or you can walk, jog or ride a bike to your classes.
10. Limit alcohol intake and avoid smoking
Most students take alcohol daily and smoke frequently. This is very bad for your health. Alcohol should be taken in moderation, and not every day, and I dare say, not even every week.
As for smoky, that is a no-no. The temporary benefits you might enjoy from binge drinking and smoking do not outweigh the benefits you will get from limiting their intake.
Staying healthy daily as a student means you make healthy choices daily, it also means you get to live smarter, happier, and healthier. Now you know the important daily health tips for students, and I am very sure you loved reading this article.
Please don't forget to share this with all your friends and also leave a comment.