What comes to our mind when we think of our clothes and how we dress? Elegance. Style. Grace. Well, most of these words describe the outer image of ourselves. They are more related to how the world sees us. But, what about how we see us? What about our self-confidence? Do our clothes have any impact on our confidence?
The answer lies in science, and the answer is YES. There have been numerous researches conducted on this question, and all of them came to one conclusion: your outfit may alter how you approach and interact with the world.
Now that we have found the rational answer in science, let's see what the world thinks about the way an individual dresses. Oscar Wilde says, "It is only shallow people who do not judge by appearances."
Look at your example. How many times in your life have you felt low on confidence on a big occasion just because you felt you weren't dressed right for the occasion? Many times, right? Whenever you're low on confidence due to your appearance, all your confidence goes down the drain. You're unable to focus on what you're doing, but only feeling guilty about your appearance.
A person's dressing becomes the top criterion of judgment for onlookers. We are often reminded of well-known quotes such as "dress to success," or "life's too short to wear boring clothes." Women are more conscious of what they are wearing and are always on the lookup for ways to appear more attractive.
As much as I advocate having a positive body image, I can't deny that having an immaculate dressing sense elevates one's confidence and is a vital skill to develop. Below, I bring you some genuine ways that will help you build the confidence you need with your dressing.
Purge clothing that makes you feel any less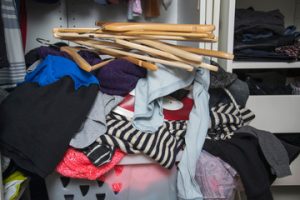 Begin with having a thorough cleanup of your wardrobe. There is no point in having a closet overflowing with clothes that do not look good on you. Quality is a preference over quantity when it comes to dressing.
Are you holding on to clothes that have a sentimental value attached to them? Or you still have those skinny jeans from high school that you believe are going to fit you someday? It's time to toss them out if your goal is to wear clothes that make you feel good.
Purge all the unnecessary clothes that have lived their age. It will help you to get a step closer to attaining minimalism. Now that you have space in your wardrobe, you can go shopping and get some new clothes.
Add some timeless pieces of clothing to your wardrobe
When it comes to fashion, staying relevant is not the only way you can ace a trendy look. There are some types of clothes, which never go out of style.
If you wish to appear attractive and want a look that will hold you in higher esteem, add a few timeless classic essentials to your wardrobe. A well-fitting dark jeans look incredibly trendy and can be paired up with several types of shirts and coats. You can also opt for layered finge hem linen shorts in various sizes by Umgee Clothing.
A few buttons up shirts will be a refreshing addition to your clothes as they will help you look sleek and ageless whenever you need. Two plain and two patterned button-ups will be good enough, as you can create several elegant outfits from these if you pair them with jeans, skirts, or even palazzos.
I will recommend you to buy a blazer, ideally in black to help you add versatility to your wardrobe. Also, do keep a few monochrome dresses to wear to semi-formal occasions.
Widen your comfort zone
How often we women hear the term "comfort clothing?" These are the clothes we feel the most comfortable in. Even in the tensest situation, if we are wearing our comfort dress, we beam with self-confidence. Right?
So, it is important to have an ample collection of comfortable clothes. Don't restrict yourself to one or two clothes. Learn to self-train yourself to accept a new form of clothing gradually.
One way of doing it is to look at yourself in the mirror. If you can't help but gasp over your appearance, then lady, those are your comfort clothes.
Dress according to your body shape and size
Now, this is a tricky area, and we need to address it with the utmost care. Our body size. We all are victims of self-criticism when it comes to our bodies.
Being inspired by perfect figures of models in ads, we hate how curvy/ thin/ dark/ short we look, and in this hatred, we feel afraid to experiment with trendy clothing essentials. We fail to realize that accepting our body image it the first step toward feeling attractive and charming.
Yes, we know that at times, people aren't as nice, and that contributes to our low self-esteem. But, hey girl, look around you. The world is changing. People are more accepting now. There is more choice in terms of size. Every apparel that is available in S-size can be found in XL-size.
Now you don't have to get your clothes custom made just because you don't fit the body standards of the world. Who cares about them, anyway? And it's not only shirts and pants that are available in all sizes. Even when it comes to plus size blazer or plus size leather jackets, women have abundant choices.
Now you don't have to shun apparel just because your size isn't available. Go out, shop for your size. You should embrace your body and boost your confidence.
Develop an authentic personal style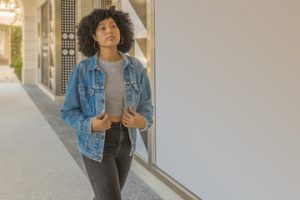 You can raise your low self-esteem by sticking to a personal style. No need to consult costly designers for it, as you can easily develop a personal style by following some simple dressing tips and gradually noticing what kind of outfits work for you.
The type of clothes that accentuate your features also makes you feel confident. So, a little experimentation can help you come up with your own style.
Up your game with powerful formal attire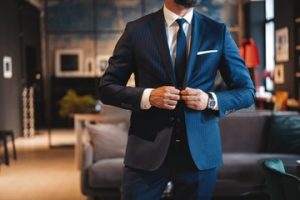 According to research conducted by Iowa State University, one thing that significantly influences hiring decisions for management positions is clothing and footwear of the candidates being interviewed.
Dressing appropriately for work can give your confidence a boost. A sharp, formal look is not just for men, but for women too. Keep a set of elegant workplace clothes that are stitched to perfection. Remember that ironing your work clothes is the key to a polished look, and can subsequently impact your image in the eyes of your colleagues.
Choose colors wisely
I will suggest women who wish to have an enticing look to opt for bright colors. Color psychology is not a myth, and each color has a profound effect on humans, so take full advantage of that.
Bright colors will help you get noticed, and people will admire you for sure. This admiration will result in higher self-esteem and elevate your mood.
Accessorize to give the finishing touches to your looks
A complete and finished look can only be achieved via some accessorizing. Your accessory drawer has a profound impact on your style. Not saying that you become an accessory hoarder, but having high-quality jewelry, watches, belts, scarves, and sunglasses will help you create stylish outfits.
Some bling is a must to add in a lady's outfit, for example, statement necklaces go well with dresses and give a feminine look.
Final thoughts
Ariel Kaye, the founder of Parachute, a home décor company, says that style and confidence require knowledge about yourself and wearing what you feel best in.
We can't agree more. It is more about self-importance, and self-respect, that will help you make dressing decisions. As a result, these attributes will automatically reflect in your image, enhancing your self-assurance.
Author BIO:
Alycia Gordan is a freelance writer who loves to read and write articles on healthcare technology, fitness, and lifestyle. She is a tech junkie and divides her time between travel and writing. You can find her on Twitter: @meetalycia