As 2022 gets underway, you may be thinking about getting out and about. If you are like a lot of people, you are ready for some new adventures. Wherever you may be going, an electric bike is a great way to get there. Of course, there are quite a few electric bikes for sale in 2022. So, it can help to know where to look for the best options.
7 Trendy New Bikes for Men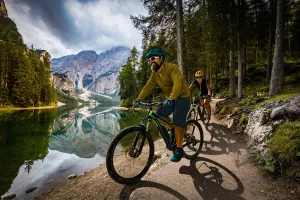 One of the best-regarded brands for electric bikes, especially cruisers and hybrids, is Sixthreezero. These are some of its best offerings:
EVRYjourney:

This cruiser bike is perfect for pretty much every use, hence the name. It offers a comfortable seating position while still being able to get up to a decent speed. Whether you want to cruise around town or get to work, this is a great option.

ReachyourDestiation:

This hybrid-style electric bike will get you wherever you need to go. It is perfect for errands, commuting or just having fun. The slightly more aggressive seating position helps you to pick up speed compared to cruisers.

RideInThePark:

For a truly timeless aesthetic, consider this bike. As the name suggests, it is perfect for a relaxing ride in the park. However, don't let that fool you. It is also a capable commuter.

Paven'Trail:

Riders who want to be able to go anywhere should consider the Paven'Trail. This bike will take on pavement, off-road trails and everything in between. The hybrid tires are great for balancing speed and durability.

BodyEase:

To get a more casual ride, consider the BodyEase. The frame design is intended to make this bike easier to mount for anyone who doesn't want to swing a leg over a high saddle. This is a great combination of comfort and adventure.

AroundtheBlock:

This is another bike for retro-loving riders. It is a relatively simple electric bike, but one that can offer miles of smiles. You'll love gliding around town on this classic beach cruiser.

EVRYjourney Fat Tire:

Fat tires are especially popular on

beach cruisers

because they can handle sand so well. This variant of the EVRYjourney offers extra comfort and versatility.
Looking Good Riding to Work & the Gym
Riding an electric bike is a great option for getting around town. It can also be a good opportunity for exercise. To some, an electric bike is one of the home gym essentials. Many riders find that having the motor for backup helps them to go further and longer while still burning a lot of calories. With any of the above bikes, you will look great and feel amazing while riding to work, the gym or out on the town. Electric bikes also have the benefit of letting you choose between pedaling and using the motor, so you can always get the exact experience you want.
Get Your Electric Bike for 2022
Check out some electric bikes for your 2022 adventures. Plus, with bicycle financing no credit check options, you can pick up the perfect bike for your needs more easily than ever. Find yours today.