So you made the decision to start hitting the gym. Congratulations! There is no better way to get in shape, both physically and mentally, than using your gym membership regularly. But first, you need to find a gym that will work with your lifestyle and schedule. Once you conquer that aspect, the rest is up to you! Smart eating is important, of course, but if you truly want to make a change in your body's overall health, you'll need to start incorporating exercise into your regime. Working out will help you to lose weight, tone up, build muscle, and improve your self-esteem!
Regular activity can help you to have a better quality of life. When you work out consistently, your chances of developing chronic diseases such as high cholesterol, high blood pressure, type 2 diabetes, certain cancers, and cardiovascular disease all reduce significantly. When you are ready to take control of your health, a gym membership is a perfect way to get started. Your first step is to find a fitness club that fits into your daily life and routines and that you are comfortable with when you work out. Here is a complete guide to help you find a gym, get that gym membership started, and get you on that path to a healthy lifestyle!
Finding the Gym That You'll Fall in Love With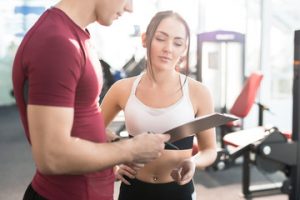 Regardless of your condition or ailment, exercise is one of the only treatments recommended by physicians almost across the board. That's because studies have shown consistently that inactivity leads to both physical and mental health issues. Being inactive physically increases the risk of physical conditions such as diabetes, heart problems, and cognitive decline. It also increases your chances of depression and anxiety.
Life tends to have a compound effect on your body that adds up slowly over time. Whether your compound effect of health is that of inactivity and chronic medical issues or of slowly working towards your own individual health goals is up to you. When you take your health into your own hands and join a gym, you make the compound effect work in your best interests.
But instead of choosing a gym based on things like proximity to your home or recommendations from a friend, do a little research first. There are a few parts of a gym membership unique to your tastes that you have to look for when you pick a fitness club. Look for these factors so you don't end up stuck with a membership that you don't use:
Ask around for recommendations. As you ask friends and family for their thoughts on certain gyms, you'll get a feel for what each gym offers before you step inside. Keep these recommendations in mind but don't use them to make your decision. What works for someone else may not work for you, and what they don't like might be exactly what you need. But if you get the same negative comments from multiple people about a particular gym, it may be smart to steer clear of that one.
Take a few minutes to visit each gym. Don't show up at the gym just any old time. When would you normally be there for your workout? That's when you need to visit. Gauge the atmosphere and see if it is comfortable for you. If it seems like it's too busy, or the machines you'll most likely use are all taken, you may want to look for another gym.
Look for gyms on your most traveled path. Location is one of the key reasons people start or stop their gym memberships. If it's not convenient to your daily schedule, the odds are you will find a way out of going, even if you want to go! The location should not be the deciding factor in your gym membership, but it should play an integral part.
Check for amenities that you are interested in. Unless you live in a small town without many options, there is probably a gym in your area that has extras to entice you to work out. ClubFitness.us, for example, has convenient locations throughout the country and offers multiple classes for its members, state-of-the-art facilities, and programs for a wide variety of interests.
What You Need to Know Once You've Found Your Gym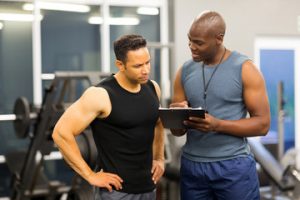 For many people, the hardest part of signing up for a gym membership is knowing they'll probably have a long-term contract. That's not always the case, though, so don't let that keep you from getting in shape. Many gyms offer month-to-month memberships or no-down-payment options. However, keep in mind that there are many benefits to investing in your health. Knowing that you are paying for the membership whether you go or not increases the likelihood of using it regularly.
But once you sign up for your membership, there are a few things you should ask before you start out on your own. As the staff member(s) show you around, be sure to ask these questions:
1. What are the gym's policies on health and hygiene? 
Not only do you want to make sure you are using clean machines, but you want to follow the policies yourself. Most gyms require every member to wipe down their machine with accessible sanitary wipes. Some gyms offer sweat towels for use during your workout, too. Learn the policies and make sure you see other people following them.
2. What emergency training is on-site? 
Every gym is required to have a medical plan in place for any emergencies or accidents that occur. The time to learn where medical equipment is stored is before an emergency, not during. Who is trained in CPR and when are they staffed? What emergency equipment is available for use? Who cleans up the bodily fluids in the event of an accident?
3. What training is available? 
Most fitness clubs offer free classes for their members, but some also offer personal trainers at an extra cost. Investing that extra amount in your health helps to keep you accountable and lets you focus your individual workouts where they need to be targeted because you have the new knowledge your trainer taught you.
4. What do you need to do if you have a visitor coming? 
For many people, having an accountability partner helps them enjoy the gym more. If you have a friend considering joining the gym, ask if there is a trial pass available. Or if you have a guest visiting, you'll want to know the policy for non-members to use the facilities with you. It may simply be a nominal fee, or it may not be allowed at all.
What to Expect Once You Begin Your Workout Routine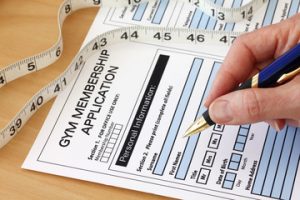 If you are out of shape, take a serious look at how long it took you to get there. Yes, it's easier to gain weight than to lose it, but it's not impossible. However, you won't see immediate results with your gym workout, no matter what you do. It's a compound effect. But you should start feeling a whole lot better quickly.
The compound effect never stops working, but now that you are going to the gym regularly, it's working in your favor. Researchers have shown that having (and using) a gym membership increases your odds of getting enough weekly physical activity by 14 times or more.
Once you start exercising regularly, you may gradually begin to see improvements such as:
Increased cardiovascular health,
Smaller physical measurements,
Lower resting heart rates,
Increased energy levels,
Increased muscular and bone strength,
Improved skin clarity,
Improved mental health,
Improved brain health and mental clarity,
Better quality of sleep, and
Decreased symptoms of pain and discomfort.
Your physical and mental health benefits will depend on what you put into your membership. The more consistent you are with your workouts, the sooner you will see results and the better those results will be.
Your Gym is Waiting – You're Well on Your Way!
Just like with every big change, the most important step is deciding it needs to be done. If you have come this far, you have already taken that big step. The next thing to do is find the gym that you feel comfortable going to and that you will be able to fit into your daily routines with minimal adjustment to your main activities. With just a little bit of research into what the gyms in your area offer, you should be able to find one that works for you. Don't be afraid to start a gym membership with the gym you love, even if it requires a long-term commitment.
Investing in your health will bring you a compound effect that increases your expense immensely. It's the best investment you can make both financially and with your time spent. Remember that you don't have to settle for boring in your workouts. Find a gym that offers what you enjoy doing, grab a gym partner for your account and to make the time go faster, or invest in a personal trainer to help you learn what you need to do to get results fast. It's your membership – you are in charge!