Golf is one of the most popular recreational sports for adults 50 years and above. Golf offers physical and psychological benefits that adults need to have to remain relevant in their old age in terms of productivity and building a legacy.
When seniors retire or become less active in business, their level of strategic thinking, physical strength, and multi-task ability begins to decline.
Golf is a strategic way of releasing endorphins without stressing the old muscles that boost their mood and keep their brain active.
There have been calls from doctors, nonprofit organizations, and medical bodies calling on adults 50 years and above to come and reap the immense benefit of golf. Below are some of the health benefits of golf for seniors.
1. Provides an opportunity for socializing
Playing golf provides seniors with an opportunity to spend time with friends and meet new people in great surroundings. Socializing is an important aspect of your overall health and wellbeing, known as your social health.
Golf enhances interaction between different generations and offers opportunities to enhance social connections.
2. Enhances mental stimulation
Playing golf helps in providing mental stimulation that keeps your mind sharp and clear. It boosts your mental understanding and clarity. Numerous studies have shown a link between staying mentally active in old age and dementia and Alzheimer's disease delay. If your mental prowess is not well stimulated, your brain functioning might be negatively affected.
3. Physical exercise
One of the significant benefits of golfing for seniors is that it helps them burn excise fat and strengthen their muscles. Sedentary lifestyles of seniors help to birth health issues such as obesity, hypertension, and people with arthritis, which prevents them from enjoying life in their old age and, worsts, shorten their life. Playing other sports can also help seniors exercise, for example there are many health benefits of tennis for older adults.
Due to their age, they cannot be involved in vigorous or highly aerobic activities, so golfing remains one of the best choices to exercise their body system. Golfing doubles as one of the effective mechanisms for them to lose weight which is essential for their health.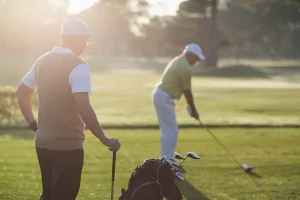 4. Aids in the reduction of stress and anxiety
Stress and anxiety in old age push many into unhealthy habits like drinking alcohol, smoking, overeating, or eating junk and unhealthy foods. They can also develop health issues from stress and anxiety, such as sleeplessness, headaches, and irritability.
One of the most effective ways to deal with these is to be involved in a hobby you love that will exhilarate and strengthens your emotions and mental faculties, and one of these is playing golf with a friend or family member.
5. Releases endorphins
Exercising frequently releases endorphins, making you more relaxed and much happier. Most items, most seniors after 65 are always on drugs, and they can become addicted to their prescribed drugs and begin to abuse them or get addicted to alcohol. So engaging in golf is an excellent way to keep their endorphin level in check.
6. Helps to improve sleep
Golf is an excellent low-impact sport that is fun for seniors 50 and above. It remains one of the best ways they socialize in their advanced age. Social. When golfing, you spend time under the sunlight, and fresh air, which is vital for your body and soul and, in return, makes you sleep better and deeper. After an evening golf spot, you can go home, shower, and sleep well.
Conclusion
Golf incorporates physical activity with fresh air, relaxation, sunshine, and socialization. The health benefits of golf for seniors are definitely beneficial. You can register to join a golf club near you to real the benefits.