The morning part of the day is considered the most important part of the day because what you do in the morning affects the rest of your day. They're healthy ways to start your day to ensure you have an amazing day. Some of the healthiest ways to start the day require strict adherence and consistency to maximize health benefits. Some of the healthiest ways to start your day are listed below.
7 Healthiest Ways to Start Your Day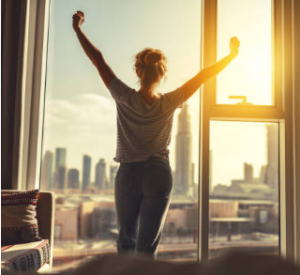 There are so many habits people do to start their day. These are some really good habits you can cultivate as you start your day. Let's find out the healthiest ways to start your day.
1. Drinking water upon waking up.
Learning to take a cup of water when you wake up might be one of the best gifts you can give your health before you start your day. Water hydrates the body and activates all your organs to begin a new day. It is extremely important to start your day by taking a glass of water; it refreshes you and sets your mood to face the rest of the day.
Another reason why drinking water in the morning is one of the healthiest ways to start your day is because our bodies are dry when we wake up in the morning. Hence, drinking a glass of water when you wake up will allow the body to rehydrate, and it also allows for better digestion when you eat your breakfast. Additionally, it helps with easing the movement of bowels in the morning.
2. Doing a little exercise
After activating the internal organs and systems with water, it is also very necessary to activate the physical muscles and joints with some exercise. This is a very healthy way to start your day because it will improve your mental alertness and your mood as you Kickstart your day. The exercises you can do ranges from; A little stretching, push-ups, jogging, or aerobic exercise indoors. Any form of exercise can highly boost your productivity and focus for the rest of the day.
3. Eating your breakfast early
Breakfast is the most important meal of the day as it sets your metabolism up to a great start. Eating a healthy breakfast before 9 am helps to boost your mental focus and give your body the energy it needs to power up your morning. Make it a habit to eat a good breakfast made up of a balanced diet as this will hugely boost your health and even help you to lose some weight.
4. Drinking a cup of coffee or tea
The health benefits of coffee are numerous, some of them include; improving productivity and mental alertness, fight cancerous cells, help you lose weight, fight stroke, etc. There is no better beverage to boost your system with as you start your day. Taking tea is also a very healthy way to start your day as tea helps to improve your focus and productivity. You can garnish your tea with lemon or ginger to improve taste and efficacy. You can also have green tea in the morning.
5. Writing down your thoughts in a journal.
This is a very healthy way to start your day by freeing up your mental space and allow for more creativity and calmness to permeate your mind. By writing down your thoughts, you're able to trace and handle things that can cause you to stress or worry. Stress has very negative impacts on the mental and physical health of a person, so by writing down your thoughts, you can identify possible stressors and handle them.
Additionally, you can write down your plans for the day in the morning, because it can impact your productivity for the rest of the day. Some things you can write down in the morning include reminders, schedule, things you are thankful for, things you want to accomplish and quotes.
6. Stay away from electronics and gadgets.
Using your phone or laptop immediately when you wake up is a huge temptation, but this will have a massive negative impact on your productivity and mental focus, and this could adversely affect your overall wellbeing for the rest of the day. Discipline yourself against the use of your gadgets in the morning to ensure you have a healthy day in general.
7. Meditation
Numerous studies have suggested that meditation in the morning has a plethora of health benefits, most notable is eliminating stress and anxiety from your daily life. When you begin your day in a calm, relaxed state, it can help you be less bothered by the common frustrations in life and reduce overall stress and anxiety of the day.
Usually in the morning, before we start our daily activities, we start thinking about all the stuff you have to do, and your mind is filled with nonstop planning, strategizing, and organizing. A morning meditation will set the pace for your entire day and help you become more focused, content, and optimistic.
Bottom Line
Practicing these healthiest ways to start your day will require a lot of discipline and self-determination. Continuous practice will make it become a habit, and from that point, it becomes easier to adhere to. Our morning health practices will have overall positive effects in all areas of life.