When you're a mom on the go, it's important to make sure you and your children are nourished. Whether your children are school-aged or not, it's still important to make sure they have the right nutrients in their bodies to fuel the rest of their day. Even though there are never enough hours in the day for most busy moms, there are a few key recipes you can use to quickly provide a nutritious meal for your children. Consider the following breakfast ideas to get started.
1. Breakfast Burritos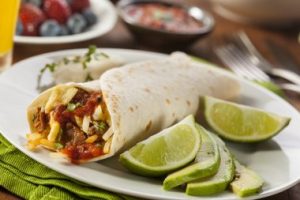 The key to this quick meal involves prepping everything in advance and freezing. Pick a time during the weekend when you have some extra time to meal prep. Scramble a bunch of eggs, vegetables, and breakfast meat in a skillet. Then, add the contents to the inside of a bunch of flour tortillas. Once you fold the burrito properly, wrap it in wax paper. Then, wrap aluminum foil on the outside. Once you've folded and wrapped all of the burritos, put them in a freezer-safe bag. The night before you want to have burritos, pull them out of the freezer and place them in the refrigerator. The next morning, place the burritos in the oven for 20 minutes. Serve with sides like salsa, sour cream, and guacamole for a filling breakfast meal.
2. Oatmeal
The process of heating the water is the longest part of the oatmeal-making process. However, if you want to make sure your oatmeal is as healthy as possible, try to avoid the instant options that are packed with sugar. Instead, find options that contain nutrients like chia seeds and flax seeds. Then, if you want to sweeten your options, add ripe, fresh fruit like banana slices, strawberries, or peaches.
It might be cool to try an overnight oats option as well. At night, place the oatmeal in small jars along with plant-based milk or water. Add the toppings such as nuts or berries. In the morning, grab a jar, shake it up well and eat it cold.
3. Smoothie Bowls
Smoothie bowls are easy for parents who want to pack a nutrient-dense punch into their children's diet. Add healthy greens like spinach and kale to a blender along with fresh fruit. To make the smoothie bowl creamy, add water, almond milk, or another plant-based milk option. Blend the ingredients in a high-powered blender for a few minutes. Pour the smoothies into bowls. Top the mixture with granola, coconut flakes, and nuts for added nutrition, flavor, and texture.
4. Fruit and Yogurt Parfaits
Fruit and yogurt parfaits are perfect for added protein to the diet. Use greek yogurt as the base because of its protein content. For sweetness, try hard to find fresh fruit that's in season. Whether you use peaches or berries, the sweet factor will make the dish amazing. Add a few tablespoons of granola to the bowl. Drizzle honey or agave nectar on top of it all. This is a really quick option that takes less than ten minutes to put together.
5. Toast with Toppings
Once you place a few slices of toast in the toaster, prepare your toppings.
If avocado toast is a fan favorite, mash an avocado. Add seasonings such as black pepper, sea salt, and red pepper flakes to the mix. Once the toast is complete, spread the avocado mixture to the top. Cut the toast in half. To add more flavor, add ingredients such as sun-dried tomato slices, parmesan cheese, and extra virgin olive on top.
If you're looking for a sweet version, grab your choice of peanut butter, hazelnut spread, or a fruit jam. Spread the mixture on top of the toast. Then, chop a banana into slices. Place the banana slices on top, and cut the toast in half. There are so many directions to venture into with toast. Have fun with the flavor combinations.
While it would be ideal to have a full spread of scrambled eggs, fresh biscuits, and bacon, it's okay to save those decadent meals for the weekends. When you and your family are in the middle of a hectic week, make your experience a lot easier by preparing these simple breakfast ideas that are both tasty and quick yet still nutritious.
Author's Bio:
McKenzie is your typical Midwestern gal. When she is not writing or reading, she can be found training for her next half-marathon, baking something sweet, playing her guitar, or cuddled up with her golden retriever, Cooper. She loves watching football, fall weather, and long road trips. Her favorite meal is breakfast and starts her day with some oatmeal which, you can even buy chia oatmeal online for a convenient fix.