The best method to freshen up the air in your home is to open the doors and windows! In addition to removing stale air and residual scents, fresh air seems to have its own clean and fresh smell that's quite noticeable.
When it's still well over 90 degrees outside, we can't see the point in throwing open our windows and doors. However, once the weather starts cooling off a bit, you'll want to start thinking about how to keep your house smelling fantastic all year round. 
This beneficial article provides you with some tips on how to make your home smell better without spending a fortune.
1. Fresh Flowers
Fresh flowers are always a fantastic way to add a little extra scent to your home. They're also inexpensive, easy to grow, and will last for months if you take proper care of them. You must be an expert gardener to enjoy this hobby; just pick up a few bouquets from your local florist or grocery store and let nature do the rest. Some of the best fragrant flowers you can use to make your home smell good are peonies, lillies, roses, and gardenia.
2. Essential oils
Essential oils are fun ways to add fragrance to any room. There are so many different types available, with each having its unique scent. Common essential oils include lavender, lemon, orange, peppermint, rosemary, and tea tree oil. These are all safe to use around pets and children but should only be used sparingly. If you'd love to learn more about these essential oils, check out reviews from people who have tried them. 
3. Incense
Incense is another excellent way to bring a sweet scent into your home. It's very simple to light, burns long, and doesn't require much maintenance. Incense is often made from natural ingredients such as sandalwood, patchouli, frankincense, and myrrh. The best incenses burn slowly and evenly, making them perfect for adding a subtle aroma to a space. If you want your room to smell good, you can equally use incense.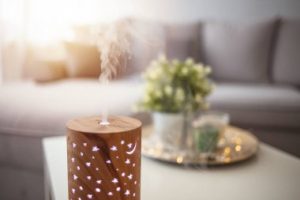 4. Scented Candles
Scented candles are probably the simplest way to create a pleasant scent in your home. They not only make your house smell great, but can help with relaxation. Most candles come in fragrant varieties, and they work by releasing aromas when lit. This means that you can quickly change the smell of your candle at any time by switching out the wick. 
To use scented candles, ensure that you have enough candles for the scent to permeate the room. To get the best results, use about one 8 oz candle for every 10 sq ft of space. If the living room is larger in size, you might require three to four (small) candles to make the whole room smell wonderful.
5. Plants
Plants are another fantastic way to create a pleasant atmosphere in your home. Not only do plants provide color and texture, but they also help purify the air by absorbing toxins through their leaves. Many people choose to plant indoor trees, ferns, and other greenery, but there are also plenty of options for smaller plants. Other plants you can use to make your home smell good include, tea rose begonia, jasmine, scented geraniums, and orchids.
6. Cleaning supplies
Cleaning supplies are another great way to make your home smell good. Bleach, ammonia, disinfectants and vinegar are all excellent choices for cleaning products, and you can find them in almost every household supply store. You can also spray air freshener all over your home, then open doors and windows to let your air out.  You could also schedule a cleaning service like Maids in Pink if house cleaning is something you want to outsource.
7. Herbs
Herbs are yet another excellent option for creating a pleasant environment. Lavender, basil, mint, oregano, anise hyssop, marjoram, thyme, sage, and rosemary are all great herbs to have on hand. Just remember not to leave these herbs sitting around too long since they can lose their potency over time.
Conclusion
If the goal is to make your home smell like paradise, following the healthy ways to make your home smell good, which was listed above should put you on the right track.