Hemp oil is extracted from the hemp plant, although hemp seed contains the most oil content in the plant. Oil can be produced by all plants in the Cannabis family, but typically only industrial-grade hemp plants are used to manufacture hemp oil. Industrial hemp is a variety of hemp that has been chosen specifically for industrial cultivation to produce hemp oil. This kind of hemp varietal has almost none of the psychoactive characteristics that marijuana has; there is, at most, a minuscule amount of THC. Tetrahydrocannabinol (THC) is the chemical in marijuana that produces psychoactive effects. There are no psychoactive properties associated with hemp seed oil manufactured in the United States.
Hemp is an Ancient Food and Remedy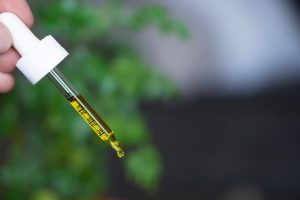 Hemp has been used since ancient times for its benefits. The Chinese used multi-purpose, nutritious hemp as a staple crop since prehistory. The Chinese, in the pre–13th Century BC, cultivated hemp for food and medicine. Shennong (in Chinese mythology) also referred to as Thần Nông (in Chinese and Thai mythology), is a figure whose name translates to "Agriculture God ". Credited in the far East with the advent of the plow, the hoe, and other farming implements, in ancient stories Shennong is said to have used hemp oil topically for treatment of various ailments.
After many decades of being wrongly demonized by governments as a harmful narcotic, we can now enjoy the benefits of hemp products without fear. 
Rediscovering What Hemp Can Do
Hemp oil is not the same as cannabidiol (CBD) oil, which contains intoxicants. Because it turns rancid quickly, most hemp oil has been refined to increase the shelf life. 
Skin Care
Hemp oil is a good moisturizer and has been found to have anti-inflammatory properties because it contains gamma-linolenic acid. It also contains oleic acid, and many have enjoyed the effect hemp oil has on aging skin. Some people ingest hemp oil as part of a healthy skincare regime. It works well as an addition to salad oil but isn't suitable as a cooking oil because of its very low smoke point. Adding hemp seed to salads is also very tasty. 
Hair Care
Hemp oil can be massaged into the scalp for a healthy, shiny head of hair. Some use it as a natural remedy for a flaky scalp. It can be added to shampoos and into your regular hair care regime.
Dry Eyes
Recent studies have shown that hemp oil might be effective when taken orally for easing the symptoms of chronically dry eyes, especially when combined with other fatty acids and artificial tears.
Neurological Function and Pain
The endocannabinoid system, a regulatory system that affects digestive and immune function, brain health, and more, is affected by hemp oil. As more valuable studies are done, the question is posed if hemp oil can support healthy neurological function. There is evidence that has been shown in a handful of studies that hemp oil might be able to combat organic changes in the brain that occur with aging and with anxiety and stress-related issues. Studies progress toward the use of hemp seed oil for pain, as well.
The CBD in hemp oil has been used for decades by patients who suffer from exceptionally hard to treat forms of epilepsy. Cannabidiol-based medication has in recent years been approved by the U.S. Food and Drug Administration for the treatment of seizure disorders associated with two rare types of epilepsy. 
Hemp Oil: A Versatile Product
Legislation against cannabis has prevented the use of hemp products for decades in many parts of the world. As views and laws evolve and change regarding the use of cannabinoids, we are finding that hemp, in its many forms, can be a useful addition to a healthy life. Long understood to be useful for many things, scientists are working very hard to find new and amazing purposes for this ancient plant that goes far beyond what we have known for centuries.