How To Choose The Right Sports Bra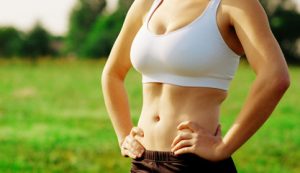 In the world of lingerie, sports bras are the saviours we need but somehow the ones we don't want. Sure, they may not look as cute and adorable as your lacy wonders, but you will be thanking them when you don't get punched in the face by your own breasts every time you go running.
Also, if you do not want your breasts to serenade your knees as you reach old age, having a sports bra is necessary. If this is your first foray into the world of sports bras, then here are a few basic steps to ensure that you choose the right one. In this article, you will learn how to choose the right sports bra.
Choose the style that you need
You can't just walk into a shop and ask someone to hand you a sports bra in your size. Much like other types of bras, these too come in different types to suit the different needs of each woman.
Compression sports bras do the job of holding your breasts close to your body without separating them in cups. To put it simply, they do the opposite of giving you cleavage and instead give you a mono-boob.
If your cup size ranges from A to B, then these are the perfect fit for you. These work for larger sizes too but only if you want to engage in a low impact workout.
Encapsulation sports bras have two separate cups and straps for adjusting your bra accordingly.
These are usually good for larger sizes such as C, D and upwards as the straps provide maximum support to your heavy breasts. If you need even more support, then you can go for bras that offer compression as well as encapsulation.
These bras combine the best features of both bras by not only holding your breasts close to the body but by also giving you the convenience of adjustable straps and separate cups. These bras are perfect for women with large busts or any other women who wish to engage in high impact workouts.
Find your perfect fit
Your sports bra won't be able to give you an ounce of support if you do not buy it in the correct size.
Millions of women don't know the proper way to measure their bra size and end up with ill-fitting bras that do nothing but act as a piece of fabric covering their breasts.
Contrary to popular belief, besides correct strap size measurement, band size measurement is also extremely vital to getting the perfect bra size. To get your correct band measurement, you need to measure your rib cage just below your breasts.
You can then use a table to convert these inches into your band size. The next step is to put on a sports bra and measure across the fullest part of your breast. This size will then be subtracted from your band size so you can find out your cup size.
Test it out
Once you find a match made in heaven for you and your sports bra, then it's time to try it on to see if it feels as good as it looks. To make sure you have the perfect band size in your compression bra, pull the strap away from your skin.
If you can pull it away for more than one inch, then you need to get a bra that is one size smaller. In the case of encapsulation bras, the band should fit you snug and tight on the loosest clasp. Secondly, if your breasts are falling out of your bra from the top of your cup or from your armpits, then it's time to go up a size.
Lastly, it's time to make sure that you can easily fit two fingers between the bra straps and your skin. Any more or any less and you have got the incorrect size.
Workouts mean sweating and sweating means chafing if you are wearing the wrong kind of material. Look for bras in moisture-wicking fabrics and with minimum seams, so you don't end up with a rash every single time you run up and down the stairs.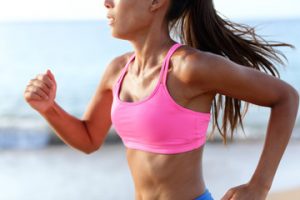 Once you have passed all these steps and found your new best friend that is going to support your breasts, you can go crazy with your workouts at a gym or no-equipment 'at home' workouts without the fear of having your breasts popping out of your clothes for a little peek-a-boo show.
However, that does not mean that your new sports bra is your best friend from here on till infinity. You need to replace the bra as soon as you start feeling that it is not giving you the support you need. When that happens, it's time to find a new best friend.
Author Bio:
Judy Robinson is a passionate health and lifestyle blogger. She loves to write about a healthy lifestyle, fitness 101 and DIY related topics. Follow @judyrobinson for more updates.
YOU SHOULD READ THESE TOO: