There is an extensive array of compression garments available, each with its own intended purpose. Compression bodysuits like the boyleg bodysuit are made for the sole purpose of supporting the body through the post-op recovery process. They're made out of a medical-grade material that's comfortable while applying compression where you need it and can mold and expand as necessary while the body heals.
Bodysuits can be very helpful after invasive procedures like a cesarean or a hernia and are often used following plastic surgery, including liposuction, fat transfers, gastric bypass surgery,  skin removal surgeries, laser liposuction, body contouring, and belly button surgery. 
These aren't the thick, tan hose-type stockings you've probably seen in a drug store, rather high-tech garments that are specifically constructed to enhance the results of a procedure while facilitating healing. They're made from strong fabrics like spandex and nylon with a three-dimensional stretch that offers comfortable support while directing subcutaneous fluid (AKA swelling) to be reabsorbed by the body. Openings are included that make it easy to use the bathroom without having to remove the garment too.
With millions of plastic surgeries performed every year, as shown by the latest Plastic Surgery Statistics Report, not to mention the countless other surgical procedures, it's no wonder so many compression garments are being used today. Knowing more about how they help will allow you to understand why.
Reducing Swelling and Discomfort
After surgery, patients typically experience a significant amount of swelling. That excess fluid buildup is not only uncomfortable, it can interfere with the healing process. The right compression bodysuit can control that swelling and lower the risk of excess water retention around treated areas as well as surrounding tissues, limiting discomfort. It ensures that specific places on the body receive constant, uniform pressure by being designed to fit the contours of the body.
Preventing Bruising
Bruising is also common at surgical sites. By wearing a compression bodysuit, you'll be decreasing the likelihood of bruises. For example, liposuction tends to disrupt blood cells as the cannula must pass through subcutaneous tissue, resulting in bruising, but by wearing a compression garment like this, it helps to prevent red blood cells from percolating toward the epidermis.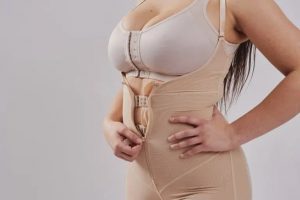 Better Results
After an invasive surgical procedure, there is a risk that bulges will form in the skin. That can be mitigated by wearing a compression bodysuit as it helps keep the tissues in place and control any skin shrinkage that might occur.
Lowering the Risk of Infection
When used properly, compression bodysuits can help protect against infection. The pressure works to prevent an old wound from opening or stretching should a sudden movement like sneezing or coughing occur. It ensures the incision will be kept closed to keep contaminants out while also absorbing sweat, further reducing the risk of infection. 
Limit Scarring
A compression bodysuit can limit the extent of scarring due to the steady pressure that causes excess collagen to break down and be reabsorbed by the body. When there is a wound, collagen is produced to help hold it together, which is what creates the smooth part of a scar. If there is an excess of collagen, a raised, visible scar will be the result.