If you want your outdoor space to be a welcoming oasis where friends, family, and visitors can all gather, then you need a smart strategy. Lawn and yard care is all about making sure you are proactive. This article shows you how to maintain a healthy yard.
Maintaining a healthy yard is easy when there's good soil for plants to grow in and high-quality sunlight that helps them thrive. However, there's much more to planting beautiful plants on your yard. You also need to clean and maintain it.
Here are some tips for maintaining a healthy yard:
1. Clean the area first
For your lawn to maintain its shape and appearance, you have to clean up the area around your lawn first. Weed removal is a must. Of course, it's also important to weed-whack if you have overgrown areas or weeds invading a flower bed or other space that would be better served by grasses and greenery.
Change mulch types, too, as this will help filter sunlight and reduce weeds.
It can also be a good idea to plant flowers or shrubs to help keep weeds down. You can also use a mulch to keep the roots of nearby trees from disturbing your grass.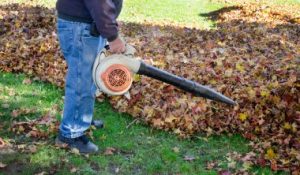 2. Leaf clean up
Also, you need to clean the leaves. Leaf clean up can be a very challenging task, when it comes to maintaining a healthy yard. Trees can quickly and drop their leaves all over your lawn.
A simple way to do a leaf clean up is to use a leaf blower, blow fallen leaves into large piles, and then rake them onto a tarp.
3. Always prune in early spring and winter
It is important to prune shrubs  at end of winter or very early spring. During winter, cut off any broken or badly disfigured branches caused by snow and ice.
In addition, remove all unwanted lower branches on all evergreen shrubs and trees in late winter.
4. Add organic material
A healthy lawn needs healthy soil, so add organic matter for the best results. You can use a combination of compost or manure and organic fertilizers (like fish emulsion) to keep your grass green all season long while helping it grow thick and lush.
5. Mow regularly
Mowing your lawn is probably the single most important thing you can do, so this should be the first thing on your list of tasks. Using a power mower or an electric mower will make it easier and faster to maintain your lawn, but you still need to mow your grass at least once a week.
You should mow the lawn when the grass level reaches about 2 to 3 inches in height.
6. Use proper tools and equipment
The nice thing about a healthy lawn is that it doesn't require you to use tools that are hard on your hands. Buy an edger and a power mower so you can maintain your lawn with these tools. Consider an edger to remove those pesky weeds around the edge of your yard. A power mower will help you maintain the shape of your lawn, and it's easy on your back!
7. Trim when necessary
Finally, be aware of the grass in areas that are not being used regularly. Trimming your lawn is important to help it maintain its shape. You don't have to do this in the springtime, though. In fact, some people think that trimming their lawn as soon after mowing as possible is a good idea to help the grass stay healthy and growing quickly.