It's easy to focus on high risk industries like manufacturing or construction when thinking about injuries happening in the workplace. But in reality, injuries can occur in any work environment, and when they do occur they are often very costly.
Not only can a workplace injury impact production when an employee has to take time off, but there are financial burdens involved with workers' compensation insurance, medical expenses, and possibly even legal issues. Getting ahead of potential hazards and making the work environment as safe as possible for everyone is the best preventative measure to ensure these injuries are kept at a minimum.
Read on to discover how to prevent workplace injuries.
Create a Culture of Safety
To ensure a safe workplace, it is crucial that management creates a culture of safety. Start by putting together rules specific to your workplace using regulations provided by the Occupational Safety and Health Administration, as well as tips from other sources to preventing injuring inducing mishaps.
Once guidelines are established, place appropriate warnings and signage in any area where potential hazards are at their greatest. Creating a culture of safety also means developing a safety wellness plan. This plan should include tips that will prevent workplace accidents of all kinds and needs to be reviewed often with employees so that everyone is on the same page.
Get Employees Involved in the Process

Management can take charge to create a safer working environment, but it's important to encourage worker participation as much possible. This goes beyond just reviewing safety measures and educating employees about standards: get them involved in the process! Encourage them to be your eyes and ears on the ground floor and let you know just what working conditions are like. They can often spot potential hazards that managers may not be aware. Inviting them to report these issues and engage in creating a safer environment is invaluable.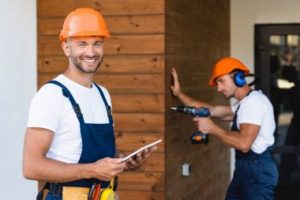 Understand Vulnerabilities
Every work environment has vulnerabilities that are unique. Instead of relying solely on industry standards, take the time to understand the distinct challenges employees face. Pay attention to common accidents or setbacks that may be occurring and focus on them. Also, management needs to discourage any shortcuts employees may be engaging in to improve productivity that create additional hazards.
Utilize Personal Protective Equipment
Offering Personal Protective Equipment (PPE) to employees should be a priority to every manager. A variety of equipment is available including gloves, goggles, ear plugs, and more. Find out what type of equipment can best support workers and implement them right away. Training sessions on how to properly use PPE as part of hiring new employees can ensure new employees are onboard with using the equipment right from the start. It is also important that whenever equipment is introduced that all employees are instructed in their proper use to make sure it is as effective as possible. Companies can also get bulk disposable gloves for their employees. They can be bought on Unigloves, you can visit their website here: https://unigloves.co.uk/
Engage in Routine Inspection of All Equipment
With deadlines and production schedules becoming tighter, it can be easy to delay routine maintenance and cleaning of equipment to avoid downtime. While having downtime can be an inconvenience, it more than makes up for itself in the level of hazard prevention that is provided. Monthly inspections on all pieces of equipment, including company vehicles, should be implemented to keep injury causing breakdowns to a minimum.
 How Does Sitting For A Long Time Affect Your Health
Prevent Workplace Injuries
Spending time and resources to improve the safety conditions in your working environment can seem challenging; especially for a small business. Even if your company is outside of the traditionally considered hazardous industries, investing in employee training with the right protection equipment to create a culture of safety can pay off big time.
Engaging with employees and supporting them with PPE and OSHA standards is a critical part of running a successful company that no manager should go without.
Author's Bio
Carolyn Clarke is a freelance writer who has been covering issues regarding workplace standards for a variety of companies, including Moldex-Metric, for the past six years. Her background includes working for a personal injury attorney that specialized in workers' compensation claims. When not writing, she enjoys trying out new recipes and playing tennis.