As you grow old, you might be getting worried that that beautiful face of yours has started experiencing some wrinkles. Although aging is part of life, you can still look beautiful as you age. Women love beauty tips and always want to learn the beauty tips that will make their hair shinier and skin glow. Irrespective of your age, you can still achieve that radiant look. Here are some of the beauty tips for older ladies.
In this article, you will learn some helpful beauty tricks that can make a difference in your looks, even as an older woman. Including here are also some makeup tricks for older ladies used by top pros on magazine shoots for grownup celebs and everyday women for decades.
So, below are the best beauty tips for older ladies.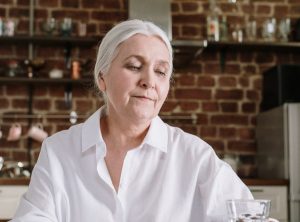 1. Test makeup before using
Most people are used to testing make-up on your face or at the back of your palm. Now, change the style by swiping the lipstick on your thumb and foundation, concealer, and shadow in the web between thumb and forefinger.
Don't engage in cleaning off the store tester after applying it to your face or the back of your hand again. This is unhygienic and unrealistic.
So, to get the right combination, test on the skin similar to the area where you want to apply the product.
So, make the soft, fleshy blue-red pad of your thumb your actual lip skin. This is because it gives a truer idea of lipstick shade and texture. Because your thumb is thinner, looser, and crinkled, it will give you the right answer to how your face make-up or eye shadow will look when applied, blended, and worn.
2. Do brow makeup before eye make-up
This does not apply to the ones who have tattooed or microblade their eyebrows. You have to fill and extend your brow shape before doing the liner, shadow, and mascara. This is done to give your eye area a brand-new bigger frame.
In case you are the one with dark hair, you can go one or two shades lighter in brow makeup, while the one with light hair can do one or two shades darker in brow filler.
3. Brow makeup should be started and stopped at the right places
The invention of mature brows is a big challenge. More attention is often paid to fullness and shape, not length.
This has even made "corrected" brows fall short. So, start by lining up any pencil vertically from the outside corner of your nose. This will help align with your inner eye corner.
You then fill in your brow with small, hairlike, upward pencil strokes. Afterward, Angle the pencil from the nose to your eye's outer corner, where your brow should end.
4. Don't fight your face as it becomes more asymmetrical with age
Don't try to mask the difference in your face with makeup because you are aging. At the age of 50, you will notice some unmatched features on your face. For instance, one brow may be higher or differently shaped than the other.
You might also have on the part of your lip thinner to a nearly invisible line, while the bottom lip is still pouty. That's your real self, and make u won't correct it perfectly.
5. Application of make

up sponge

You need to understand that make-up sponge is not make-up itself, but for adding moisture.

Since you now understand that make-up sponges suck up a lot of face make-up that can make you use more make-up for each application and eventually run out of bottle or tube very quickly, use the triangular makeup sponge to achieve the effect.

They are basically needed to freshen a make-

up overdose or retouch. So, if you observe that you are good to go, avoid them.

 
6. Never

 cut your cuticles

While doing manicure on your hands, never ever cut those thin slivers called cuticles. The reason is that those cuticles act as a layer of protection on the skin, and if you cut them, it'll leave you unprotected from bacteria or even infection. If you want to avoid infection, push back your cuticles after taking a bath, apply lotion, and you are done.

 
7. Protect your skin from the sun
Sun damage causes wrinkled, spotted skin, and even worse, it might contribute to skin cancer. Thus, try to limit your exposure to the sun. You can wear hats and use sunblock. The results of sun damage don't become fully apparent until later in life, but you can still make a difference in your skin by reducing your sun exposure now as an older lady.
8. Wash your face before going to bed
Dry skin is a common challenge for women over 60; the reason is because the skin tends to become drier as we lose oil glands and get older
One of the most effective ways to reduce dry skin is to wash your face every night before going to sleep. You don't have to use soap, as soap will take away the natural oils from your skin that are needed to keep your skin healthy. You can also drink lots of water as well!
9. Go for natural skin care products
There are so many skincare products that are full of chemicals and heavily processed ingredients. It is advisable for natural skin care products containing herbs, coconut oil, or olive oil. Skincare products with natural ingredients will give you healthier skin.