There is no better way to treat yourself this weekend than having a spa day. There is so much that will happen during this time and everything that will have a positive impact on your life. By the time you are leaving, you will be feeling like a new person, and if you want it at the comfort of your home you can be sure to hire mobile therapists, and one will be at your home at the time you feel convenient. The following are some of the reasons why you should pamper yourself with to a spa day this weekend break.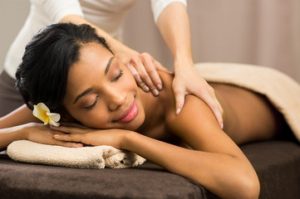 1. Care for your skin.
One of the top reasons why you should treat yourself to a spa day is that it is one of the best ways to take care of your skin. During a spa day, you will get a facial which is going to renew your skin giving you a healthy and a younger look, and who doesn't want that? The facials usually include exfoliation, treatment products and facial massage. The facial is usually incredibly relaxing, and in addition to that, it actually helps your skin maintain a healthy look and reduces the signs of ageing like wrinkles. A facial will also help deal with the acne you have been trying to get rid of for many days and also help with breakouts.
2. Relieves muscle tension
One of the first things most people think of when they hear of a spa is that relaxing massage session from the professional therapists. Your body is tired after working the whole week, and the muscles are tense, and they need that magical touch from a therapist to help you feel relaxed.
Leaning over the desk and sitting to your computer all week is no joke, your neck, shoulders and back must be complaining by now, they are asking you to treat them right. Treating yourself with a massage this weekend will loosen those tightened muscles which will in turn help reduce most of the pain you might be experiencing right now.
The massage will also has far more benefits than just relaxing your tense muscles which include: improving your circulation of blood in your body which in turn will increase the supply of oxygen to your body and stimulate lymph system. A massage will also help reduce anxiety, headaches, digestive disorders, sports injuries, relieve muscle tension, joint pain and soft tissue strains among other benefits.
3. Keep your nails healthy
A spa day is always very inclusive and one of the things you are going to enjoy during your time is your nails are going to be properly taken care of by professionals. You are going to receive manicure and pedicure from a professional than you ever did before. And by the way, manicure and pedicure have more benefits than just pampering your nails and making them look cuter.
It will also give your feet and hands a younger look as well as get rid of dead skin and hangnails. The professionals will apply oils and creams to help moisturize your cuticles, and your skin which helps give your feet and hands get that younger look.
4. Detoxify
Most spa usually includes a combination of massage, deep cleansing and miniaturization of the skin and many times heat. The body treatments, facial as well as scrubs will help get rid of impurities from your skin, and they will do this by incorporating scrubs, cleansers, as well as heat packs or steam to help soften your skin.
The massage session will help your body release toxins and detoxify. By purifying your body through detoxification, it will be the beginning of a healthier life because it helps improve your immune system. And when your immune system is improved, you can be able to withstand different diseases.

5. Disconnect
Make this weekend a time to disconnect from the regular boring world where you are always on your computer receiving email after email, text messages and phone calls from your cell phones among other disruptions that have become so common in your life. Use this weekend to escape from normal life and travel to a whole new world of comfort where everything you have to do is relax! This is the perfect time to be alone and just focus on you just for a moment. Forget about all your troubles and don't forget to turn off your phone; it will take just a few hours.
6. Relieve stress
Stress is a common occurrence to everybody nowadays, and almost every small thing causes us stress. You get to work your computer operating system has crashed and you get stressed, you wake up in the morning and your son is not feeling well, you get stressed, you are watching your favourite series and just from nowhere they kill your favourite character, you get stressed, I mean there are stressors everywhere in our day to day lives.
Stress will make you experience headaches, anxiety, muscle soreness, and withdrawal, among many other negative effects on your body as well as your mind. Using this weekend to pamper yourself to a massage will help you fight off the symptoms of stress because there is nothing that can make you feel relaxed and at ease than a massage therapy session from a professional massage therapist who knows when to touch where in order to provide that relaxation feeling.
It is very important to manage your stress, and one of the best ways to do this is treating yourself to a massage, but you can also try out meditation, it is also very effective.
7. Gain a sense of renewal
After spending the day reflecting on your life relaxing and being treated like the king or queen, it is going to make you have renewed optimism about your life. You will be filled with energy and be ready to conquer everything that comes on your way to success.
ALSO READ: