You set off on a long-awaited vacation, but your dog got upset while driving. You can't leave the house without the whimper of a pouch who wants to spend every moment with you. For every celebration, you have to get your pet in the house because firecrackers, fireworks, and noise make them scared. 
While cats generally tolerate noise, dogs can develop a special form of psychosis, which you can learn more about at the following source:
https://www.psychologytoday.com/us/blog/canine-corner/201701/dog-is-afraid-loud-noises-is-afraid-everything.
If these are familiar situations, know that you are not alone. These are a few cases that pet parents solve with CBD oil. The range of use of this ingredient is much broader. But it's good to know that this oil can help with some everyday situations.
CBD pet products are available in various forms. Which one you decide on depends on many factors. The first is what makes your pet sick. Based on the diagnosis, you can determine the dose and route of administration of cannabidiol. But, don't expect it to go easy, especially if you are giving CBD oil to your four-legged friend for the first time.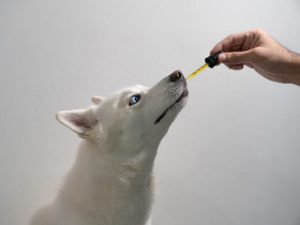 Trick Them with Treats
CBD pet oils are generally odorless and don't have a specific aroma. Yet, pups and kittens do not appear to be enthusiastic about this ingredient. And if you are dealing with a picky animal, you may have trouble giving CBD oil to your pet.
Sure, the easiest way is to insert the dropper directly into the animal's mouth and squeeze out the contents. That will probably only be possible with large dogs, and only those who like to cuddle and play. In other situations, you may have a problem with the aggressive animal that hates the taste of pure CBD oil (or tincture).
It is best to insert oil drops directly into the animal's mouth below the tongue, as cannabidiol will act quite fast. Bigger dogs can be snuggled until they relax; then gently put the dropper between the gums and push deeper into the throat. You need a very light hand for this. Otherwise, you are at risk of being bitten by your own pet.
For smaller breeds of dogs and cats, you can use treats or a slice of their favorite foods. Lure them to open their mouths and squeeze the oil out quickly. If you can't do it yourself, ask someone to help you. Make sure you put the correct dose of CBD oil in the dropper. Read here how to determine cannabidiol serving. Finally, give the pet the promised treat. It should mask the taste of the oil.
Treat Method Number Two
Choose your pet's favorite treat, but it must be hard and porous. Soft chews will not work because they will not absorb the oil; it will just slip off them. Hard kibbles will do. Find those with a strong smell that will surely mask the aroma of CBD oil. Remember, the sense of smell in animals (especially dogs) is much more refined than yours. Although you don't smell it, your pet will detect it.
Pour the required dose of CBD oil onto the kibble, and leave it for a few minutes. When the treat absorbs the liquid, turn it upside down. Give the animal one treat without CBD first, and then one CBD infused. But you have to be very quick. This way, the furry buddy will not have the time to sniff it out and detect the presence of an unknown matter.
It may seem that there is no difference between these two methods, but the truth is a little different. Giving oil to an animal without mixing it with any other ingredients (treats, food) has a much faster effect. In this form, it goes directly into the bloodstream. 
When combined with treats, cannabidiol must first be digested. Only after leaving the stomach, nutrients will be absorbed into the bloodstream. And that may take a while. Thus, if your dog needs immediate pain relief, choose the first method. Use the 'oil on treats' plan to calm an animal, prevent aggressive behavior, or treat separation anxiety. 
Mix CBD Oil into Wet Food
Like the previous method, you need food with a spicy taste and smell. If your pet eats home-made meals, prepare them with extra ginger, garlic, or turmeric (these are safe for your pet). That is a great way to give your pet the required dose of cannabidiol but start with the recommended dosage. Too much CBD can change the taste of a meal at a time. Apply CBD drops into wet food, and stir it.
But the consistency of the meal may be different for pets that already took CBD supplements. If you are giving a CBD to an old dog that has trouble chewing, soft food is a better solution. In case of emergency, when you don't have a can of pet food, you can dip kibble in milk or yogurt. No animal health products are as potent and effective like CBD oils are.
What Not to Do?
Cannabidiol has a low tolerance for heat. At high temperatures, this compound dissolves and loses its healing properties. So do not put it into the baked pet treats you make yourself. Oven temperatures are very high, and the CBD is beginning to dissolve at 200°C. If you want a home-made meal for your pet, let them be the no-bake food. 
Due to the improper distribution of CBD oils through these treats (oils don't mix with water), not every piece will have the same amount of cannabidiol. Adhering to the proper dosage can be a problem in this case.
If you haven't, you should consider cannabidiol oils as a natural supplement for your furry buddy. This substance derived from the hemp plant has many positive effects on your pet's health – pain management, reducing inflammation, quick recovery after surgery, relieving the side effects of chemo, dealing with symptoms of aging, etc. And the list does not end here. Extensive research is still being done on the efficacy of this hemp derivative.